P326 Validation of CUCQ-8 Questionnaire for Quality of Life Assessment in IBD Patients
C. McGinley*1, C. Mowat2, M. Groome2, J. Todd2, N. Reynolds2
1University of Dundee, Dundee, United Kingdom, 2Ninewells Hospital and Medical School, Department of Gastroenterology, Dundee, United Kingdom
Background
It is well established that patients suffering from IBD often have an impaired quality of life (QoL). Assessing QoL is an important factor of management and clinical decision-making. The aim of this study was to determine if the CUCQ-8, a recently validated 8-item questionnaire for Crohn's and ulcerative colitis, has potential in clinical practice. It is designed to assess QoL in the preceding 2 weeks.
Methods
The questionnaire was distributed to consecutive patients in the waiting area of the IBD outpatient clinics over a 3 week period. Patients were also asked for a history of mental illness, hospital admission, surgery /stoma formation, anti-TNF + steroid use, and a feeling of embarrassment. A physician global assessment (PGA) rating was allocated to each patient at the end of the consultation by a senior gastroenterologist. Statistical analysis was performed using SPSS.
Results
In total, 180 (112 Crohn's and 68 ulcerative colitis [UC]) patients completed the questionnaire. Psychometric analysis showed a Cronbach's alpha score of 0.887, indicating good internal consistency within the questionnaire. Patients were grouped according to PGA and their CUCQ-8 scores, which show a clear separation between each group that is statistically significant for all groups, except the moderate vs severe. Linear regression gave an R2 value of 0.2538 (r = 0.504). CUCQ-8 scores were analysed against additional patient history, to observe any obvious correlations; the most pronounced inter-item correlation was patient embarrassment (r = 0.522).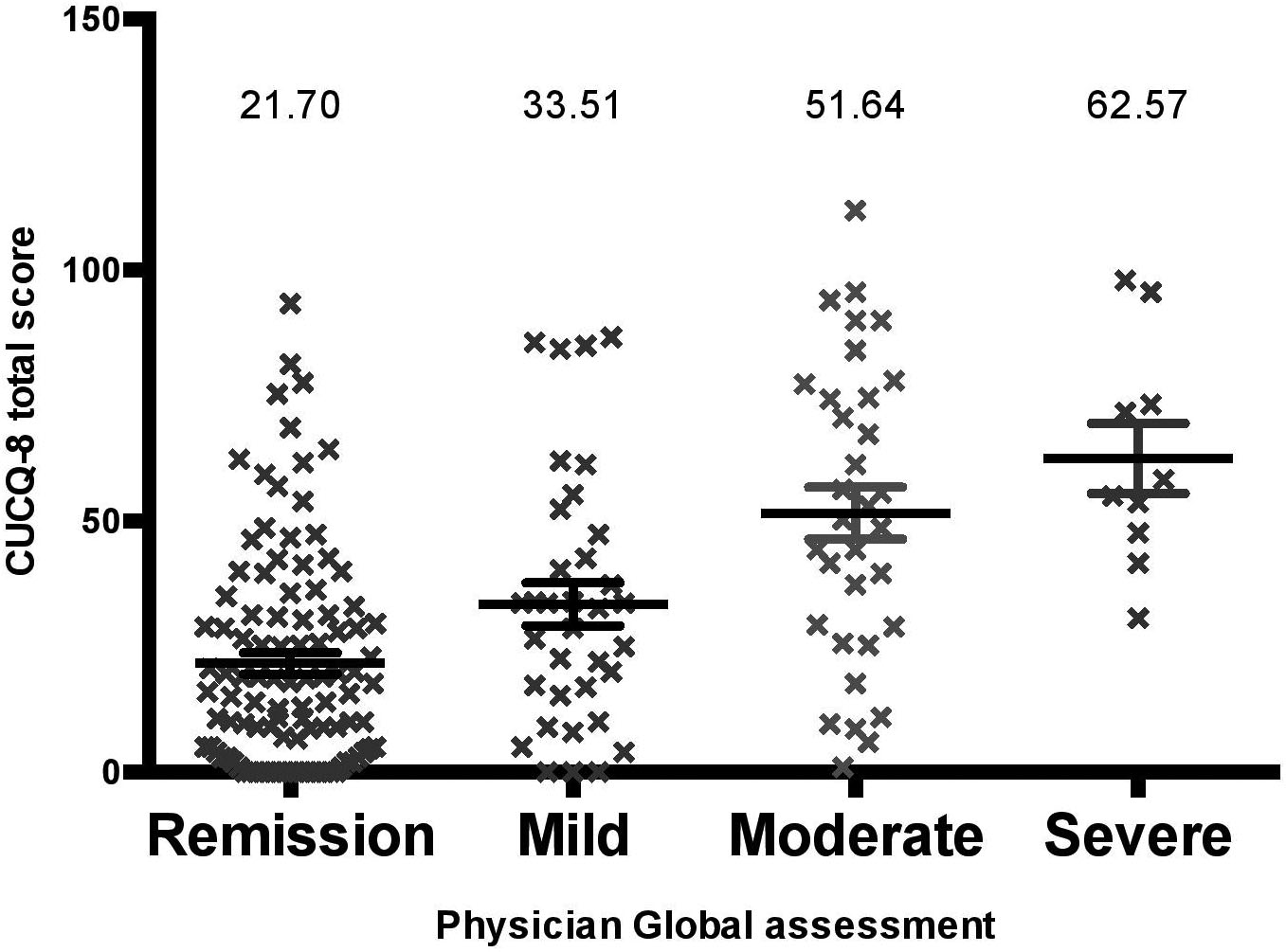 Figure 1. CUCQ-8 vs PGA.
Conclusion
CUCQ-8 could be an effective, fast, and reliable tool in assessing QoL in IBD patients.