P360 A randomised, assessor-blinded, multicentre trial comparing the efficacy, safety, and tolerability of a new tailored dosing regimen to day-before dosing regimen of colon cleansing agent used before colonoscopy
R. Kiesslich*1, C. Angelin2, K. Raymond2, W. Man A Hing3, J. Masure3, M. Stoltenberg2
1Helios Dr. Horst Schmidt Kliniken, Department of Internal Medicine II, Wiesbaden, Germany, 2Ferring Pharmaceuticals Kay Fiskers Plads 11, Copenhagen, Denmark, 3Ferring International Centre S.A, St Prex, Switzerland
Background
PICOPREP® (sodium picosulfate-magnesium citrate) is an effective and safe colon cleansing agent. To further improve cleansing efficacy, a new tailored dosing regimen (TD) was studied, customised based on colonoscopy timing, with shortened gap of 46 h between last dose and colonoscopy. We compared efficacy and safety of TD vs day-before dosing regimen (DBD) of PICOPREP®.
Methods
This non-inferiority (NI) study included subjects (≥ v 18yrs) undergoing colonoscopy with ≥ v3 spontaneous bowel movements/week for 1 month before colonoscopy. Subjects were randomised (2:1) to TD (Dose1, 10–18 h; Dose 2, 46 h before colonoscopy) or DBD (Dose1 before 8:00AM on day-before colonoscopy; Dose 2, 68 h after Dose1). Primary endpoint was overall colon cleansing efficacy based on total Ottawa Scale scores (OS; 0–14, excellent–worst). Key secondary endpoint was responder status for ascending colon based on OS (success [0 or 1] or failure [≥ 2]). Stepwise analysis included (1) NI for primary endpoint, (2) superiority for key secondary endpoint, and (3) superiority for primary endpoint. Other secondary efficacy endpoints were responder status for mid (transverse, descending) and recto-sigmoid colon, convenience, satisfaction, and effect on daily activities. Safety and tolerability were also evaluated.
Results
Of 204 subjects randomised (TD, n = 131; DBD, n = 73; intent-to-treat analysis set); 185 completed the study (TD, n = 118; DBD, n = 67). TD was superior to DBD (treatment contrast −3.93, p < 0.0001), for overall colon cleansing. Superiority of TD vs DBD was also established for ascending colon, based on predefined hierarchical testing procedure (p < 0.0001). Estimated odds of being a responder for ascending, mid and recto-sigmoid colon cleansing efficacy significantly favoured TD vs DBD (Table). Both regimens were rated as easy to very easy for convenience with good to excellent satisfaction, although TD had significantly reduced effect on daily activities. Overall treatment-emergent adverse events were low (TD, 12%; DBD, 5.7%). Two serious adverse events (large intestinal obstruction and post-procedural haemorrhage) were observed with TD, both considered unrelated to PICOPREP®.
Table 1. Responder status of PICOPREP®* dosing regimens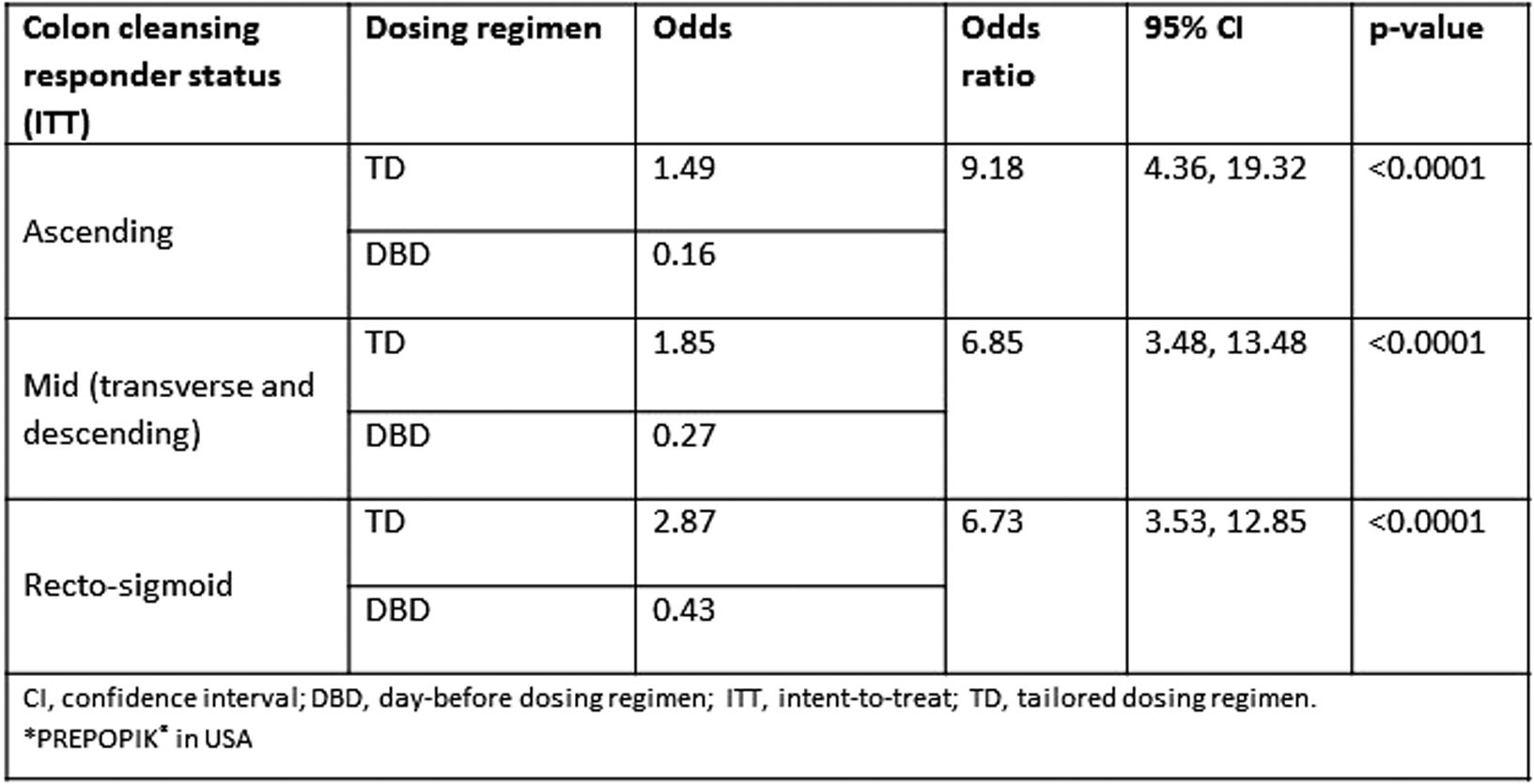 Conclusion
PICOPREP® tailored dosing regimen was superior to day-before dosing regimen for overall and ascending colon cleansing efficacy. Responder status for all colon segments also favoured the tailored dosing regimen. Both regimens had overall good safety and tolerability profile. Ferring Pharmaceuticals has submitted a variation application to introduce TD in EU MRP PICOPREP® label.