P398 The costs of care for patients with ulcerative colitis: effect of adalimumab on health care resources utilisation in clinical practice from INSPIRADA
S. Travis*1, B. Feagan2, L. Peyrin-Biroulet3, R. Panaccione4, S. Danese5, A. Lazar6, A. Robinson7, J. Petersson7, M. Bereswill6, M. Skup7, N. Chen7, S. Wang7, R. Thakkar7, J. Chao7
1Oxford University Hospitals, Oxford, United Kingdom, 2Robarts Research Institute, Ontario, Canada, 3University Hospital of Nancy, Les Nancy, France, 4University of Calgary, Calgary, Canada, 5Istituto Clinico Humanitas, Milan, Italy, 6AbbVie Deutschland GmbH & Co. KG, Ludwigshafen, Germany, 7AbbVie Inc., North Chicago, United States
Background
Limited data are available on the effect of adalimumab (ADA) on the use of health care resources and the costs of care in real-world clinical practice.
Methods
INSPIRADA was a single-arm, multi-country, open-label study evaluating the effect of ADA on health care resource use and costs of care in patients with UC treated according to usual clinical practice. Patients (18 to 75 years old) with active ulcerative colitis (UC), Physician's Global Assessment (PGA) ≥ 2 and Short Inflammatory Bowel Disease Questionnaire ≤ 45 at Baseline (BL) who failed conventional treatment and who had experienced rectal bleeding within 7 days of BL were enrolled. Patients received 160/80 mg ADA at wk 0/2, followed by 40 mg of ADA every other wk at wk 4 through wk 26. Patients who did not respond to ADA by wk 8 (PGA ≥ 2 and did not achieve Simple Clinical Colitis Activity Index response, defined as a decrease of ≥ 2 points compared with BL) were to discontinue ADA. Patients who lost response at or after wk 8 could escalate to 40 mg ADA weekly dosing. Direct costs were medical costs (excluding ADA costs) associated with hospitalisations and outpatient procedures and were standardised using UK National Health Service (NHS) reference costs for all participating countries. Indirect costs were costs associated with work loss resulting from absenteeism and disability and were based on the Work Productivity and Activity Impairment questionnaire using average weekly earnings from the 2014 UK Annual Salary Survey of Hours and Earnings for all participating countries. All costs were adjusted to 2014 British pounds. Change (defined as 6 months after onset of ADA vs 6 months before onset of ADA) in resource use (number of hospitalisations, days hospitalised, and use of outpatient services) and costs associated with care were calculated.
Results
Data from 461 patients (55% male; mean age 42 years; 84% with no prior exposure to TNF antagonists) were analysed. Significant decreases in all-cause direct costs, UC-related medical costs, UC-related direct plus indirect costs, and use of health care resources were observed 6 months after initiating ADA therapy compared with 6 months before starting ADA therapy (Table 1).
Table 1. Change in Health Care Resource Use and Associated Costs (excluding ADA costs) in 2014 British pounds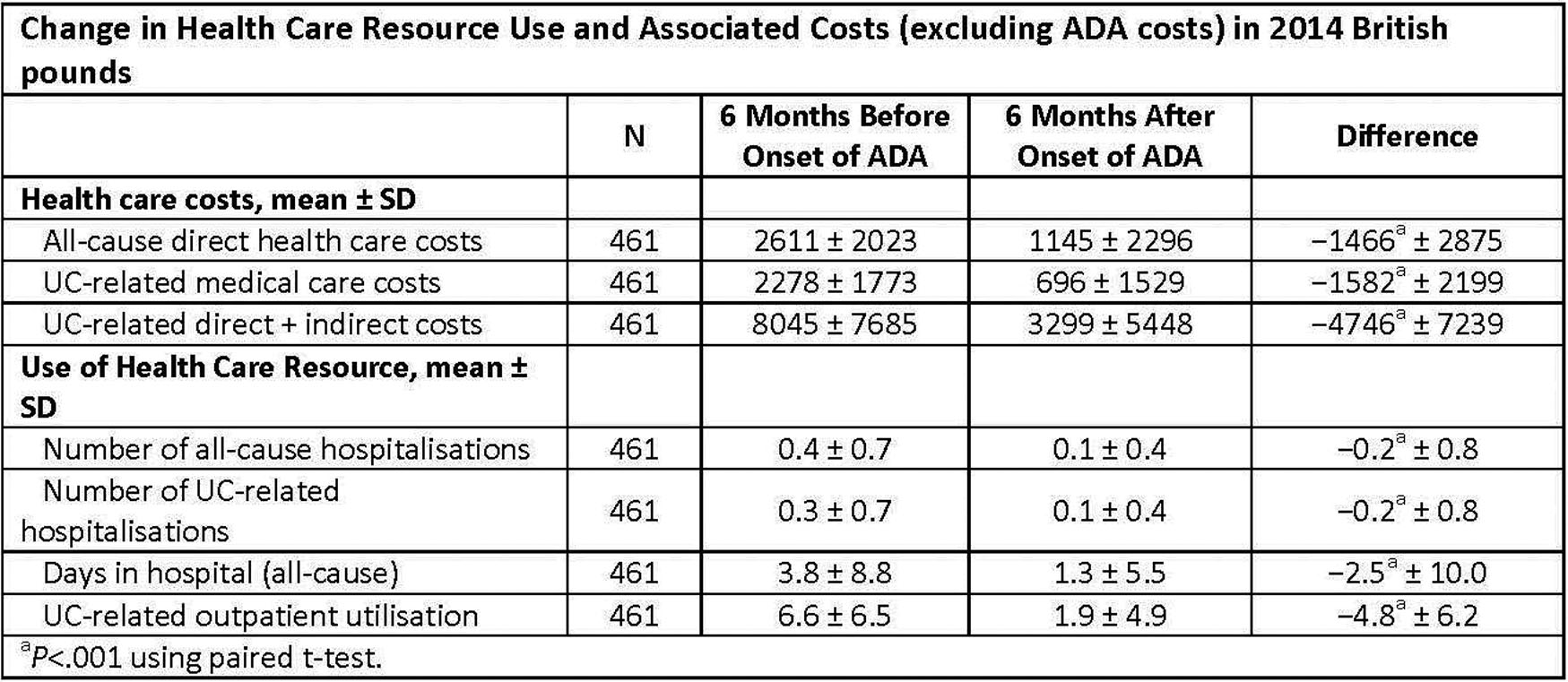 Conclusion
ADA therapy significantly reduced use of health care resources and their associated costs, as well as costs associated with work loss resulting from absenteeism and disability amongst patients with moderate-to-severe UC.