P399 Testing patients initiating anti-TNFα agents for mycobacterial infection using interferon-gamma release assays (IGRA): The combined experience of a large dermatology and Inflammatory Bowel Disease service
S. Rajagopal*1, K. Greveson2, S. McBride3, A. Waite3, M. Lipman4, C. Murray2
1University College London, Medicine, London, United Kingdom, 2Royal Free Hospital, Centre for Gastroenterology, London, United Kingdom, 3Royal Free Hospital, Centre for Dermatology, London, United Kingdom, 4Royal Free Hospital, Respiratory Medicine, London, United Kingdom
Background
Testing and treatment for latent tuberculosis infection (LTBI) is recommended by UK NICE before initiation of anti-TNFα agents. This includes assessment of risk factors, chest radiograph, and an immune-based test. A previous study showed interferon-gamma release assays (IGRA) T. Spot-TB to be an accurate, cost-effective test for detecting LTBI. Here we review use of IGRA QuantiFERON in inflammatory bowel disease (IBD) and dermatology patients initiating anti-TNFα therapy. We sought to determine adherence to current NICE guidance for LTBI screening and the impact of immunosuppression on the result of IGRA QuantiFERON testing.
Methods
A retrospective single-centre review was undertaken of 132 adult IBD and 69 dermatology patients investigated for evidence of LTBI using IGRA QuantiFERON. Data were collected from August 2008 to July 2015 and include evaluation of TB risk factors.
Results
In the study, 97% of IBD and 94% of dermatology patients had full screening in accordance with NICE. No cases of patients with TB were identified during baseline assessment.
In the IBD patient group, 99 (75%) were BCG vaccinated with 18 (14%) having TB risk factors. Of the 104 immunosuppressed patients, 86 (83%) had a clear result, and 17 (16%) indeterminate. Of the 28 immune-competent patients, 26 (93%) had a clear result, and 2 (7%) indeterminate (p = 0.212).
Amongst the dermatology patients, BCG status of 94% was unknown with 43% having TB risk factors. Of the 62 immunosuppressed patients, 60 (97%) had a clear result compared with 6 of 7 (86%) of the immune-competent group.
Patients with indeterminate results had a repeat IGRA QuantiFERON, and if still unclear, were assessed and managed by the TB service along with patients with positive results. All patients received anti-TNFα treatment with no cases of TB disease occurring.
Table 1. IGRA QuantiFERON results of screening for TB infection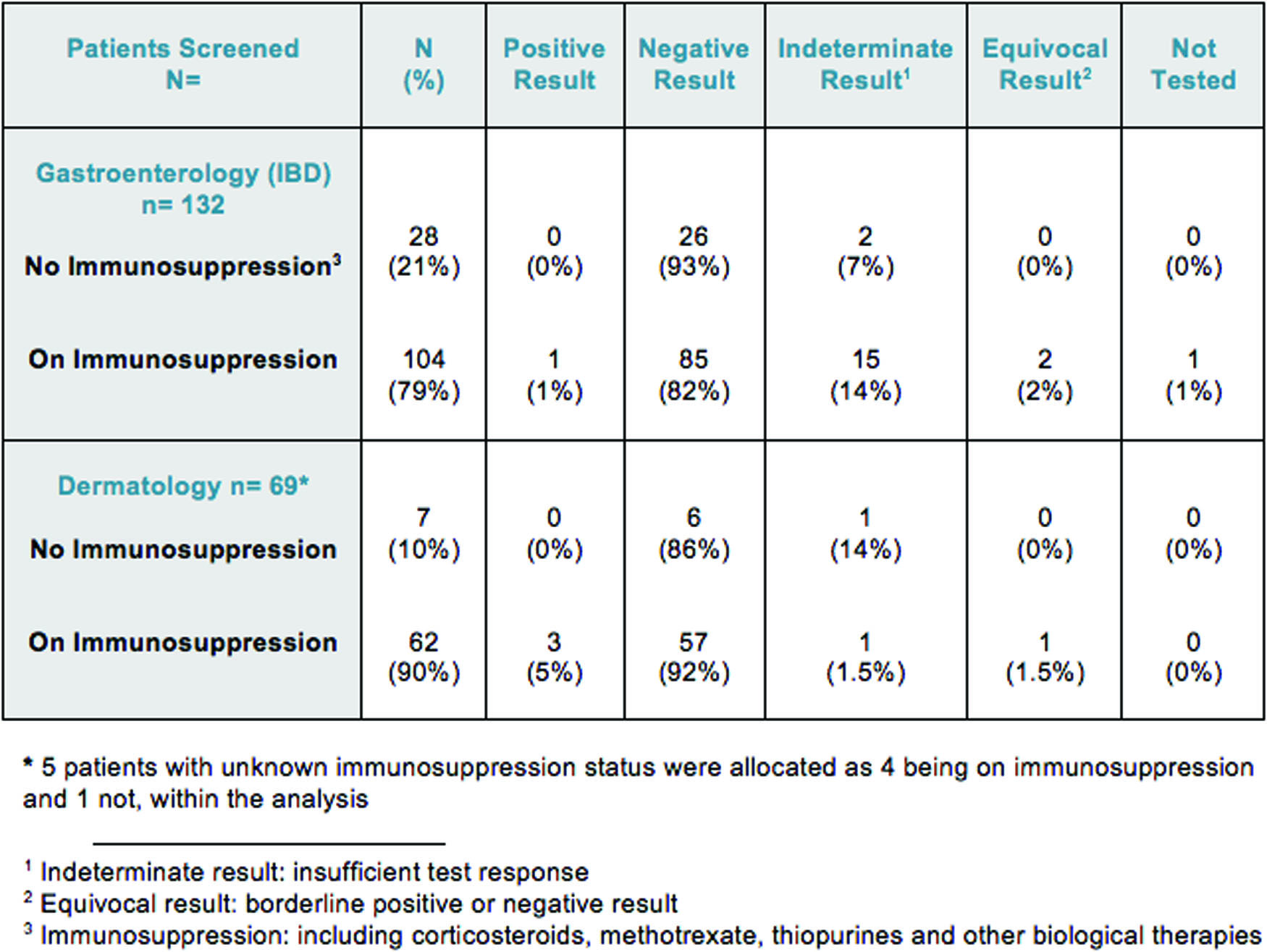 Conclusion
Our data demonstrate good adherence to NICE for LTBI testing before anti-TNFα therapy. Almost half of dermatology patients have TB risk factors, being from a TB endemic country or having prior treatment for active TB. Documenting BCG status may allow further risk stratification.
The data illustrate a slight, though non-significant, increase in indeterminate IGRA results amongst immunosuppressed IBD patients. This necessitates further testing and possible delay in starting anti-TNFα therapy.
Using an alternate modality of testing for LTBI, or treating on the basis of risk factors may be more suitable for this subset of patients. However, within the dermatology cohort, this would result in up to half being offered LTBI treatment with associated potential adverse effects and extra cost.