P429 The effects of psychiatric treatment in patients with inflammatory bowel disease: a prospective study
O. Yanartas1, H. c. T. Kanı2, E. Bicakci3, Y. Bez1, M. Banzragch3, Z. Senkal1, I. Kilic4, O. Atug3, K. Kuscu1, N. Imeryuz3, H. Akin*3
1Marmara University, Psychiatry, Istanbul, Turkey, 2Marmara University, Internal Medicine, Istanbul, Turkey, 3Marmara University, Gastroenterology, Istanbul, Turkey, 4Marmara University, Medical Student, Istanbul, Turkey
Background
Diagnosis of depression and/or anxiety (DaoA) and related problems such as sexual dysfunction and decreased quality of life are reported to be quite common in patients with inflammatory bowel diseases (IBD). The aim of this study is to prospectively evaluate the effects of psychiatric treatment (pTx) in IBD patients with diagnosis of DaoA.
Methods
IBD patients were screened sequentially in the outpatient clinics by a self-report questionnaire; Hospital Anxiety and Depression Scale (HADS), which measures both the risk and severity of depression and anxiety. Patients with scores higher than the cut-off were sent to a psychiatrist who had certified for SCID (structured clinical interview for DSM IV), which is a validated interview technique for psychiatric diagnoses. These patients also required to complete additional questionnaires, ie, Short Form-36 (SF-36) test for assessing their health-related quality of life (QoL) and Arizona Sexual Experience Scale (ASEX) test for assessing any sexual dysfunction in this phase. Also clinical disease scores (CDAI and Mayo) and laboratory data related to IBD were recorded. If patients confirmed as DaoA diagnosis after SCID done by the psychiatrist, patients offered pTx. After 6 months of pTX with SSRI antidepressants, we reevaluate HADS, SF-36, ASEX, disease scores, and laboratory data for demonstrating the effects of treatment (flow-chart).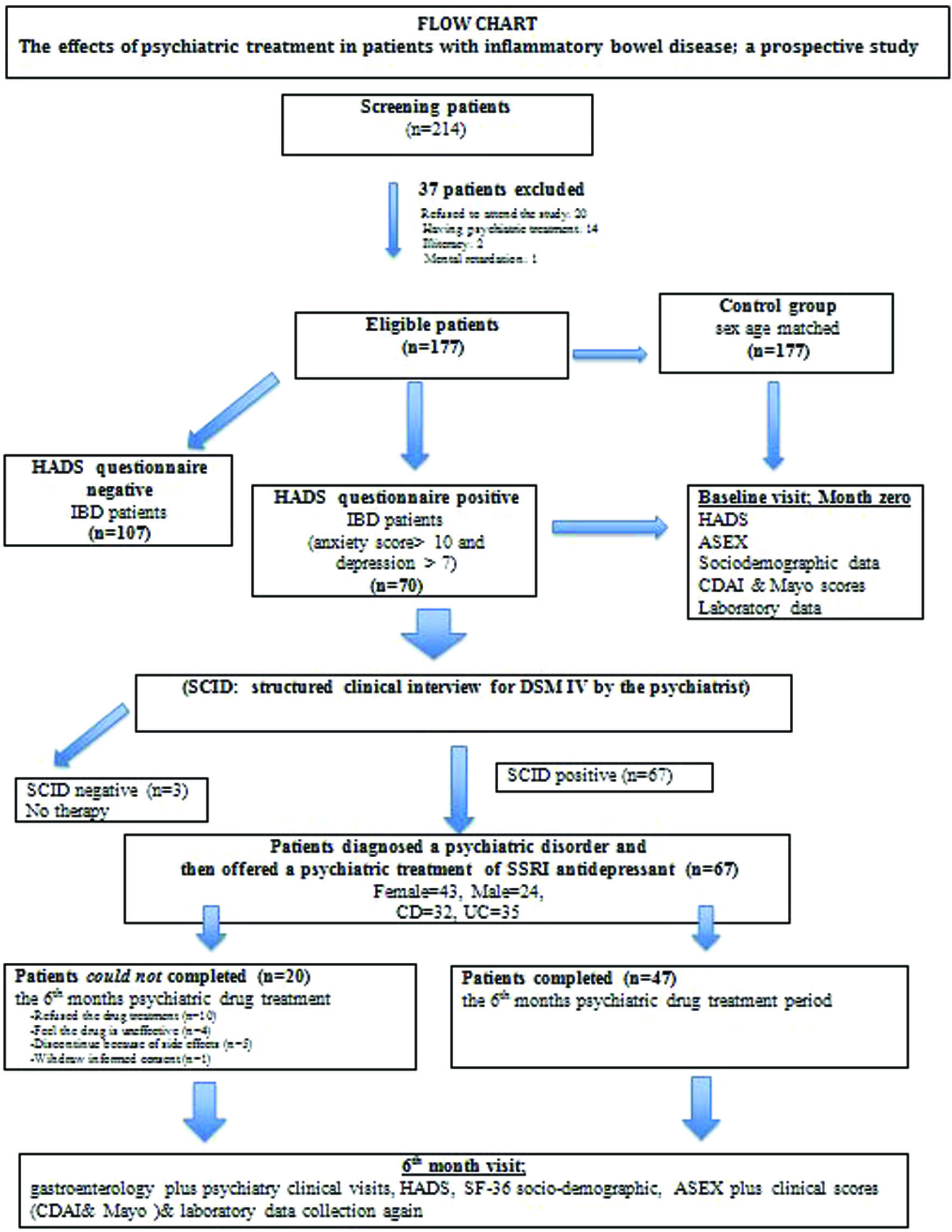 Figure 2. Flowchart of the whole study.
Results
Major depressive (41.4%) and generalised anxiety disorders (14.3%) were the most common diagnoses. In the group of patients offered a pTx, at the 6 month visit (seen as post in the table), all domains of SF-36 (except for bodily pain, SF-3), beside ASEX, HAD depression, HAD anxiety scores, and CRP levels were all statistically better compared with their baseline (seen as pre in the table) visit In the group of patients offered and completed the 6 months of pTx, all domains of SF-36 beside ASEX, HAD depression, and HAD anxiety scores, were all statistically better compared with patients who could not completed the psychiatric treatment.
Conclusion
Patients in the IBD patient group who were diagnosed as DaoA, 6 months of pTx with SSRI antidepressant agents improved not only anxiety, depression, and QoL, but also sexual functioning. To the best of our knowledge, this is the first prospective study to report the effects of antidepressant pTx on IBD patients with diagnosis of DaoA.
Table 1. Comparison of HAD A, HAD D, SF-36, ASEX, and laboratory results of baseline (pre) and 6-month visits (post) for the IBD patients diagnosed a psychiatric disorder (n = 67)