P444 High-dose intravenous iron isomaltoside infusion is not associated with an increase in intact fibroblast growth factor 23 (iFGF23) in patients with inflammatory bowel disease
J. F. Dahlerup*1, S. Lindgren2
1Aarhus University Hospital, Department of Hepatology and Gastroenterology, Aarhus, Denmark, 2Lund University, University Hospital MAS, Department of Gastroenterology, Malmö, Sweden
Background
Intravenous (IV) iron complexes differ in capability to induce unintended clinically significant and potentially profound hypophosphatemia (ie, phosphate < 2 mg/dL). Clinical investigations1,2 suggest that prolonged and severe hypophosphatemia after IV iron treatment might be associated to an increase in intact, active fibroblast growth factor 23 (iFGF23), leading to an increased excretion of phosphate in the urine. Evidence so far indicate that the change in IFGF23 is not a class effect for IV iron compounds as such, but as yet no data have been reported with iron isomaltoside (Monofer®). The current analysis evaluates the effect of iron isomaltoside 1000 on iFGF23 in IBD patients with iron deficiency anaemia.
Methods
In this prospective, open-label, multicentre trial iron isomaltoside was administered to IBD patients with iron deficiency anaemia. The patients were divided into 2 treatment groups (A and B) as shown in the table.
Table 1
| Treatment group | Haemoglobin (Hb) | Body weight
 < 70 kg | Body weight
 ≥ 70 kg | Study 
duration |
| --- | --- | --- | --- | --- |
| A | Women 10 ≤ Hb < 12 g/
dL; Men 11 ≤ Hb < 13 g/dL | 1 500 mg 
iron | 2,000 mg 
iron* | 8 weeks |
| B | Wome: Hb < 10 g/dL; Men Hb < 11 g/dL | 2 500 mg 
iron** | 3 000 mg 
iron** | 16 weeks |
*Dose given in one or 2 visits; **Dose given in 2 visits
All doses were infused over approximately 15 min. Intact FGF23 and phosphate was measured before and weekly after infusion.
Results
Enrolled were 21 patients (16 women and 5 men). The median age was 41 (range: 19–74 years), and 15 patients had Crohn's disease, and 6 patients had ulcerative colitis. No significant changes in iFGF23 or profound hypophosphatemia were reported (Figure 1).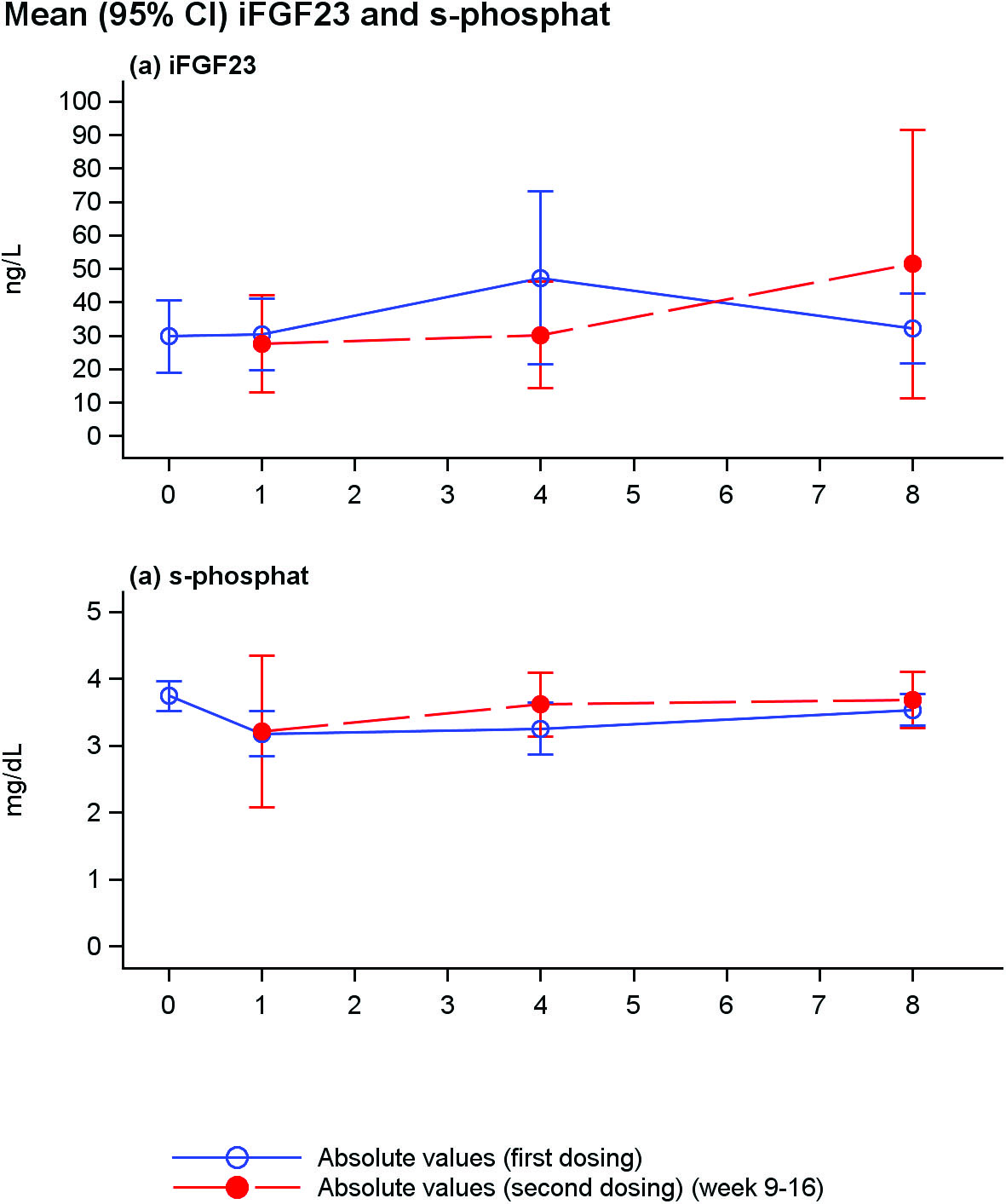 Figure 1. Intact FGF23 and s-phosphate levels (mean with 95% CI) after high-dose iron isomaltoside dosed once or twice.
Two patients had a transient event of moderate hypophosphatemia (week 4 and week 9, respectively: s-phosphate level 12 m/dL). No increased levels of iFGF23 were observed at the time of hypophosphatemia. Both patients had s-phosphate level above 2 mg/dL at all other visits. No patient experienced severe hypophosphatemia (s-phosphate level < 1 mg/dL).
Conclusion
Fast infusions of high-dose iron isomaltoside, administered as single doses up to 2 000 mg and cumulative doses up to 3 000 mg did not affect iFGF23 and were not associated with profound hypophosphatemia.
References:
[1] Schouten BJ, Hunt PJ, Livesey JH, et al. FGF23 elevation and hypophosphatemia after intravenous iron polymaltose: a prospective study. J Clin Endocrinol Metab 2009;94:2332–37.
[2] Wolf M, Koch TA, Bregman DB. Effects of iron deficiency anemia and its treatment on fibroblast growth factor 23 and phosphate homeostasis in women. J Bone Miner Res 2013;28(8):1793–803.