P452 Safety and efficacy of infliximab biosimilar (Remsima©) in Crohn's disease patients in clinical practice: results after 6 months of treatment
M. F. Guerra Veloz*1, F. Argüelles Arias1, R. Perea Amarillo1, L. Castro Laria1, M. B. Maldonado Pérez1, A. Benítez Roldán1, V. Merino2, G. Ramirez2, A. Vilches Arenas3, A. Caunedo Álvarez1
1Unidad de Gestión Clínica de Aparato Digestivo Hospital Universitario Virgen Macarena, Seville, Spain, 2Unidad de Farmacia Hospital Universitario Virgen Macarena, Seville, Spain, 3Universidad de Sevilla, Medicina preventiva y salud pública, Seville, Spain
Background
In 2013, the European Medical Association approved the use of the biosimilar of infliximab for all indications held by the infliximab Remicade©. Nevertheless, no clinical trials have been developed in inflammatory bowel diseases (IBD), thus making more data on this illness necessary. In March, 2015, the biosimilar of IFX (Remsima©) was first used at our hospital.
Methods
It is a single cohort observational study made up of CD patients treated with Remsima©. Both patients switching from Remicade© to Remsima© and patients naïve to IFX were included. The clinical response after 3 and 6 months of treatment was assessed using the physician's evaluation, CD Activity Index (CDAI), and Harvey–Bradshaw score, and comparing with the basal score before treatment. Likewise, adverse events thought to be connected to the drug were tested.
Results
In total, 75 patients were included (52% males), with average age 39 ± 12 years. The main demographic patient characteristics are included in Table 1.
Table 1 Montreal classification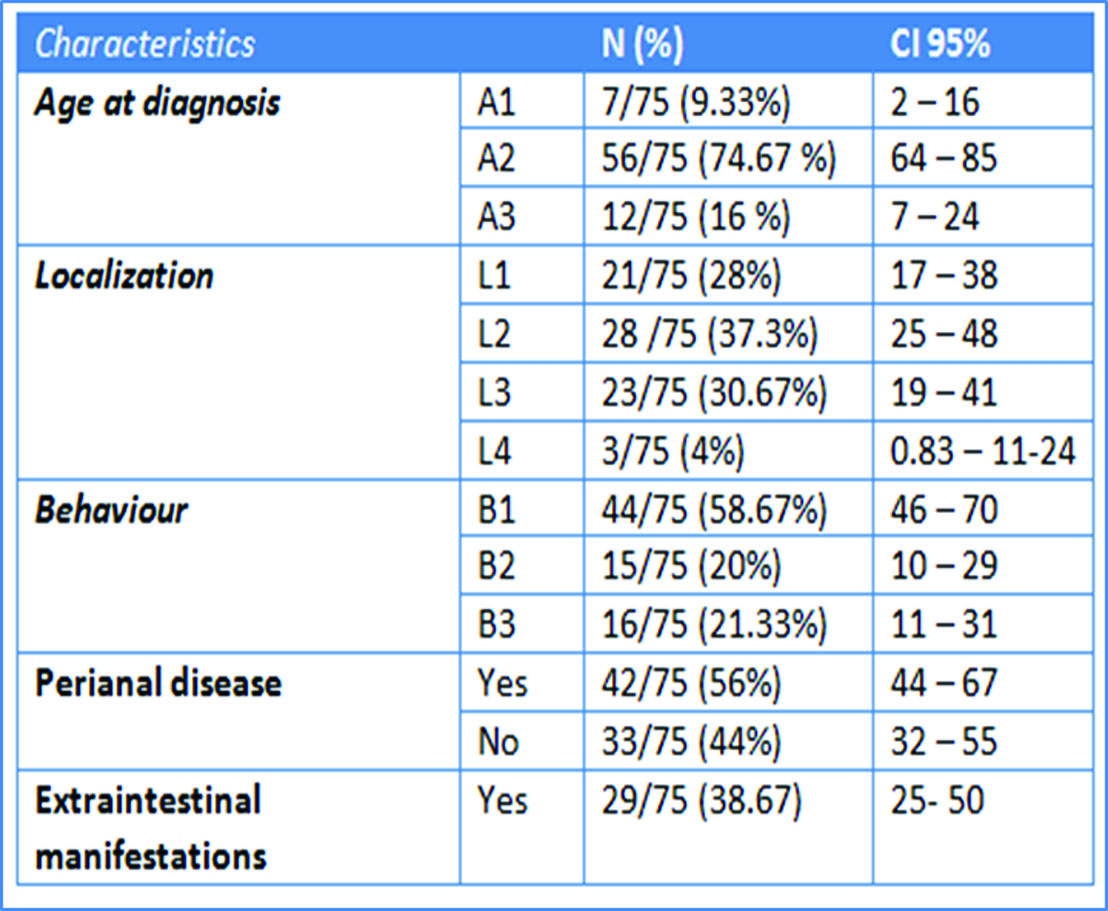 In the study, 71 patients were switched from Remicade© to Remsima©: 81.6% were in remission when switch was carried out, and 28% were not in remission (treated with steroids or with dose escalation). At 3 months, 62 patients were analysed (60 switch and 2 naïve): 72.3% of patients in remission, and 23.1% of patients without remission when treatment was switched, were in remission at 3 months. One naïve patient reached remission at that time. At 6 months, 31 patients were analysed (29 switch and 2 naïve): 70% of patients continued in remission, and 33.3% of patients without remission when treatment was switched, reached remission. The 2 naïve patients are in remission. No differences were found comparing the group of switched patients that continue in remission to the group that is not in remission. In 5 patients (6,6%) mild adverse events were noted (2 abdominal pains, 2 headaches, and 1 tongue paraesthesia).
Conclusion
Treatment with Remsima© is safe. Most of the patients with CD who switched from Remicade© to Remsima© continue in remission after 6 months of treatment. Nevertheless, the follow-up is short and there is no control group to compare with, thus making more studies necessary.