P455 The effect of concurrent HIV-1 infection on the management of patients with inflammatory bowel disease
T. H. Ho, R. Fausel, J. Torres, J. J. Yang, T. H. Swartz, J. A. Aberg, J.-F. Colombel, S. Mehandru*
Icahn School of Medicine at Mount Sinai, New York, New York, United States
Background
Inflammatory bowel disease (IBD) is characterised by dysregulated activity of the gastrointestinal immune system. In contrast, untreated HIV-1 infection is associated with immunodeficiency most pronounced at mucosal surfaces. Therefore, one may hypothesise that concurrent HIV-1 infection has a significant effect on the clinical course of IBD. We report on a 10-year, retrospective, case-controlled study to examine the therapeutic modalities and clinical outcomes in patients with concurrent HIV and IBD.
Methods
Patient records at the Icahn School of Medicine at Mount Sinai were reviewed from 2004 to 2014. In total, 100 patients with concurrent diagnoses of IBD and HIV-1 were identified. Of these, 31 patients in whom treatment-related outcomes could be determined were included in the study: 14 with Crohn's disease (CD) and 17 with ulcerative colitis (UC). 62 IBD patients who were HIV-seronegative were matched 2:1 by age, sex, race, and Montreal classification. Although the patients were not formally matched for the duration of IBD, no significant differences were noted between cases and controls.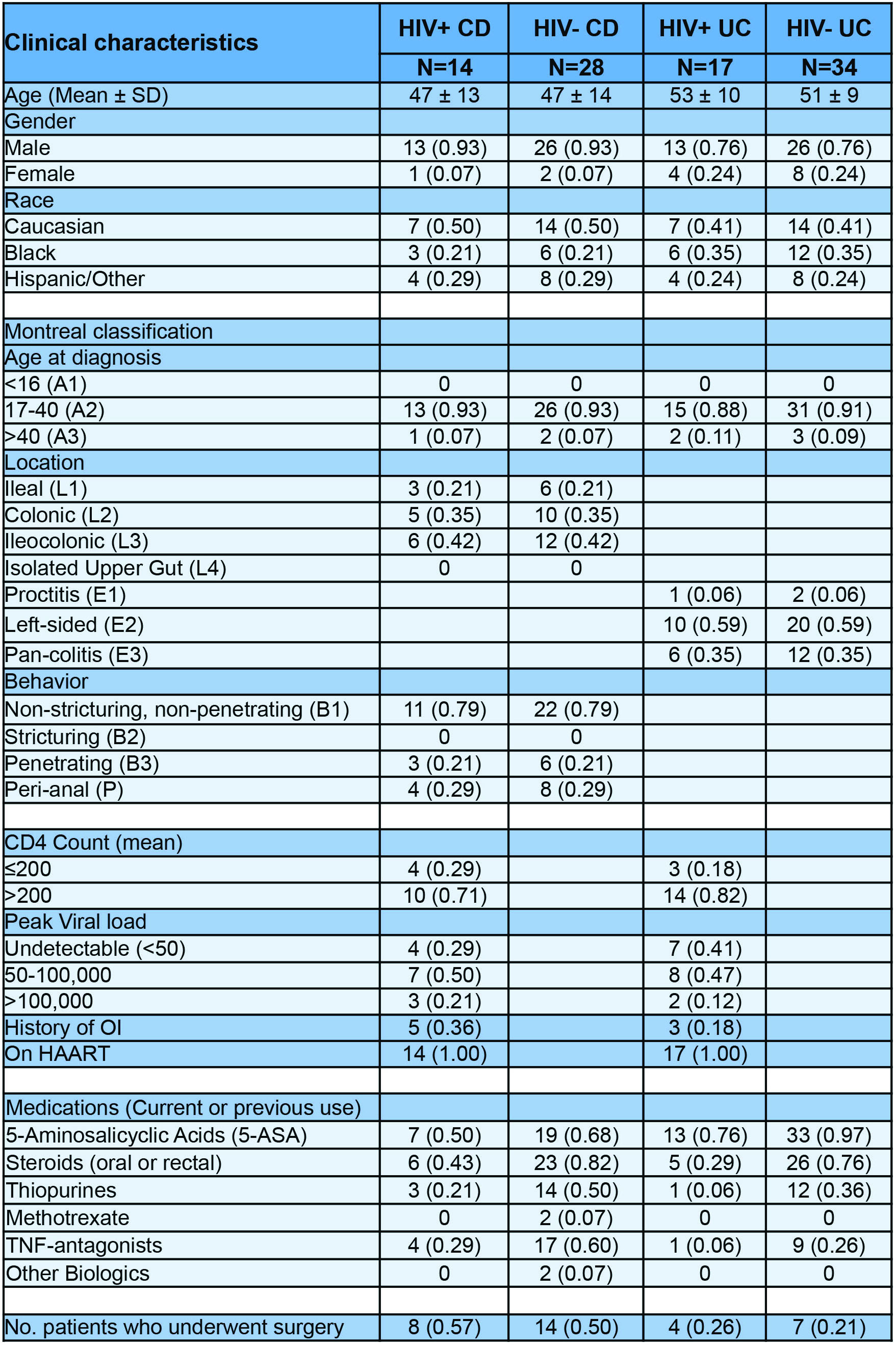 (P455) Figure 1. Clinical characteristics.
Results
In the study, 29% of HIV (+) CD patients received biologic therapy, in contrast to 67% of HIV (-) CD patients (p < 0.05). Rates of thiopurine and steroid use were also lower in the HIV (+) CD patients (21% vs 50%; p < 0.05 and 43% vs 82%; p < 0.05, respectively). However, the rate of surgery remained similar between the 2 groups (HIV+CD 57% vs HIV- CD 50%, p = 0.7). Comparably, HIV (+) UC patients had lower rates of biologic (6% vs 26%, p < 0.05), thiopurine (6% vs 36%, p < 0.05), and steroid (29% vs 76%, p < 0.05) use. Again, rates of surgery were similar between the 2 groups (26% vs 21%, p = 0.8). No serious adverse events related to biologic and IM use were identified in the HIV-infected IBD patients.
Conclusion
Our cohort of HIV-infected patients with IBD, the largest to date, identifies stark therapeutic differences in the management of IBD in the face of HIV-1 infection. Possible causes include physician attitudes regarding administration of immunomodulatory therapies in this population. Alternatively, these data raise the possibility that HIV-1 may attenuate the pathogenesis of IBD, leading to a less aggressive disease course. The data generated herein could spark studies to better understand the pathogenesis of IBD in HIV-1 infected individuals and identify physician-education opportunities to further improve outcomes in IBD patients infected with HIV.