P459 Risk of relapse after azathioprine discontinuation in inflammatory bowel disease patients in maintained remission
M. Iborra*1, B. Navarro1, X. Cortes2, M. Boscá3, T. Blazquez1, J. Herreras1, G. Trejo3, B. Beltrán1, P. Nos1
1Hospital Universitari i Politecnic La Fe, Gastroenterology, Valencia, Spain, 2Hospital de Sagunto, Gastroenterology, Sagunto, Spain, 3Hospital Clínic Valencia, Gastroenterology, Valencia, Spain
Background
The benefits of AZA on the prevention of relapses have been demonstrated in IBD patients. The moment at which AZA could be stopped, after being in a long-term remission, remains controversial. Aim: to identify predictors of relapse after AZA discontinuation in IBD patients.
Methods
A multicentre study including 55 IBD patients, 33 with Crohn's disease (CD) and 22 with ulcerative colitis (UC), who had stopped AZA treatment whilst they were in prolonged remission. Demographic, clinical, and endoscopic data and biologic values (C-reactive protein [CRP], faecal calprotectin [FC], and haemoglobin [Hb] levels) at AZA interruption were collected. FC and CRP measurements were assessed at 6 and 12 months.
Results
The main characteristics of the population are shown in Table 1. Patients had been in remission for a mean time of 3–4 years. No UC patients had received biological therapy before taking AZA, whereas 3 (9.1%) CD patients had been previously treated with anti-TNF. Endoscopic remission was evaluated in 13 UC and 18 CD patients. After AZA discontinuation, 19 UC (86%) and 16 CD (49%) patients were treated with high doses of salicylates. Time-to-relapse rate after AZA withdrawal was estimated using the Kaplan–Meier method (Figure 1). The median follow-up time after AZA interruption was 36.7 months; overall relapse was 32% (7 patients) in UC and 33% (11 patients) in CD. The cumulative relapse rates at 1, 2, 3, and 5 years were 23.4%, 28.2%, 28.2%, and 46.2%, respectively, in UC patients, and 12.9%, 20.1%, 24.6%, and 46.7%, respectively, in CD patients. Amongst the 18 relapsing patients, 14 were retreated by AZA, and 12 achieved successful remission. CRP, FC, and Hb levels at AZA interruption and CRP and FC levels at 6 and 12 months after AZA discontinuation were not associated with risk of relapse. A multivariate analysis showed that the steroid-dependence status and the late or early introduction of AZA in UC and CD, respectively, were predictors of relapse.
Table 1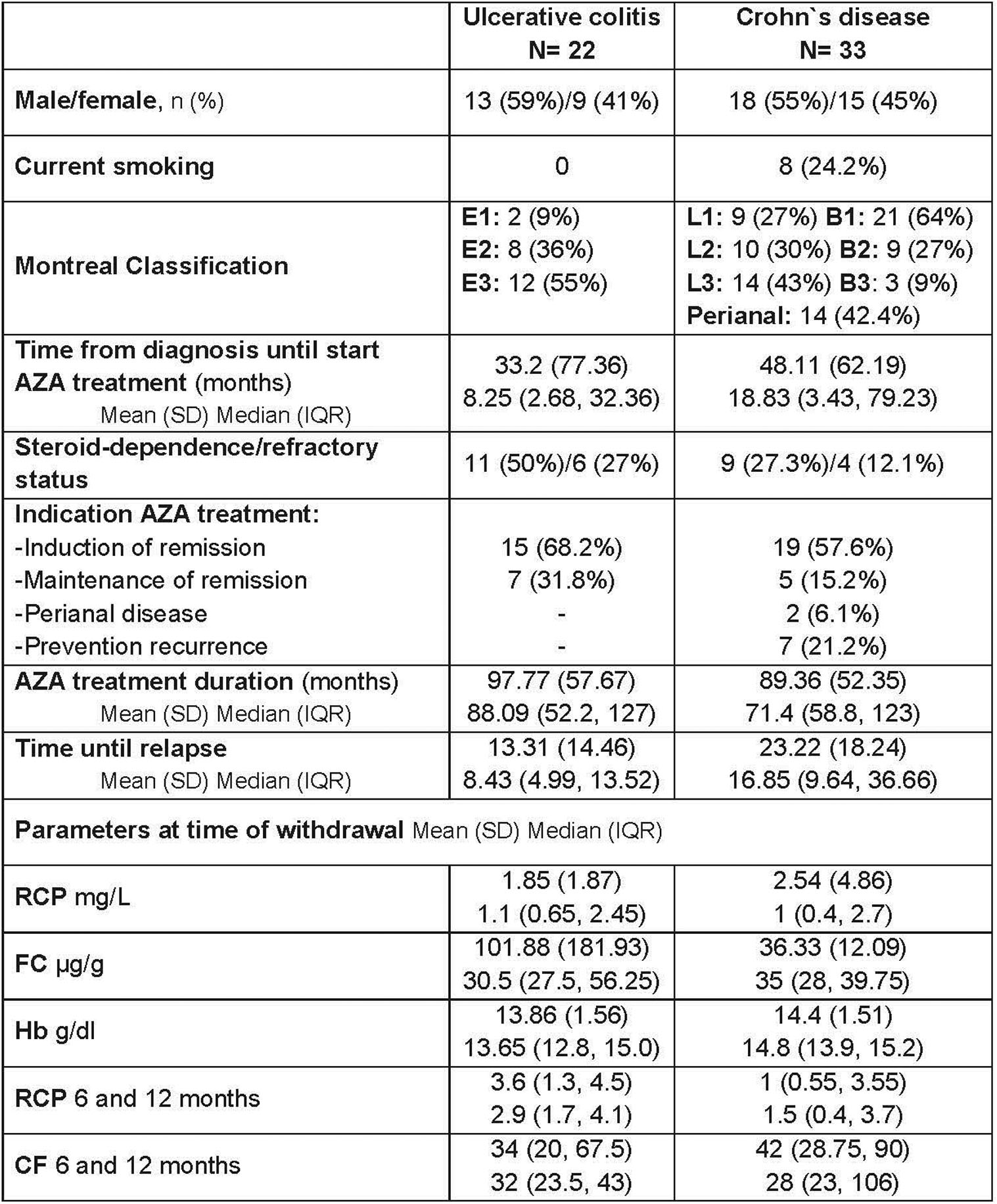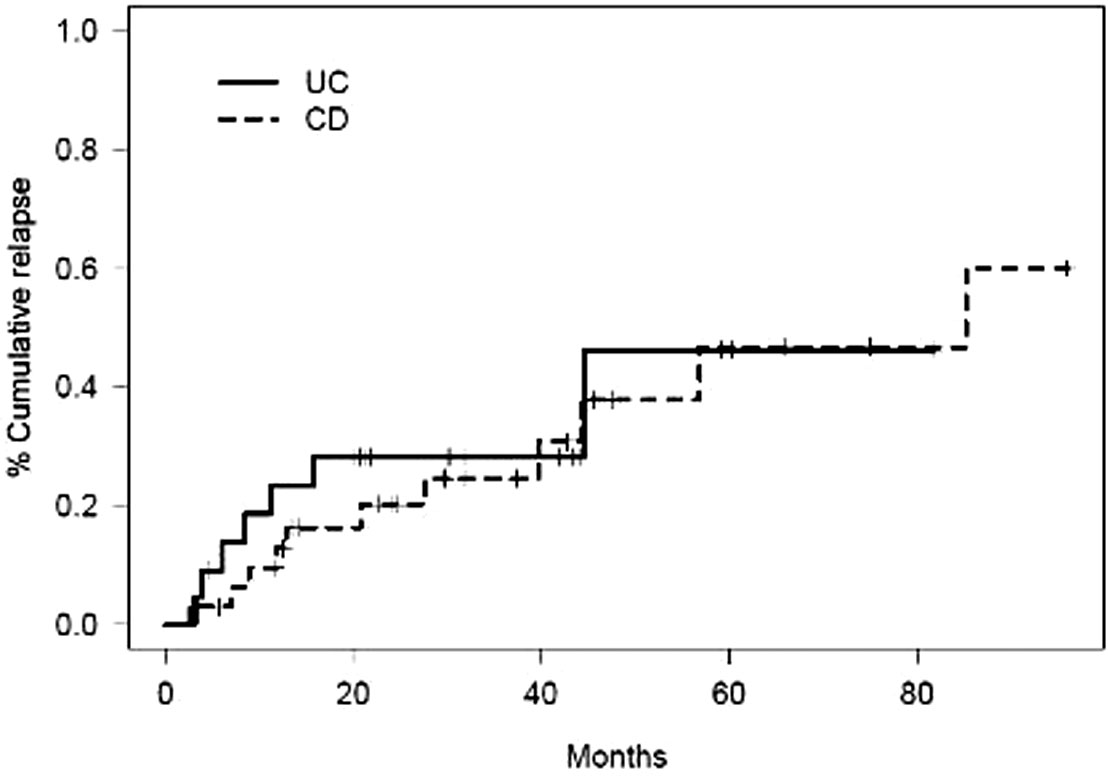 Figure 1. 
Conclusion
Half of the IBD patients who discontinue AZA therapy have a disease relapse after 5 years. However, 50% of the patients tolerate desintensification for a long period without relapsing. The steroid-dependence status is an important factor that should be taken into account when deciding to discontinue AZA. It may help identify which patients should be closely monitored because they are prone to relapse.