P479 Hepcidin and the risk of malnutrition in inflammatory bowel disease
R. Dudkowiak*, K. Neubauer, E. Poniewierka
Wroclaw Medical University, Department of Gastroenterology and Hepatology, Wroclaw, Poland
Background
Hepcidin is the key regulator of iron metabolism and in the pathogenesis of anaemia. Anaemia / iron deficiency can be one of the first manifestations of disorders of nutritional status. Malnutrition affects the efficiency and duration of treatment, increases the incidence of complications and is responsible for the increased incidence of exacerbations. Maldigestion and malabsorption associated with disease activity (hypermetabolism) and location of lesions significantly affect the risk of undernutrition and the need for nutritional support in IBD patients. In evaluation of the malnutrition risk can be used the screening scales such as: Nutritional risk screening 2002 (NRS 2002) and Subjective global assessment (SGA).
Methods
In total, 51 patients with Crohn's disease (CD; 24 women and 27 men) and 46 patients with ulcerative colitis (UC; 23 women and 23 men) underwent assessment of nutritional status at the time of admission to the gastroenterology ward. According to NRS 2002, patients were divided into currently without risk (< 3 points) and with the risk (> = 3 points) of malnutrition. SGA categories were A, normal nutritional status, B, suspicion of malnutrition, and C, high risk of malnutrition/emaciation. Serum hepcidin levels were measured using enzyme-linked immunosorbent assay.
Results
According to NRS 61% of patients (32 CD and 27 UC) had no indications for nutritional support and the risk of malnutrition occurred in 19 patients with CD (37.3%) and 19 patient with UC (41.3%). On the basis of SGA normal nutritional status A was observed in 44% of patients (23 CD and 20 UC). SGA B involved 31 patients (17 CD and 14 UC), and 23 patients (11 CD and 12 UC) had high risk of malnutrition (SGA C). The mean hepcidin level in patients with IBD was 48.0 ng/ml. Significantly more cases of hepcidin values above the upper limit of norm (> 54.4 ng/ml) were observed in CD (23 vs 12). Patients with > = 3 points had significantly higher mean values of hepcidin, but this difference was not statistically significant (51.74 ng/ml, SD 21.6 vs 45.24 ng/ml, SD 18.7, p = 0.164). Hepcidin showed a statistically significant positive correlation with NRS (ρ-Spearman = 0.205; p = 0.04).The mean hepcidin level in the SGA-A was significantly lower compared with the mean concentration of hepcidin in SGA-B (46.4, p = 0.002) and SGA-C (57.9, p = 0.032).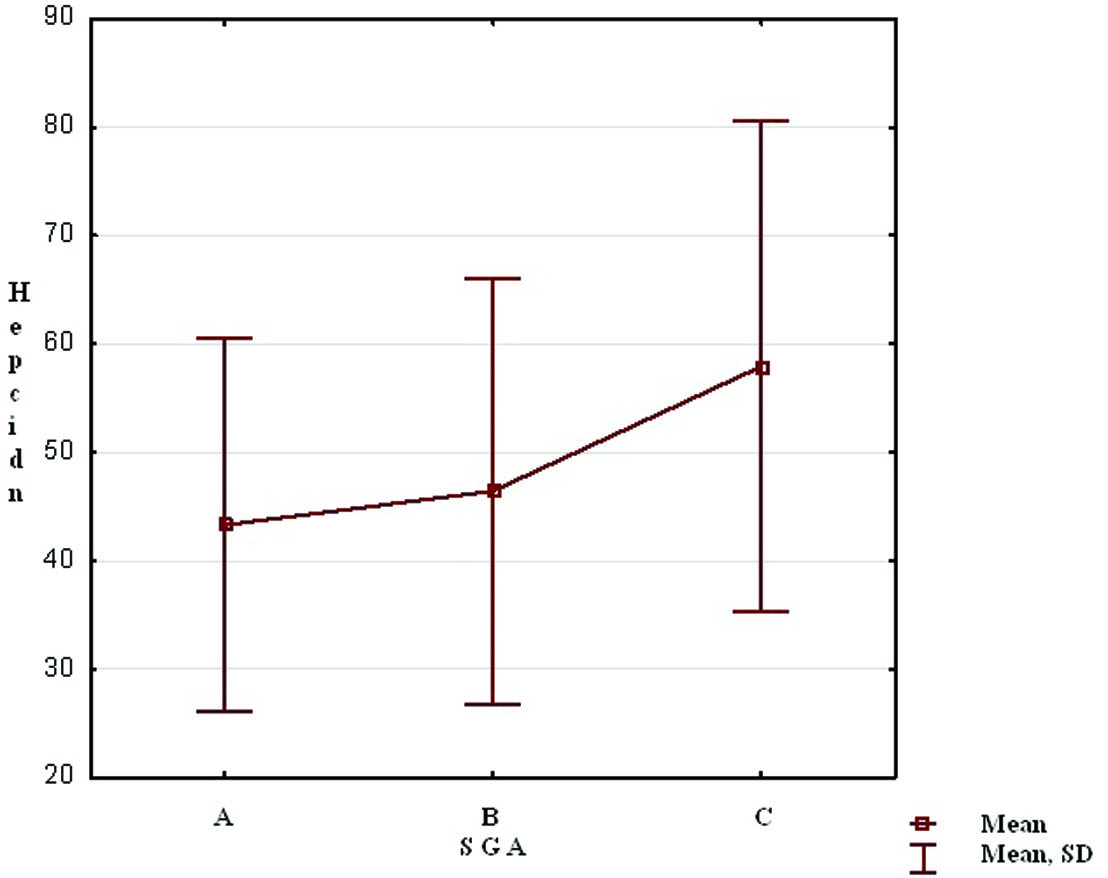 Figure 1. Distribution of serum hepcidin level in SGA categories.
Conclusion
Our data suggest that high hepcidin level is more specific for malnourished patients. This relationship should influence on the choice of an appropriate method of treatment for not only anaemia but also nutritional deficiencies.