P504 Stability observations in tacrolimus suppositories
M. Lie*1, E. Jansen2, P. Hoeben2, R. Zaal3, D. Hodes2, M. Rosman2, W. Loos2, J. van der Woude1
1Erasmus MC, Gastroenterology and Hepatology, Rotterdam, Netherlands, 2TioFarma BV, Oud-Beijerland, Netherlands, 3Erasmus Medical Centre, Hospital Pharmacy, Rotterdam, Netherlands
Background
A subset of ulcerative colitis patients suffer from proctitis, inflammation limited to the rectum only. In these patients treatment using suppositories is preferred, as this mode allows for optimal local drug exposure, whilst systemic uptake is reduced, limiting systemic adverse drug events. Proctitis is usually treated with local mesalazine, followed by local steroids. If local steroids fail, escalation to systemic therapy, such as thiopurines and biologicals, is necessary. Previous small studies have shown efficacy of topical tacrolimus for the treatment of distal ulcerative colitis. Small batches of tacrolimus suppositories are usually manufactured using Prograft® capsules. However, for a larger study, the development of a suppository using the active pharmaceutical ingredient (API) tacrolimus monohydrate is required. Here we report on the stability of these suppositories.
Methods
Suppositories were produced in batches of 2.000 pieces, using a suppositories filling machine, according to Good Manufacturing Practice standards. In short, tacrolimus monohydrate was combined with lactose monohydrate and Witepsol® H15 to form a 2.0 gram suppository, containing 2.0 milligrams of tacrolimus monohydrate. Suppositories were subjected to stability investigations according to the International Council for Harmonisation guidelines and stored at 25°C, 60% relative humidity (RH), and at 2–8°C for up to 36 months. Stability was assessed using high-performance liquid chromatography (HPLC) analysis, validated with regard to specificity, linearity, accuracy, precision, range, and robustness.
Results
Stability data are available for up to 18 months and revealed a significant loss of tacrolimus monohydrate in the suppositories stored at 25°C/60% RH, but not at those stored at refrigerated temperatures (Figure 1). Analysis on samples manufactured using Prograft® capsules and stored at 25°C/60% RH did not show a decline in tacrolimus content during 6 months. In addition, suppositories produced in small batches (batch size of 50) using the API also showed to be stable during at least 5 months when stored at 25°C/60% RH.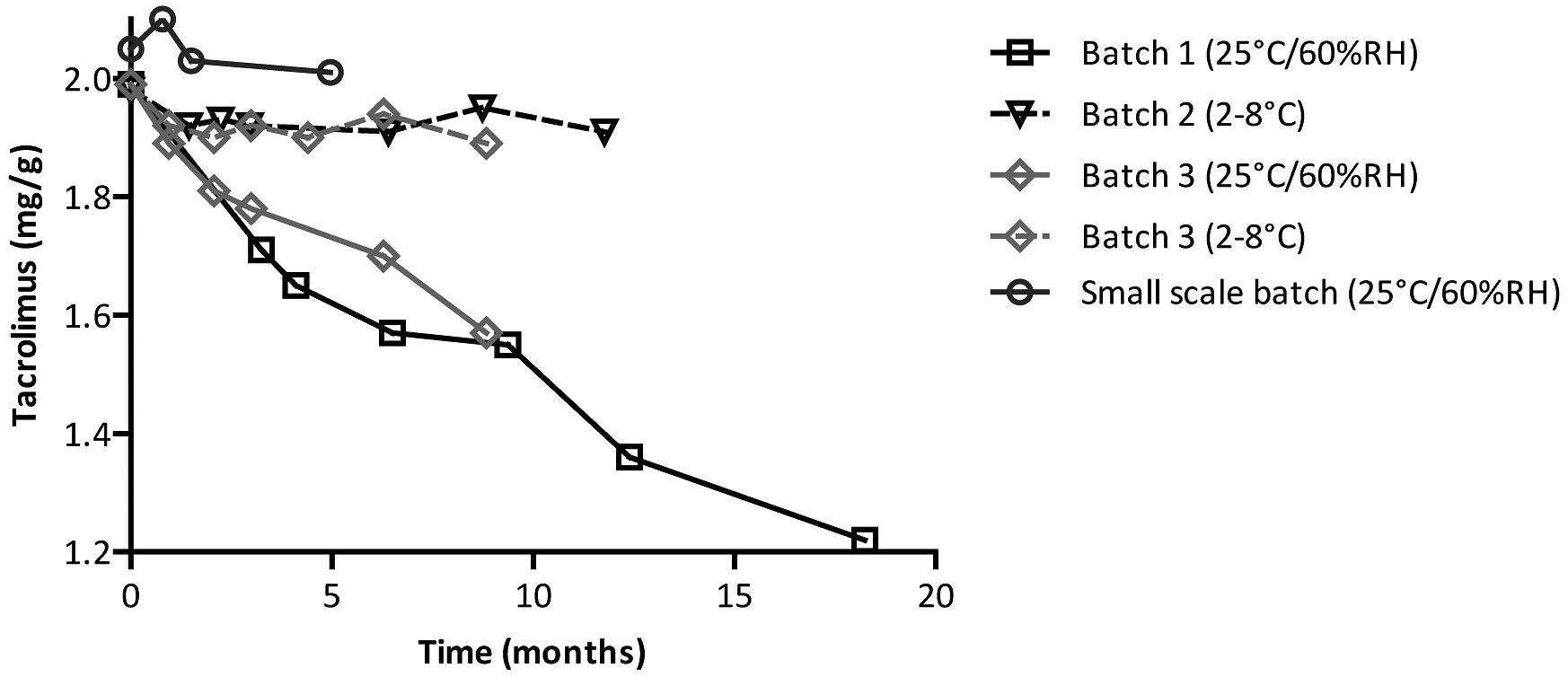 Figure 1. Summary of stability data of tacrolimus content (mg/g) in 4 batches of suppositories.
The solid lines are suppositories stored at 25°C 60% RH, and the dotted lines are suppositories stored at 8°C.
Conclusion
In tacrolimus suppositories manufactured on large scale, tacrolimus is lost during storage at ambient temperature. In contrast, when produced on small scale, no loss is observed. The cause of this loss in large-scale produced suppositories is yet unknown. Mixing time, pre-mixing with lactose monohydrate, and duration of exposure to elevated temperatures as causes of the drug instability are currently being investigated.