P538 Hypophosphataemia after different intravenous iron infusion drugs
P. Bager*1, J. Frederik Dahlerup2
1Aarhus University Hospital, Department of Hepatology and Gastroenterology, Aarhus, Denmark, 2Aarhus University Hospital, Department of Hepatology and Gastroenterology, Aarhus, Denmark
Background
Intravenous (IV) iron has increasingly been used for the treatment of iron deficiency anaemia and/or iron deficiency in inflammatory bowel disease (IBD). In general, IV iron is safe, but the infusions have been associated with both hypersensitive reactions and hypophosphatemia (HP). We have used both ferric carboxymaltose (FCM) and isomaltoside 1000 (ISM) as the only IV iron drug, but in different time periods. Therefore, we have experience with both drugs in the same IBD population. Further, blood samples (including phosphate) have been collected systematically over the years. The aim of our study was to compute and describe the prevalence and severity of HP after the 2 different types of IV iron infusions (FCM and ISM). Our study also aimed to search for predictors for HP and to describe whether HP could be linked to one drug only.
Methods
All patients from the department who received IV iron between November 2011 and April 2014 were included in the retrospective analysis. Data on IV iron drug, disease, demographics, and blood samples results were collected. HP was defined as phosphate < 2.0 mg/ml, and severe HP < 1.0 mg/ml.
Results
In total, 231 patients were included in the analysis. Further, 125 patients received FCM only; 67 received ISM only, and 39 received both drugs in the period. Patients treated with FCM had a greater drop in phosphate than those treated with ISM did (Figure 1). The prevalence of HP was higher for patients treated with FCM vs ISM (48% vs 14%; p < 0.01), and so was the prevalence of severe HP (9% vs 2%; p = 0.01). No differences in baseline characteristics could explain the results. The levels of ferritin 7 days after treatment were higher (p < 0.01) for those treated with FCM compared with ISM (Figure 2).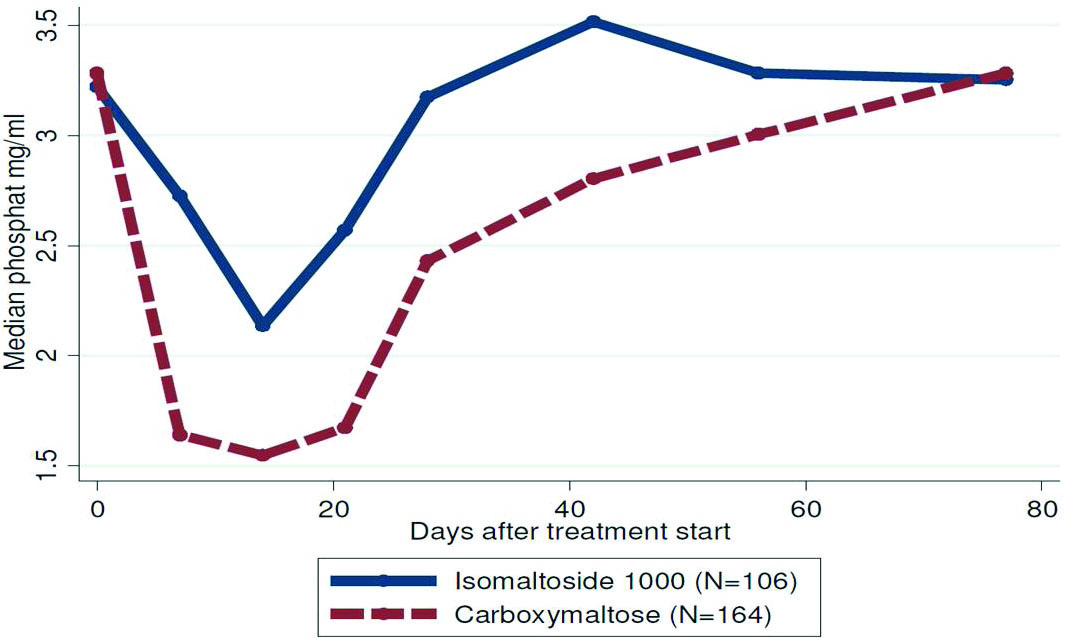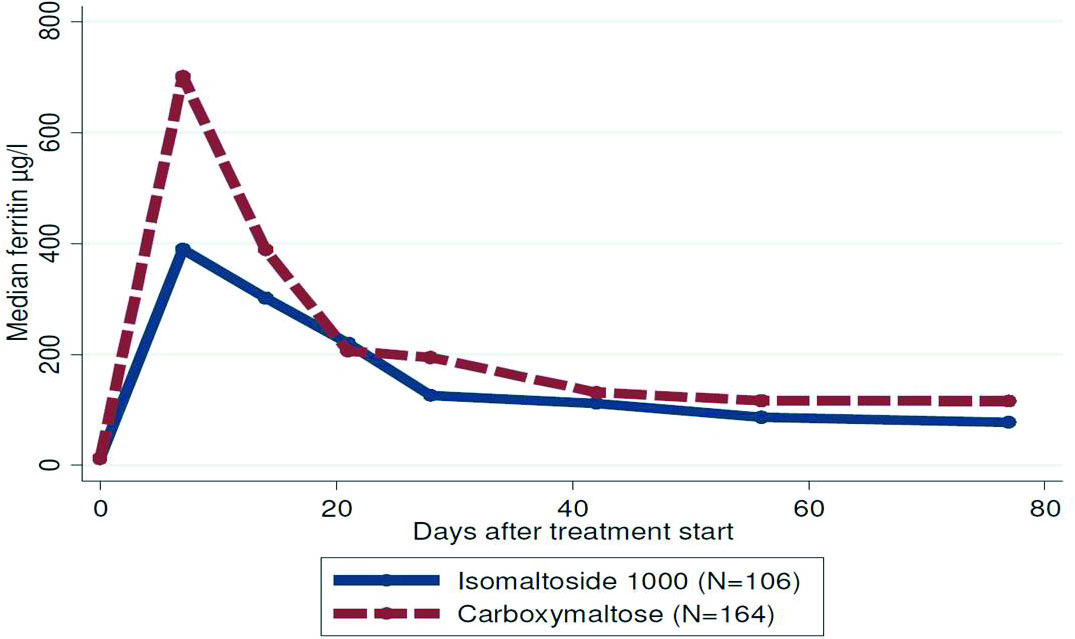 Figure 1 and 2.
Conclusion
IV iron infusions induce HP in every one in 3 patients. HP was more prevalent for FCM compared with ISM. A possible explanation of the differences in levels of phosphate could be due to the different increase in the levels of ferritin after IV iron infusion.