P594 Infliximab for active ulcerative colitis: a prospective study on patients' short-term response and long-term outcome.
U. Nieminen*1, U. Turunen1, P. Arkkila1, T. Sipponen1, M. Färkkilä1, 2
1Helsinki University Hospital, Department of Gastroenterology, Helsinki, Finland, 2Helsinki University, Clinicum, Helsinki, Finland
Background
In severe corticosteroid refractory or corticosteroid-dependent ulcerative colitis (UC) infliximab (IFX) is beneficial to avoid colectomy. The aim of this prospective study (IBD-HOT) was to evaluate efficacy of IFX in treatment on acute steroid-refractory and steroid or thiopurine-dependent UC, and to analyse the response for IFX induction to guide maintenance therapy.
Methods
All consecutive patients with UC refractory, intolerant to or dependent on corticosteroids and treated with IFX between January 2007 and December 2009 were enrolled. Patients' outcome was followed-up systematically for 3 years or until colectomy, which was the major endpoint. Clinical and laboratory data were collected at the beginning of IFX therapy and at routine scheduled visits. Patients' survival without colectomy was analysed by Kaplan–Meier survival analysis.
Results
In total, 42 patients (23 females) were included: 12 patients were corticosteroid non-responders, and 30 had a corticosteroid-dependent disease. Twelve patients had been treated previously with cyclosporine A. IFX induction therapy with doses of 5mg/kg was scheduled at 02–6 weeks (4 patients) or at 0–8 weeks (34 patients); 4 patients got only one infusion. Extended colitis was present at 31 patients; left-sided colitis in 9; and proctitis in 2. The mean Mayo scores declined significantly in the beginning of the follow-up period and remained low thereafter. Need for colectomy was related to the primary response at 12-weeks evaluated by Mayo score (p = 0.04). Colectomy-free survival at 3 years was 45.2 % (95% CI 30.2–60.3). Cumulative colectomy rate is shown in Figure 1. Altogether, 23 patients were colectomised, and 21 of them during the first year. In multivariate analysis Mayo score > 6 at 12 weeks was the only independent factor for colectomy (p = 0.02) with odds ratio 28.8 (CI 1.6–509.2).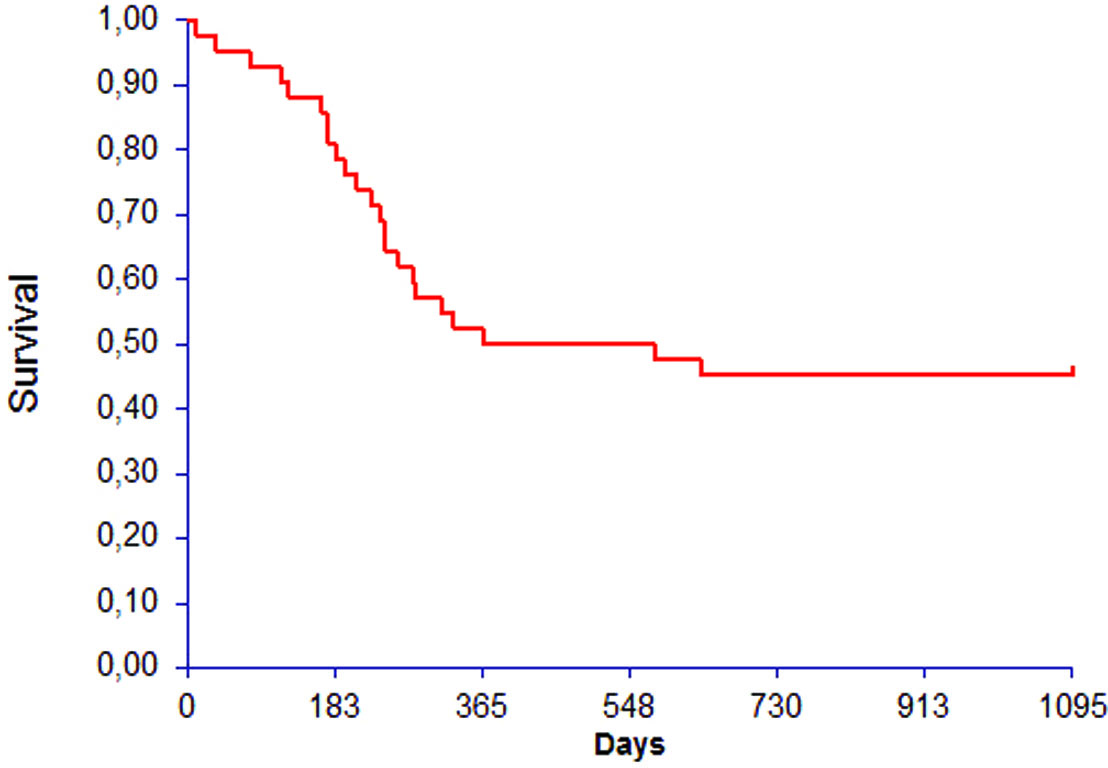 Figure 1. Colectomy-free survival.
Conclusion
In steroid-refractory or steroid-dependent patients, 45% responded to IFX therapy and avoided colectomy. Response to induction therapy was predictive both for IFX maintenance treatment and for risk of colectomy. IFX is effective in active UC, but maintenance therapy is recommended only for those responding to induction.