P595 More than 10 years of experience of use methotrexate in Ulcerative colitis at Macarena Hospital, Sevilla, Spain
M. F. Guerra Veloz*1, M. B. Maldonado Pérez1, A. Caunedo Álvarez1, L. Castro Laria1, J. L. Cotrina Lino2, F. Argüelles Arias1, A. Flores Cucho2, M. Romero Gómez2
1Unidad de Gestión Clínica de Aparato Digestivo Hospital Universitario Virgen Macarena, Seville, Spain, 2Hospital Universitario Virgen Macarena, Gastroenterology, Sevilla, Spain
Background
Methotrexate, a folate antagonist, is an effective immunosuppressive drug for the treatment of various diseases such as rheumatoid arthritis, psoriasis, or systemic lupus erythematosus. There are scarce studies about its effectiveness in the treatment of ulcerative colitis (UC).1,2 In clinical practice, methotrexate's effectiveness is underestimated, and its toxicity is overestimated; thus, it is not widely used in this field.
Methods
We developed a descriptive and retrospective study of patients diagnosed with UC in our health area. They perform a maintenance treatment with immunomodulators for IBD. Between 1995 and 2014, histologically confirmed, 585 patients were diagnosed with UC. Amongst them, 33 patients received treatment with MTX. Then we analysed the clinical response to the treatment using Truelove–Witts Index and the removal of the therapy (loss of efficacy / adverse effects) and dosage of treatment (route and dose, administration in monotherapy or adjunctive treatment).
Results
In total, 33 patients with UC were included, 19 men (58%) with 47.6 ± 13 years of average age. The extent of disease was proctosigmoiditis in 7 patients (21%); left colitis in 12 (37%); and extensive colitis in 14 (42%). Treatment was withdrawn in 21 patients (in 11 of them [33%] because of loss of efficiency, in 8 [24%] because of adverse drug reactions (ADRs), and in 2 patients (6%) for therapeutic modification).The average time of withdrawal of MTX was 4 months.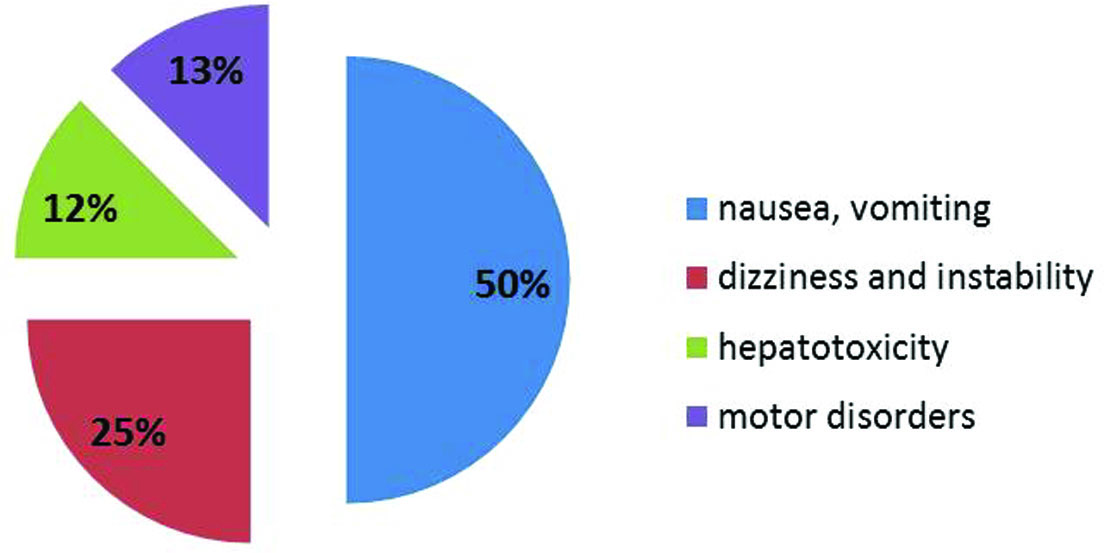 Figure 1. Adverse drug reactions.
Further, 12 patients continued maintenance treatment with MTX: 4 of them (33%) continued in monotherapy, and 8 of them in adjuvant therapy (MTX-Biology), with an adequate response, (Truelove–Witts Index < 6). The 4 patients who maintained remission with monotherapy had proctosigmoiditis. The initial dose for all patients was 25 mg sc/wk, which remains today, and no patients were treated with oral MTX or lower doses.
Conclusion
Patients, with UC in immunosuppressive treatment with MTX, maintain good clinical remission with adequate tolerance and safety profile. UC patients with good response to MTX had lower extent of disease proctosigmoiditis in most patients. Our patients in adjuvant therapy (mostly with infliximab), remain in remission from the disease probably by a combined effect. Further studies that evaluate the efficacy, dosage, and safety of maintenance treatment with MTX in UC are needed.
References
[1] Gomollón F, Rubio S. Recommendations Spanish Working Group of Crohn's Disease and Ulcerative Colitis (GETECCU) on the use of methotrexate in inflammatory bowel disease. Gastroenterol Hepatol 2015;38:24–30.
[2] Arun Swaminath, Raja Taunk. Use of methotrexate in inflammatory bowel disease in 2014: a user's guide. World J Gastrointest Pharmacol Ther 2014;6:113–21.