P659 A feasibility study with the telemedicine tool MyBiologicalCoach in The Netherlands
M. de Jong*1, 2, A. van Tubergen3, 4, A. Peters5, A. Masclee1, 2, V. Verstraeten6, M. Pierik1, 2
1Maastricht University Medical Centre+, Department of Internal Medicine, division of Gastroenterology and Hepatology, Maastricht, Netherlands, 2Maastricht University Medical Centre+, NUTRIM – 
School for Nutrition and Translational Research in Metabolism, Maastricht, Netherlands, 3Maastricht University Medical Centre+, Department of Internal Medicine, division of Rheumatology, Maastricht, Netherlands, 4Maastricht University Medical Centre+, CAPHRI - School for Public Health and Primary Care, Maastricht, Netherlands, 5Maastricht University Medical Centre+, Department of Internal Medicine, Maastricht, Netherlands, 6Maastricht University Medical Centre+, Department of Dermatology, Maastricht, Netherlands
Background
The introduction of biologicals significantly improved long-term outcomes of chronic immune-mediated inflammatory diseases (IMIDs), but they modulate the immune system and increase the risk for infections. Therefore, guidelines recommend systematic screening for latent infections before starting biologicals, and subsequent personalised monitoring of infections and side effects is necessary. Further, the government demands registration of efficacy data for these expensive drugs. We developed a multidisciplinary Internet-based telemedicine tool for IMID patients using biologicals. MyBiologicalCoach (MBC) screens patients commencing biological therapy and monitors disease activity, self-reported infections, side effects, disability, quality of life, and medication adherence and satisfaction by validated questionnaires every 3 months, and allows patients to communicate with their healthcare providers. This study aimed to evaluate the feasibility of MBC and satisfaction amongst health professionals and patients.
Methods
Since May 2015, MBC has been used at Maastricht University Medical Centre+. All IMID patients starting or switching a biological are invited to use MBC. Participants (with Internet access) receive a unique username and password. Patients complete a screening questionnaire at start and monitoring questionnaires every 3 months. The feasibility of MBC was evaluated both by the patients and 2 specialised biological nurses.
Results
Since May 2015, 149 patients have started or switched biologicals. Of these, 98 have Internet access and use MBC. To date, 39 patients filled out the evaluation form. Patients graded MBC with a mean score of 7.5 out of 10, and 89.7% would recommend MBC to others. Further, 10 patients contacted their healthcare workers via MBC, and 80% found MBC to facilitate such communication. In addition, 38 patients (97.4%) and both nurses scored the design and user friendliness of MBC as excellent. Only 2 patients found MBC time consuming. Of the 39 patients using MBC longer than 3 months, 87% completed the monitoring questionnaire, and 12 (30.8%) of these 39 patients reported 1 or more infections, and 8 (20.5%) reported 1 or more side effects during the last 3 months (Table 1).
Table 1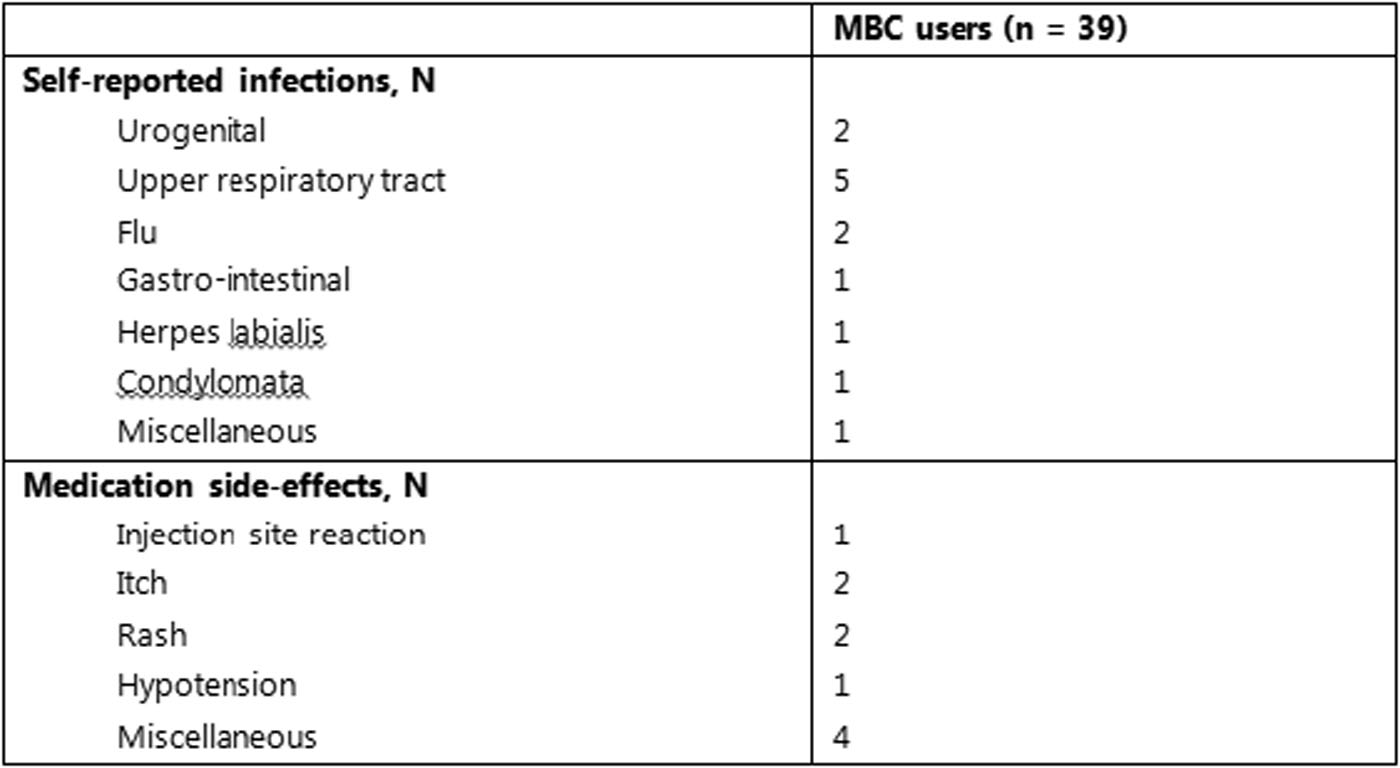 Conclusion
This feasibility study showed that MBC is well accepted and seems an effective tool to monitor patients on biologicals regarding self-reported infections and side effects. The data on infections and side effects will be used to optimise screening protocols and patient information in the future.