P663 Time trends in the epidemiology and outcome of perianal and rectovaginal fistulising Crohn's disease: results from the population-based inflammatory bowel disease South Limburg cohort
S. Jeuring*1, 2, K. Göttgens3, R. Sturkenboom3, M. Romberg-Camps4, L. Oostenbrug5, J. Melenhorst3, L. Stassen3, A. Masclee1, 2, D. Jonkers1, 2, M. Pierik1, 2, S. Breukink3
1Maastricht University Medical Centre, Internal Medicine - Division of Gastroenterology and Hepatology, Maastricht, Netherlands, 2Maastricht University Medical Centre, NUTRIM - School for Nutrition and Translational Research in Metabolism, Maastricht, Netherlands, 3Maastricht University Medical Centre, General Surgery, Maastricht, Netherlands, 4Zuyderland Medical Centre, Internal Medicine and Gastroenterology-Hepatology, Sittard-Geleen, Netherlands, 5Zuyderland Medical Centre, Internal Medicine and Gastroenterology-Hepatology, Heerlen, Netherlands
Background
Perianal fistulas (PF) and rectovaginal fistulas (RVF) occur frequently in Crohn's disease (CD) patients. These conditions can be very invalidating and are often refractory to treatment. Nevertheless, little is known about the current incidence and outcome. Therefore, we aimed to study the evolution of the PF and RVF incidence over the past 2 decades in our population-based IBD South Limburg (IBDSL) cohort.
Methods
All 1 162 CD patients from the IBD South Limburg (IBDSL) registry, diagnosed between 1991 and 2011, followed until 2014, were included. PF and RVF were identified by scrutinising patients' medical records using standardised registration forms. Time to fistula development was determined by Kaplan–Meier survival statistics, and time trends were assessed by distinguishing 2 eras, based on the date of CD diagnosis: 1991–2000 and 2001–2011. Secondary, risk factors for PF and RVF were assessed by multivariable Cox regression modelling and presented as adjusted hazard ratios (aHR) with accompanying 95% confidence intervals (95% CI).
Results
In total, 161 (13.9%) patients had a PF, and 17 (2.3%) women had an RVF. Of these, 30.4% (PF) and 11.8% (RVF) developed before CD diagnosis. The 10-year cumulative probability of developing a PF was 15.7%, and no difference was observed between the 2 eras (aHR 0.81; 95% CI 0.58–1.12) (Figure 1).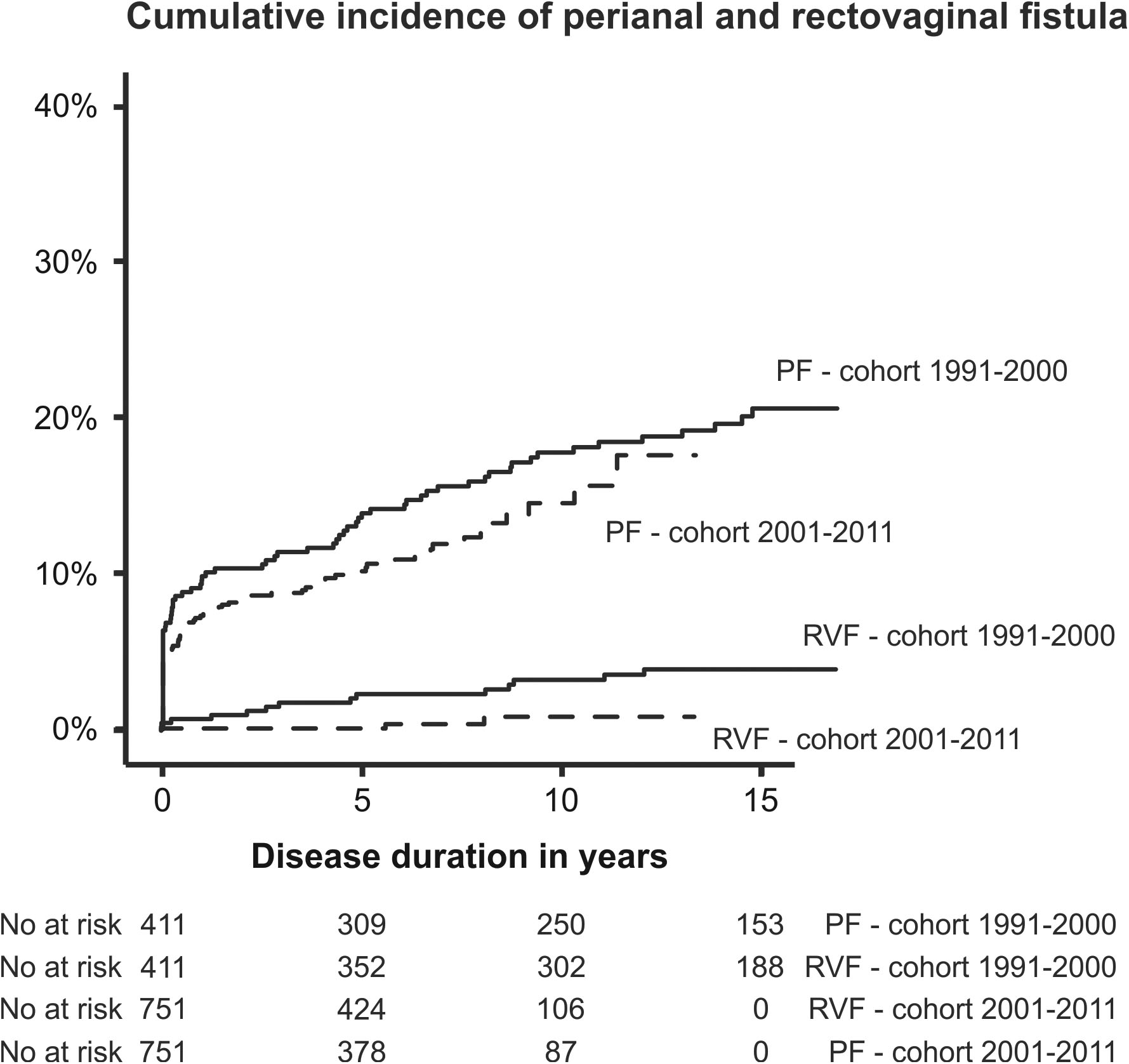 Figure 1. Cumulative incidence of perianal and rectovaginal fistulas in the IBDSL cohort.
34 (30.4%) patients were on immunomodulator treatment, 7 (6.3%) on anti-TNFα monotherapy, and 3 (2.7%) on combination therapy at PF diagnosis. Colonic CD localisation (aHR 2.18; 95% CI 1.33–3.58) and a history of a perianal abscess (aHR 18.60; 95% CI 13.22–26.16) were associated with PF development. Upon PF diagnosis, CD therapy was adjusted in 41.1%: 17.0% started with an immunomodulator; 24.1% initiated anti-TNFα therapy; and most (88.9%) as combination therapy. Antibiotics were prescribed in 82.6% and 61.5% required surgery. The 10-year recurrence risk was 38.0%, and no change was observed over time (aHR 1.70; 95% CI 0.96– 3.00). With regard to RVF, the 10-year cumulative probability was lower in the second era: 1.4% vs 5.1%, aHR 0.19; 95% CI 0.05–0.68). A perianal abscess was associated with an RVF (aHR 8.59; 95% CI 3.30–22.36).
Conclusion
In this population-based study, perianal fistulas were common and often recurred, even in the current era. Rectovaginal fistulas, on the contrary, are less often seen. These findings underline the lasting importance of improving medical and surgical treatment strategies, in particular for perianal fistulas.