P724 Common genetic predisposition between fatigue-related syndromes and inflammatory bowel disease: a systematic review
J. Kreijne*, G. Fuhler, C. J. van der Woude, M. Peppelenbosch
Erasmus MC, Gastroenterology and Hepatology, Rotterdam, Netherlands
Background
Even during sustained remission, many patients with inflammatory bowel disease (IBD) suffer from fatigue, which negatively affects their quality of life and work productivity. Because of limited knowledge on the pathogenesis of IBD-related fatigue, adequate management remains challenging. In chronic fatigue syndrome (CFS), numerous single nucleotide polymorphisms (SNPs) have been found to be associated with development and persistence of fatigue. Similarly, genome-wide-association studies have identified over 160 susceptibility loci for IBD. We hypothesised that genetic predisposition is a critical pillar in the development of a clinical fatigue phenotype in IBD. Therefore, we performed a literature review to identify possible risk loci associated with IBD-related fatigue.
Methods
A systematic review was performed to assess the potential involvement of genetic risk loci in the development of phenotypic fatigue in IBD, by identifying overlapping genetic susceptibility loci for IBD and other fatigue-related disorders. MEDLINE, EMBASE, the Cochrane Library, and OMIM were searched from inception to August 2015 for relevant studies on all genetic loci associated with IBD. Initially, existence of relevant literature was identified through analysis of the entire OMIM entry for a specific genetic locus and through keyword searches for fatigue, psychological, weakness, sleep, circadian, and depression, with analysis of the literature involved in possible links.
Results
The initial search identified copious evidence for common genetic deposition to both chronic fatigue and IBD, of which 232 were included for detailed analysis. We identified 29 IBD risk SNPs that were also associated with other fatigue-related disorders, including NOS2, IL1R1, and PTPN22. Extensive overlap in genetic risk loci was observed with CFS, major depression disorder, other immune-mediated diseases, and circadian rhythm disturbances (Figure 1).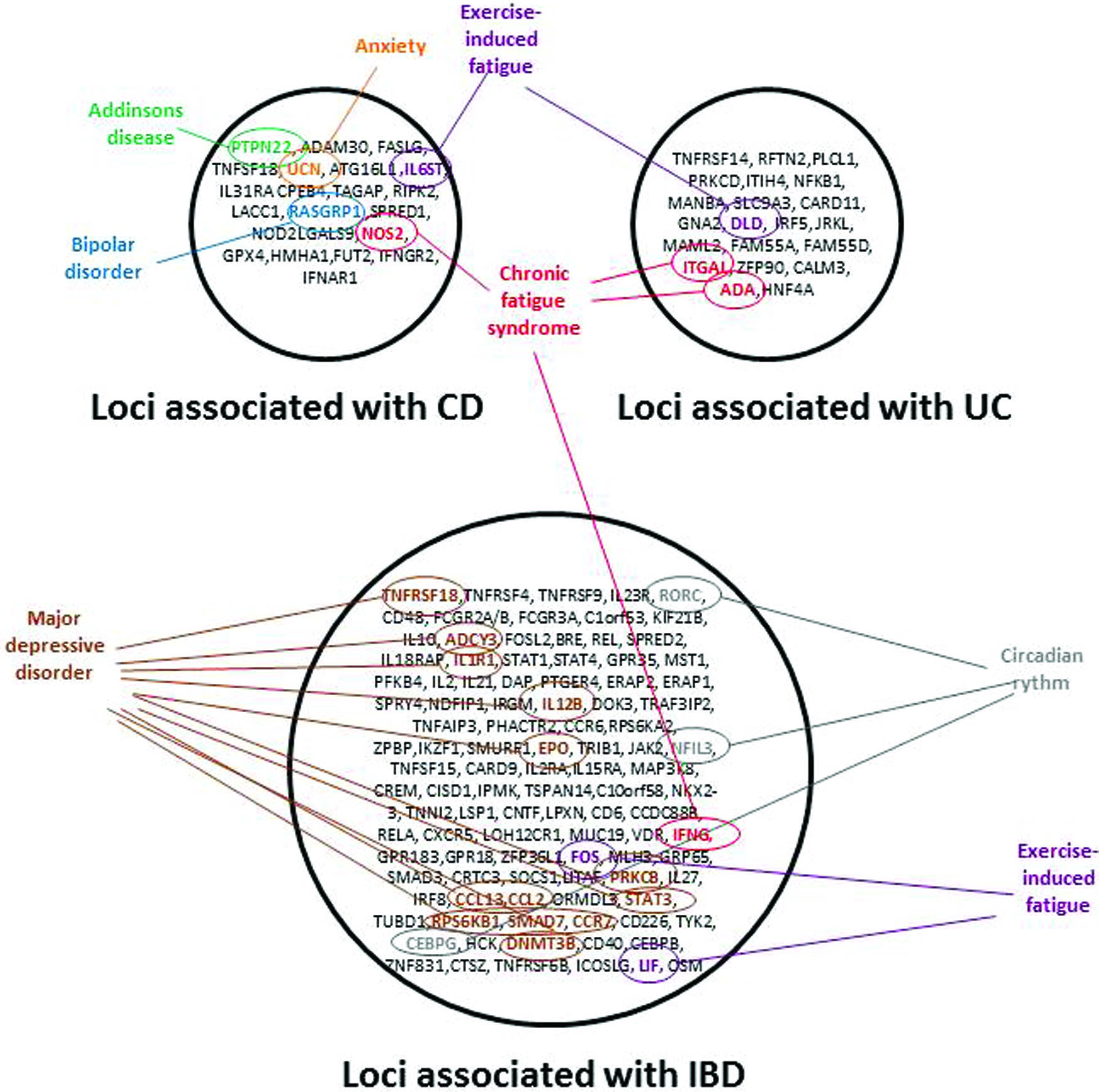 Figure 1.
Conclusion
Our data suggest that on a genetic level, substantial overlap between IBD and phenotypical fatigue exists, suggesting that patients bearing these SNPs maybe at increased risk for developing IBD-related fatigue. Identification of the genetic polymorphisms putting patients at risk of developing fatigue, and knowledge of the pathways involved is of importance for future therapeutic targeting of this debilitating manifestation of IBD. Genetically based profiling might allow for stratification of fatigued IBD patients and tailored clinical management.
References
[1] van Langenberg DR, Gibson PR. Systematic review: fatigue in inflammatory bowel disease. Aliment Pharmacol Ther 2010; 32(2):131–43.
[2] Feagan BG, Bala M, Yan S, et al. Unemployment and disability in patients with moderately to severely active Crohn's disease. J Clin Gastroenterol 2005;3(4):390–95.
[3] Cohen BL, Zoega H, Shah SA, et al. Fatigue is highly associated with poor health-related quality of life, disability and depression in newly diagnosed patients with inflammatory bowel disease, independent of disease activity., Aliment Pharmacol Ther 2014;39(8): 811–22.
[4] Goertzel BN, Pennachin C, de Souza Coelho L, et al. Combinations of single nucleotide polymorphisms in neuroendocrine effector and receptor genes predict chronic fatigue syndrome. Pharmacogenomics 2006;7(3):475–83.
[5] Landmark-Hoyvik H, Reinertsen KV, Loge JH, et al. The genetics and epigenetics of fatigue. PM R 2010;2(5)456–65.