P730 Circulating microRNA223 is a new biomarker for inflammatory bowel disease
H. Wang, S. Zhang, Q. Yu, M. Li, Z. Zeng, Y. He, B. Chen, M. Chen*
The First Affiliated Hospital, Sun Yat-sen University, Guangzhou, China
Background
Endoscopy is an important tool in scanning and monitoring inflammatory bowel disease (IBD); however, it is invasive, costly, and associated with risks to the patient. Circulating microRNAs (miRNAs) have emerged as promising noninvasive biomarkers. We proposed that the expression of serum microRNA223 (miR-223) could be a biomarker for IBD.
Methods
Studies were conducted using serum samples from 100 patients with IBD (50 with Crohn's disease [CD], 50 with ulcerative colitis [UC]) and healthy controls (n = 50). The expression of serum miR-223 was measured by quantitative reverse transcription-polymerase chain reaction. The clinical disease activity was assessed by measurement of the Crohn's Disease Activity Index (CDAI) for CD and the Mayo score for UC. Endoscopies were performed and graded according to the simple endoscopic score for CD (SES-CD) and the ulcerative colitis endoscopic index of severity scores (UCEIS) for UC. Blood samples for the measurement of high-sensitivity C-reactive protein (hs-CRP) and erythrocyte sedimentation rate (ESR) were taken within 1 week before or after endoscopy.
Results
Serum miR-223 expression increased 2.2 times in patients with CD and 2.8 times in patients with UC compared with the control group. Most importantly, the level of serum miR-223 was correlated with several indicators of disease activity both in CD and UC. Serum miR-223 demonstrated a higher Spearman's r value, compared with ESR and hs-CRP, in detecting the disease activity of patients with IBD.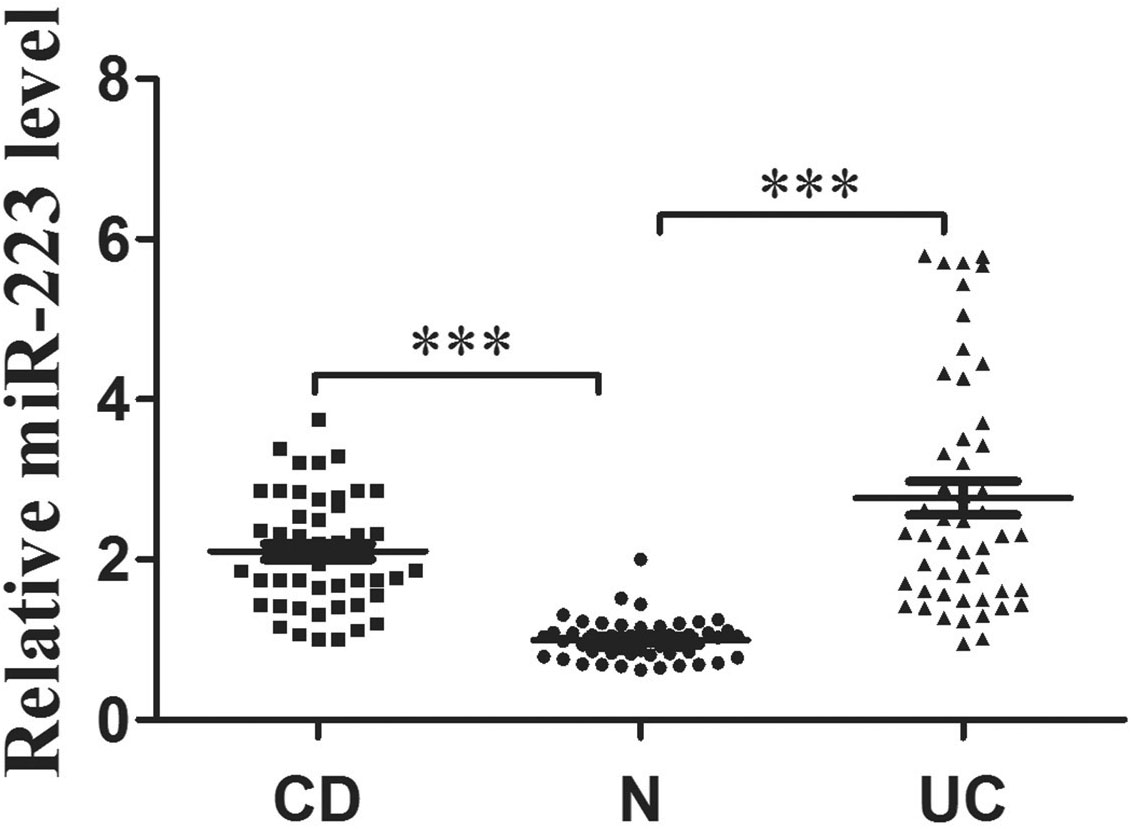 Figure 1. The expression of miR-223 was up-regulated in serum from patients of CD and UC compared with controls, **p < 0.01.
Conclusion
Serum miR-223 might be a promising biomarker for monitoring disease activity in IBD patients.