DOP040 Postoperative surgical recurrence in Crohn's disease decreases significantly in the biologic era
Beelen E.M.J.*1, Schouten W.R.2, Oldenburg B.3, van der Meulen-de Jong A.E.4, Ponsioen C.I.J.5, Dijkstra G.6, Pierik M.J.7, de Jong D.J.8, de Boer N.K.H.9, van der Woude C.J.1, De Vries A.C.1
1Erasmus MC, Department of Gastroenterology and Hepatology, Rotterdam, Netherlands 2Erasmus MC, Department of General Surgery, Rotterdam, Netherlands 3University Medical Center Utrecht, Department of Gastroenterology and Hepatology, Utrecht, Netherlands 4Leiden University Medical Center, Department of Gastroenteorlogy and Hepatology, Leiden, Netherlands 5Academic Medical Center (AMC), Department of Gastroenterology and Hepatology, Amsterdam, Netherlands 6University Medical Center Groningen, Department of Gastroenterology and Hepatology, Groningen, Netherlands 7Maastricht University Medical Center (MUMC), Department of Gastroenterology and Hepatology, Maastricht, Netherlands 8Radboud University Medical Centre, Department of Gastroenterology and Hepatology, Nijmegen, Netherlands 9VU University Medical Centre, Department of Gastroenterology and Hepatology, Amsterdam, Netherlands
Background
A large proportion of Crohn's disease (CD) patients undergo bowel resection within 10 years after diagnosis. Previous reports estimated postoperative surgical recurrence rates around 30–50% within 10 years. However, pre- and postoperative treatment paradigms have shifted significantly over the past decades. In this study, we aimed to assess recent time trends of ileocecal resection (ICR) in CD patients and postoperative surgical recurrence.
Methods
Adult CD patients who underwent ICR in the period from January 1991 to December 2015 were identified in PALGA, the Dutch nationwide histopathology archive. Histology reports on oncologic resections and tissue revision were excluded. Data on demographics, ICRs and subsequent bowel resections were recorded. Surgical recurrence was defined as a re-resection of the colon, small bowel or rectum. Follow-up data were evaluated to December 2015. Survival data on patients without follow-up in the database were imputed using survival data of the general Dutch population. Patients were divided into four groups according to year of ICR to evaluate time trends. Risk of surgical recurrence was assessed using Kaplan-Meier survival statistics. Hazard ratios (HR) were assessed using Cox regression.
Results
The identified cohort comprised 2614 CD patients (M 979/ F 1635), who underwent ICR at a median age of 31.0 years (IQR 25–45). An increase in the absolute number of ICRs was observed during the study period, from 471 in the period 1991–1996, 610 in 1997–2002, 605 in 2003–2008, to 928 in 2009–2015.
A total of 542 patients underwent re-resection after a median follow-up of 5.6 years (IQR 2.2–10.1). The overall risk of re-resection after 5, 10 and 20 years was 7.7%, 15.7% and 28.0% respectively. The 5-year risk of re-resection after ICR decreased significantly during the study period from 13.6% in 1991–1996 to 7.0% in 1997–2002, 6.7% in 2003–2008 and 4.8% in 2009–2015. The 10-year risk decreased from 24.7% in 1991–1996 to 14.0% in 1997–2002 and 13.8% in 2003–2008. Corresponding HRs were 0.55 for 1997–2002, 0.52 for 2003–2008 and 0.36 for 2009–2015.
Figure 1. Risk of postoperative surgical recurrence in Crohn's disease patients.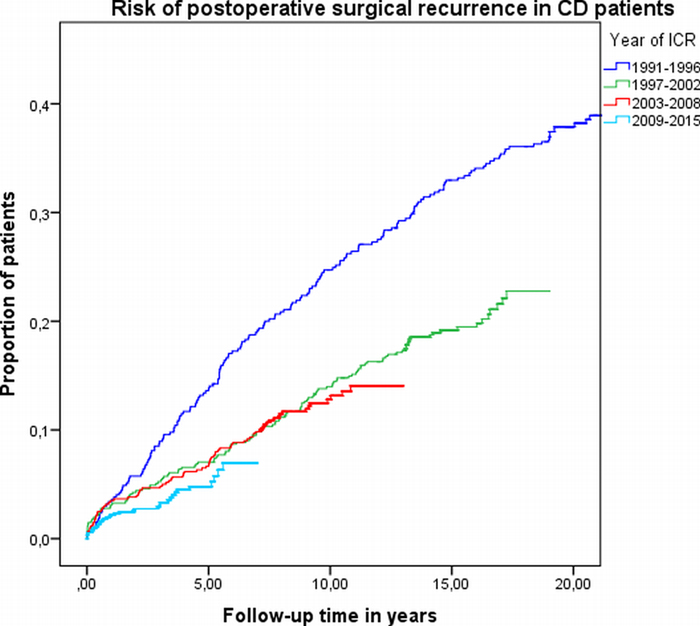 Conclusion
CD patients have an overall risk of postoperative surgical recurrence of 8% within 5 years and 16% within 10 years after ICR. The risk of surgical recurrence within 5 years has declined significantly with an absolute risk reduction of 9% during the period from 1991 to 2015. This observation might be explained by implementing improved (post)operative treatment strategies, including availability of biologicals.