DOP074 Pharmacokinetics and exposure-response of tofacitinib in a Phase 3 maintenance study in ulcerative colitis patients
Mukherjee A.*1, D'Haens G.R.2, Sandborn W.J.3, Tsuchiwata S.4, Vong C.5, Deng C.6, Xie R.6, Hazra A.1, Martin S.W.5, Friedman G.7, Niezychowski W.7, Su C.7
1Pfizer Inc, Groton, CT, United States 2Department of Gastroenterology, Academic Medical Centre, Amsterdam, Netherlands 3Division of Gastroenterology, University of California, San Diego, La Jolla, CA, United States 4Pfizer Japan Inc, Tokyo, Japan 5Pfizer Inc, Cambridge, MA, United States 6Pfizer Inc, Shanghai, China 7Pfizer Inc, Collegeville, PA, United States
Background
Tofacitinib is an oral small molecule Janus kinase inhibitor that is being investigated for ulcerative colitis (UC). A recently completed 52-week (wk) Phase 3 maintenance study (NCT01458574) demonstrated efficacy of tofacitinib 5 and 10 mg twice daily (BID) in patients (pts) with moderately to severely active UC, who achieved clinical response following 8 wks of induction therapy. Here, we characterised the pharmacokinetics (PK) of tofacitinib and the relationships of tofacitinib exposure to efficacy endpoints, using exposure-response (E-R) modeling of data from the Phase 3 maintenance study.
Methods
Plasma samples for population PK analysis were collected from all pts in the maintenance study. PK data from the induction and maintenance studies were pooled, and individual tofacitinib exposure metrics (average concentration [Cavg]; trough concentration [Ctrough]) were derived for pts in the maintenance study. Efficacy endpoints at Wk 24 and 52 were: remission (total Mayo score ≤2, no subscore >1, rectal bleeding subscore of 0), mucosal healing (Mayo endoscopic subscore ≤1), and sustained steroid-free remission. The E-R analysis evaluated linear and non-linear (Emax) relationships in a binomial model with Markov dependence, implemented in SAS v 9.2. Maintenance baseline (BL) disease (Mayo score, extent of disease, disease duration), TNF inhibitor (TNFi) failure and prior use of immunosuppressants, BL corticosteroid and aminosalicylate use, age, sex and race were evaluated as covariates.
Results
Individual predicted Cavg and Ctrough did not show significant change over the 52-wk study duration. The PK was linear with a mean estimated clearance of 26.3 L/hr and a volume of distribution of 115.8 L. E-R modeling of remission at Wk 24 and 52 indicated that pts who were not in remission at BL in the study achieved greater incremental benefit with 10 vs 5 mg BID, compared to pts in remission (Figure 1) at BL. Dose-normalised Cavg values at each dose level were similar between pts irrespective of remission status. More refractory pts, such as those with higher BL Mayo score, who did not achieve remission during induction, and with previous TNFi failure, showed lower efficacy compared to other pts.
Figure 1. Predicted probability of remission at Week 52 as a function of average tofacitinib concentration (Cavg) in patients not in remission (Panel A) or in remission (Panel B) at the start of the maintenance trial.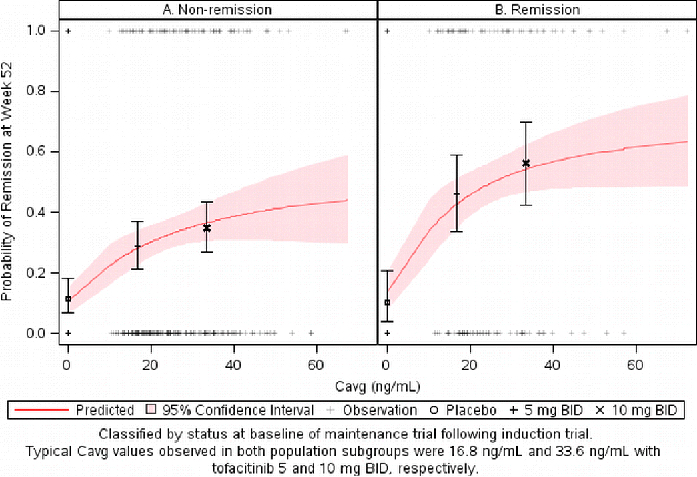 Conclusion
Individual plasma concentrations remained stable through the 52-wk study, and monitoring of plasma tofacitinib concentrations is not needed during maintenance treatment. The incremental efficacy of 10 mg BID relative to 5 mg BID appeared to be more pronounced in pts with refractory disease.