DOP079 The role of intestinal transplant in patients with complicated inflammatory bowel disease: the Cambridge experience
Yeap S.P.*1, Sharkey L.M.1, Woodward J.M.1, Massey D.C.1, Middleton S.J.1, Russell N.K.2, Butler A.J.2
1Addenbrooke's Hospital, Gastroenterology, Cambridge, United Kingdom 2Addenbrooke's Hospital, Transplant Surgery, Cambridge, United Kingdom
Background
A number of patients with inflammatory bowel disease (IBD), despite best medical and surgical interventions, fail to thrive necessitating parenteral nutrition (PN) and in rare cases consideration of intestinal transplant. Some may require other organs transplanted simultaneously for example if they have co-existing severe liver or renal diseases.
Methods
We retrospectively reviewed our database with the aim to study the outcome of IBD patients who were referred for intestinal or multivisceral transplant at our unit between 2008 and November 2016.
Results
Over the last 8 years, 30 patients with IBD were referred for consideration of intestinal transplant. The majority were on PN for a mean of 9.2 years (range 1–30 years) and suffered from PN-related complications (see image). The need for PN stemmed from stricturing or fistulising behaviour of Crohn's disease (CD) while patients with ulcerative colitis (UC) experienced post-colectomy complications such as volvolus or ischaemia rendered them short gut. At the time of referral, most patients (21/30) were no longer on any maintenance drugs for their IBD as they do not have active disease.
Figure 1. Referral outcome for intestinal transplant (*umber of deaths; PN = Parenteral Nutrition; EN = Enteral Nutrition.)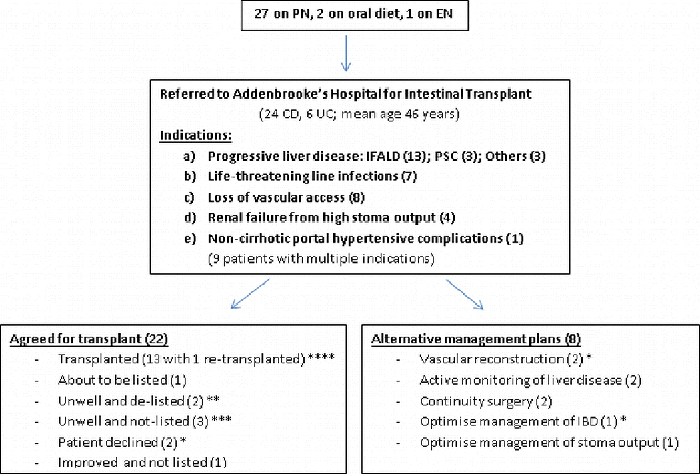 43.3% of patients referred (11/24 CD, 2/6 UC) underwent transplant. More than half (8/13) included a liver-containing graft. The indications comprised primary sclerosing cholangitis (PSC) (1), intestinal failure associated liver disease (IFALD) (2), alcohol and non-alcoholic fatty liver disease (1); biliary sepsis (1), and secondary biliary cirrhosis with methotrexate hepatotoxicity (1). 3 patients had kidney and intestine grafts due to concurrent end-stage renal failure. The remaining 2 had intestinal transplant primarily due to loss of vascular access.
Post-transplant, 1 patient required ongoing PN due to severe bowel rejection and 2 required parenteral fluids to maintain their renal function. There was improvement in mean body mass index (from 22.2 to 23.5 kg/m2) and handgrip strength by 7% at median of 12 months post-transplant. To date there is 1 possible but not definite IBD recurrence. During the study period, there were 4 deaths at a mean of 39.3 months (range 16–64.4 months). This is in keeping with our unit's general 5-year survival rate of 55.4% and compared favourably with the international data [1].
Conclusion
PN-related complications are the most common indications for intestinal transplant referral. Concurrent liver disease is common in our studied population with complex IBD resulting in the need for simultaneous liver transplant.
References:
[1] D. Grant, K. Abu-Elmagd, G. Mazariegos, et al. (2015), Intestinal Transplant Registry Report: Global Activity and Trends, Wiley Periodicals Inc., American Journal of Transplantation, 210–219, 15, http://onlinelibrary.wiley.com/doi/10.1111/ajt.12979/pdf, 2016–01–01