OP031 Long-term safety and tolerability of oral tofacitinib in patients with Crohn's disease: results from a phase 2 open-label 48-week extension study
Panés J.*1, D'Haens G.R.2, Higgins P.D.R.3, Mele L.4, Moscariello M.4, Chan G.4, Wang W.4, Niezychowski W.4, Su C.4, Maller E.4
1Hospital Clinic de Barcelona, IDIBAPS, CIBERehd, Barcelona, Spain 2Department of Gastroenterology, Academic Medical Centre, Amsterdam, Netherlands 3University of Michigan, Ann Arbor, MI, United States 4Pfizer Inc, Collegeville, PA, United States
Background
Tofacitinib is an oral, small molecule Janus kinase inhibitor that is being investigated for inflammatory bowel disease. The efficacy and safety of tofacitinib 5 and 10 mg twice daily (BID) for inducing and maintaining clinical remission in patients (pts) with moderate to severe Crohn's disease (CD) was investigated in two Phase 2b studies [1,2]. We present data from a follow-up open-label long-term extension (OLE) study.
Methods
This was a Phase 2b, multicentre, 48-week (wk) OLE study (NCT01470599) in pts with CD who completed the maintenance study (NCT01393899) or withdrew due to treatment failure. Pts in clinical remission (CD activity index [CDAI] <150) at Wk 26 of the maintenance study received tofacitinib 5 mg BID; all other pts received 10 mg BID. A single dose adjustment of 5 to 10 mg BID or vice versa was allowed post Wk-8, at the physicians' discretion. The primary objective was to assess safety. All efficacy endpoints were exploratory. Descriptive summaries by initially assigned dose were calculated based on observed data with no imputation of missing data.
Results
62 pts in remission and 88 pts not in remission at baseline (BL) received tofacitinib 5 and 10 mg BID (Table). 22 and 3 pts in 5 and 10 mg BID switched dose during the 48-wk study. 43 and 45 pts initially assigned 5 and 10 mg BID completed the study. Both groups had similar adverse event (AE) and serious infection rates; Gastrointestinal disorders and Infections were the most common AE system organ classes (SOC). CD, nasopharyngitis and urinary tract infections were the most common AE terms. Serious AEs (SAEs) occurred in 8.1% and 19.3% of 5 and 10 mg BID pts; CD/worsening condition was the most common SAE: 4.8% and 10.2% for 5 and 10 mg BID, respectively. Discontinuations (d/c) due to AEs excluding worsened CD attributed to insufficient clinical response occurred in 4.8% and 11.4% of 5 and 10 mg BID pts, with Infections the most common SOC. One case of basal cell carcinoma occurred with 10 mg BID. At Wk 48, 87.9% and 55.6% of 5 and 10 mg BID pts were in remission, with a mean CDAI change from BL of −4.8 and −121.9, respectively.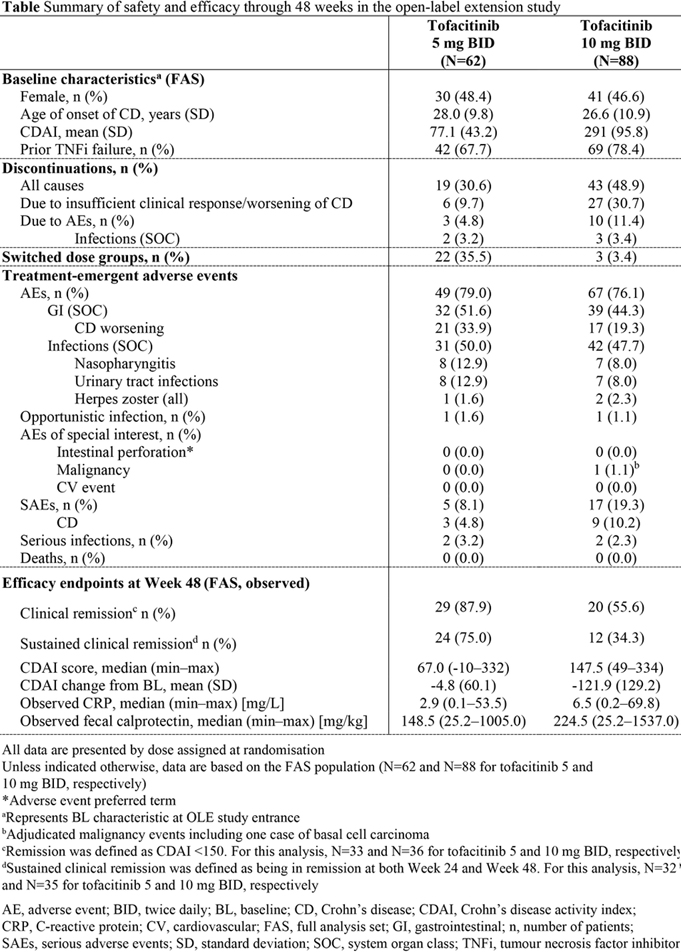 Conclusion
Both doses had similar AE rates overall but SAEs and early d/c due to AE rates were higher in 10 mg BID. However, only 10 mg BID pts entered with active disease and some pts switched dose groups post-Wk 8. This study showed no new safety findings from those previously reported.
References:
[1] Panés J et al, (2016), Efficacy and safety of oral tofacitinib for induction therapy in patients with moderate-to-severe Crohn's disease: results of a Phase 2b randomised placebo-controlled trial, J Crohns Colitis, 10: S18
[2] D'Haens G et al, (2016), Efficacy and Safety of Oral Tofacitinib for Maintenance Therapy in Patients with Moderate to Severe Crohn's Disease: Results of a Phase 2b Randomized Placebo-Controlled Trial, J Crohns Colitis, 10: S17