OP034 Efficacy and safety of abrilumab in subjects with moderate to severe ulcerative colitis: results of a phase 2b, randomised, double-blind, multiple-dose, placebo-controlled study
Sandborn W.J.1, Cyrille M.2, Hansen M.B.3, Feagan B.G.4, Loftus Jr. E.V.5, Rogler G.6, Vermeire S.7, Cruz M.L.2, Yang J.2, Sullivan B.A.2, Reinisch W.*8
1University of California San Diego, Department of Gastroenterology, La Jolla, United States 2Amgen, Thousand Oaks, United States 3University of Copenhagen, Copenhagen, Denmark 4Robarts Clinical Trials, Robarts Research Institute, Western University, London, Canada 5Mayo Clinic, Division of Gastroenterology and Hepatology, Rochester, United States 6Universitätsspital Zürich, Zürich, Switzerland 7University Hospital Gasthuisberg, Leuven, Netherlands 8Medical University of Vienna, Vienna, Austria
Background
α4β7 integrin is a validated target in IBD. We studied abrilumab (AMG181/MEDI7183), a fully human monoclonal antibody against α4β7 integrin, in subjects with ulcerative colitis (UC) and inadequate or loss of response to anti-tumor necrosis factors (TNFs) or immunomodulators.
Methods
This phase 2b, multicentre, randomised, double-blind, placebo (PBO)-controlled, parallel-group, multi-dose study enrolled subjects with moderate to severe UC (total Mayo Score 6–12, rectosigmoidoscopy score ≥2). Subjects received PBO or abrilumab (7, 21, or 70 mg) subcutaneously (SC) on day 1, weeks 2 and 4, and every 4 weeks or abrilumab 210 mg SC on day 1, stratified by prior anti-TNF exposure and participation in a pharmacokinetic (PK) substudy. The primary endpoint was remission at week 8 (table); key secondary endpoints were response and mucosal healing at week 8. Endoscopy was centrally read. CD4+ T cell subsets were enumerated and α4β7 receptor occupancy was measured in a subset of subjects.
Results
This study enrolled 354 subjects. The final allocation of 116, 21, 40, 98, and 79 in the PBO, 7, 21, 70, and 210 mg groups, respectively, was due to a systematic misalignment in investigational product; study blind and randomisation were intact. Remission rates were 4.4, 1.6, 2.9, 13.5, and 13.4% in the PBO, 7, 21, 70, and 210 mg groups, respectively; response and mucosal healing rates are listed in the table.
Table 1. Rates of remission, response, and mucosal healing at week 8 in subjects who received abrilumab.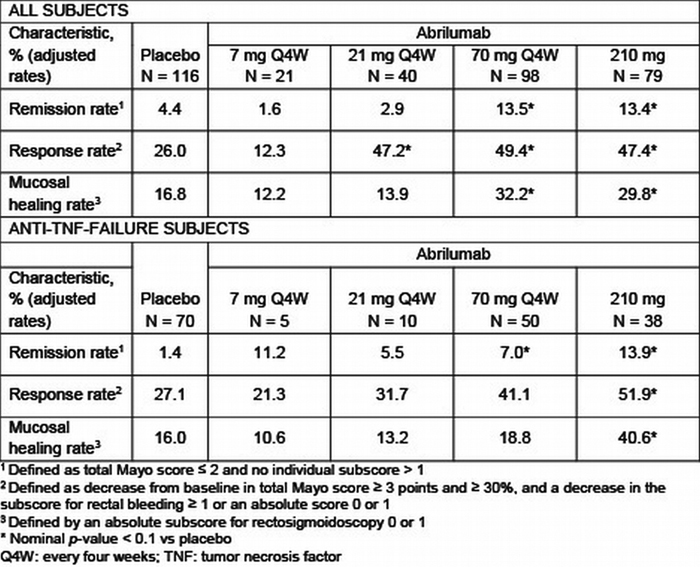 Higher rates of remission, response, and mucosal healing in the prior anti-TNF failure subgroup 210-mg arm were observed: 13.9, 51.9, and 40.6%, respectively. Maximal reduction of free α4β7 on naïve CD4+ T cells in the peripheral blood was sustained through week 8, except for the 7-mg group. Abrilumab induced a significant post-dose increase in α4β7-high central memory CD4+ T cell (Tcm) counts from baseline to week 8. Exposure-response (E-R) modeling of PK data demonstrated that subjects in decile groups with mean trough levels >10 μg/mL showed maximal remission rates. Adverse events were balanced among groups through week 24, with no PML or deaths. No subject developed neutralising antibodies to abrilumab.
Conclusion
Abrilumab demonstrated a favorable safety, immunogenicity, PK, pharmacodynamic, and efficacy profile, suitable for further testing in subjects with UC. Efficacy did not appear to correlate with peripheral target coverage or changes in α4β7-high Tcm. E-R modeling suggests that higher abrilumab exposure may result in higher remission and response rates.
Disclosure: Amgen and AstraZeneca/MedImmune sponsored this study.