P053 Circulating non-classical monocytes are reduced in patients with active IBD but increase after vedolizumab: a role for α4β7 in myeloid cell recruitment to the inflamed intestine
Gordon H.*1, Hoti I.2, Lindsay J.O.1,3, Stagg A.2
1Royal London Hospital, Gastroenterology, London, United Kingdom 2The Blizard Institute, Centre for Immunobiology, Barts and the London School of Medicine, London, United Kingdom 3The Blizard Institute, Centre for Immunology, Barts and the London School of Medicine, London, United Kingdom
Background
Monocyte derived cells populate the intestine and contribute to inflammation in IBD. Circulating human monocytes comprise classical, intermediate and non-classical subsets which likely represent a differentiation pathway. The expression and role of α4β7 signalling on human myeloid cells is not known. Our aim was to test the hypothesis that α4β7 contributes to monocyte trafficking to the human intestine and investigate whether vedolizumab impacts this pathway.
Methods
9 patients and 7 healthy controls were recruited (mean age = 28.9 years; 7M:2F; CD:UC=5:4. Six patients were bled pre and post (2–6 wks) infusion. Classical (CD14+CD16-), Intermediate (CD14+CD16+) and non-classical (CD14-CD16+) HLA-DR+ monocytes were identified by antibody labeling. α4β7 was defined by the presence on β7 in the absence of CD103 (αE). Cell numbers were determined by simultaneous acquisition of Flow Count beads.
Results
Non-classical monocytes were a numerically small population in all subjects and significantly reduced in patients with active IBD (n=9 p=0.0052 Mann-Whitney U -test). In contrast numbers of intermediate monocytes and the predominant classical population did not differ in disease. Reduced non-classical monocytes may reflect depletion as the result of recruitment of these cells, or their precursors, to the intestine in a manner similar to CD4+CD45RA- effector T cells which were also reduced in active IBD patients (p=0.0115; Mann-Witney U-test).
Expression of α4β7 was detected in all monocyte subsets although the proportion of α4β7+ cells was significantly lower in non-classical monocytes in both groups of subjects. There were no significant differences in the proportion of α4β7+ monocyte subsets between IBD patients and healthy controls.
In a subset (n=6) of patients, monocyte numbers were determined before and after vedolizumab therapy. Numbers of non-classical monocytes increased significantly (p=0.031; Wilcoxen paired test) following vedolizumab.
Figure 1. Non classical monocytes (pre and post vedolizumab therapy.)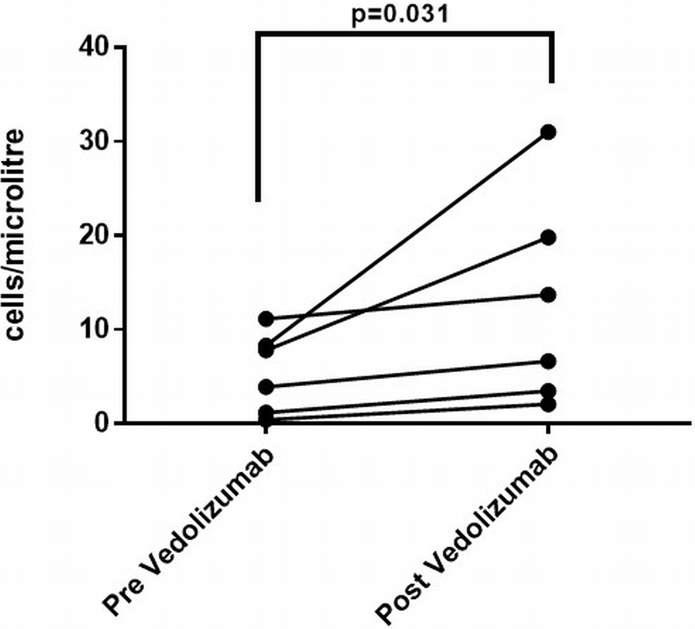 Vedolizumab therapy did not affect numbers of classical or intermediate monocytes (not shown).
Conclusion
Altered monocyte populations in IBD, expression of α4β7 and an effect of vedolizumab on circulating monocytes suggest a contribution of α4β7-dependant recruitment of these innate immune cells to the disease process in IBD. Changes in non-classical monocytes, the likely final cells in a monocyte differentiation pathway, may be influenced by effects on their classical and intermediate precursors, a high frequency of which express α4β7.