P061 Epigenetic alterations at diagnosis predict susceptibility, prognosis and treatment escalation in inflammatory bowel disease – IBD Character
Adams A.*1, Kalla R.1, Vatn S.2, Bonfiglio F.3, Nimmo E.1, Kennedy N.1, Ventham N.1, Vatn M.2, Ricanek P.4, Bergemalm D.5, Halfvarson J.5, Söderholm J.6, Pierik M.7, Törkvist L.8, Gomollόn F.9, Gut I.10, Jahnsen J.2, Satsangi J.1 IBD Character Consortium
1University of Edinburgh, Institute of Genetics and Molecular Medicine, Edinburgh, United Kingdom 2University of Oslo, Institute of Clinical Medicine, EpiGen, Campus Ahus, Oslo, Norway 3BioCruces Health Research Institue, Bilbao, Spain 4Akershus University, Department of Gastroenterology, Akershus, Norway 5Örebro University, Department of Gastroenterology, Faculty of Medicine and Health, Örebro, Sweden 6Linköping University Hospital, Department of Surgery, Linköping, Sweden 7Maastricht University Medical Center (MUMC), Department of Gastroenterology and Hepatology, Maastricht, Netherlands 8Karolinska Institute, Department of Clinical Science, Intervention and Technology, Stockholm, Sweden 9University Hospital Clinic Lozano Blesa, Zaragoza, Spain 10CNAG-CRG Centre for Genomic Regulation, Barcelona Institute of Science and Technology, Barcelona, Spain
Background
Biomarker discovery to predict disease outcomes is a key focus in Inflammatory Bowel Disease (IBD). We have characterized disease-associated methylation changes in newly diagnosed IBD, defined the relationship to genetic variation (meQTL) and assessed the prognostic utility of the methylome in IBD.
Methods
Genome-wide methylation was measured in peripheral blood DNA (N=641: 298 controls, 150 CD, 167 UC, 26 IBDU) using Illumina 450k chips with covariates of age, sex, and deconvoluted cell counts; genotyping was performed using Illumina HumanOmniExpressExome-8 BeadChips. Samples were obtained from new IBD cases in six European centres as part of the IBD-Character project. Outcome data were captured for the Edinburgh and Oslo IBD cohorts. Treatment escalation in IBD was defined as the need for surgery and/or biologic therapies after initial induction of disease remission.
Results
Disease-associated methylation changes were consistent between centres, and with previously published findings [1],[2]. 290 probes exhibited Holm significant IBD-associated methylation changes, including VMP1/MIR21 (p=7.5 ×10–14) and RPS6KA2 (1.1×10–19), with novel findings including PHOSPHO1 (2.5×10–10) and MUC4 (5.5×10–8).
Paired genetic and methylation data showed 1037 Bonferroni significant MeQTLs indicating a genetic influence on several key loci — RPS6KA2 (8.6×10–34), ITGB2 (3.3×10–38), and VMP1/MIR21 (rs8078424, p=4.4×10–25, rs10853015, p=7.4×10–21).
Follow up data were available for 214 patients with IBD. A total of 26 (33%), 21 (17%), and 2 (18%) patients required treatment escalation in the CD, UC, and IBDU groups respectively. 11 DMPs were significantly associated with treatment escalation after Holm correction (top probe p=0.003). In UC and CD individually, 1 and 3 probes respectively survived correction for multiple testing. Supervised and unsupervised clustering identified 2 IBD patient subgroups with distinct disease courses (HR 10.5, 95% CI: 4.3–25.6; logrank p=1.5×10–24).
Figure 1. Prediction of requirement for treatment escalation by LDA.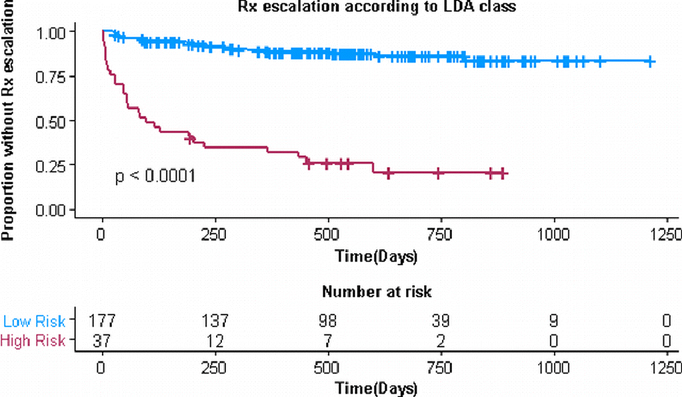 The 6 probe marker outperformed conventional biomarkers in predicting treatment escalation (hsCRP >4 mg/L, HR 3.2 (1.7–5.8), logrank p=0.0004 and Alb <36 g/L, HR 2.9 (1.5–5.6), p=0.0001).
Conclusion
These data allow profiling of the IBD methylome, involving novel associations and important unequivocal replication of recent discoveries and provide insight into germline variation of epigenetic mechanisms in IBD. As biomarkers, the methylome shows promise in predicting disease course in IBD.
References:
[1] Ventham et al, (2016), Integrative epigenome-wide analysis demonstrates DNA methylation may mediate genetic risk in inflammatory bowel disease, Nat. Commun., Nov 25;7:13507, doi:10.1038/ncomms13507.
[2] Adams et al, (2014), Two-stage genome-wide methylation profiling in childhood-onset Crohn's Disease implicates epigenetic alterations at the VMP1/MIR21 and HLA loci., Inflamm Bowel Dis, Oct;20(10):1784–93, doi:10.1097/MIB.0000000000000179