P120 A single-nucleotide polymorphism in the vitamin D receptor gene is associated with a B3-penetrating phenotype in Crohn's disease
Gisbert-Ferrándiz L.*1, Salvador P.1, Ortiz-Masiá D.1, Macias-Ceja D.C.2, Calatayud S.1,3, Hinojosa J.4, Oltra-Camps L.4, Barrachina M.D.1,3, Hernández C.2
1University of Valencia, Valencia, Spain 2Fisabio Hospital Dr Peset, Valencia, Spain 3CIBERehd, Valencia, Spain 4Hospital of Manises, Valencia, Spain
Background
Vitamin D signaling modulates inflammation through the vitamin D receptor (VDR) which is a member of the nuclear receptor family of transcription factors. The presence of C instead of T in the single-nucleotide polymorphism (SNP) rs731236 in the VDR gene has been associated with a higher risk for Crohn's disease (CD). We analysed the relevance of the presence of risk allele C in the evolution of the disease.
Methods
DNA was extracted from blood samples from 99 patients diagnosed with CD and 72 healthy donors from the Hospital of Manises (Valencia) and the SNP was genotyped using PCR-RFLP. We collected clinical data for each patient, including the Montreal classification in several phenotypes. Also, peripheral blood mononuclear cells (PBMCs) from 16 CD patients with the TT or CC genotype were obtained and gene expression of some cytokines was quantified in these cells by real-time RT-PCR.
Results
The allelic frequency of the risk allele was higher in CD patients related to healthy controls (p=0.2881, Fisher's test) and it was significantly different when compared with patients showing a B3 phenotype (p=0.026, Fisher's test). In addition, CD patients homozygous for the risk allele C initiated with the disease at a lower age (Fig. 1; p=0.05, t-test CC vs TT), and exhibited a significant higher risk to have a B3-penetrating phenotype (Fig. 2; p=0.0018, Chi-square; p=0.0078, Fisher's test CC vs TT, OR=5.3) and to need surgery (Fig. 3; p=0.013, Chi-square; p=0.021, Fisher's test CC vs TT, OR=4.3). Finally, PBMCs from patients with the CC genotype showed a higher level of IL1 β (p=0.13, t-test), IL18 (p=0.05, t-test) and IFN γ (p=0.36, t-test) mRNA than patients with the TT genotype.
Figure 1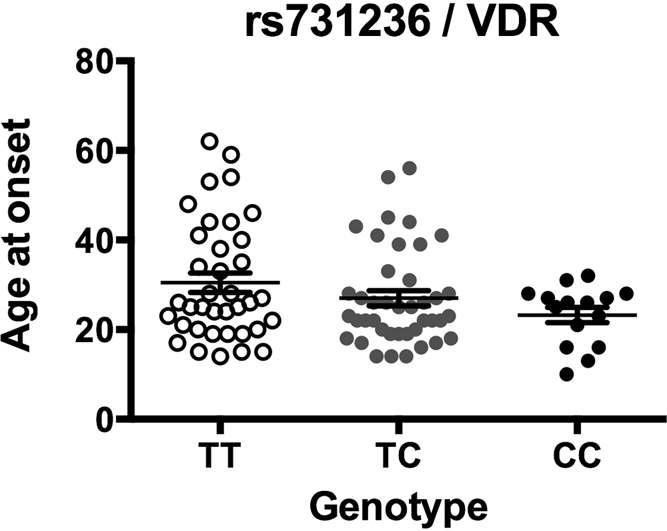 Figure 2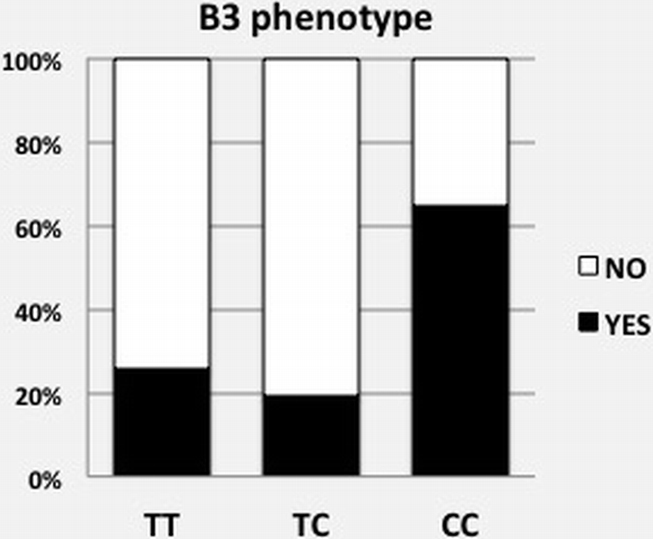 Figure 3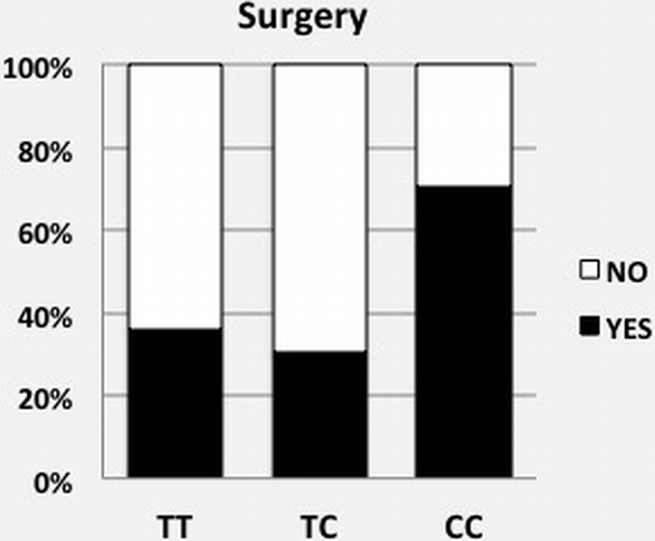 Conclusion
Our study indicates that homozygosity for the allele C in the SNP rs731236 in the VDR gene confers a higher risk to develop a B3-penetrating phenotype in CD patients, associated with an elevated expression of pro-inflammatory cytokines in PBMCs.