P168 Validation of the red flags index for early referral of patients with symptoms and signs suggestive of Crohn's disease
Raimundo Fernandes S.*1, Rita Carvalho J.1, Santos P.1, Marques da Costa P.1, Moura C.1, Correia L.1, Baldaia C.2, Moura Santos P.2, Rita Gonçalves A.2, Valente A.2, Velosa J.1
1Hospital de Santa Maria, Serviço de Gastrenterologia e Hepatologia, Lisboa, Portugal 2Centro Hospitalar Lisboa Norte, Gastrenterology, Lisbon, Portugal
Background
Crohn's disease (CD) is a systemic chronic debilitating inflammatory disease affecting the gastrointestinal tract. The delay in diagnosis is common and this can have severe clinical consequences. Recently, a simple 8 symptom index "The Red Flags Index" has shown high specificity and sensitivity in identifying patients with symptoms suggestive of CD who should be referred to a specialist for further evaluation. We sought to validate this score in a cohort of Portuguese patients.
Methods
The previous score (S. Danese et al Journal of Crohn's and Colitis, 2015, 601–606) was prospectively applied in a cohort of patients with an established diagnosis of CD. Healthy subjects and patients with irritable bowel syndrome (IBS) were used as controls. Patients with CD were asked to recall the symptoms and signs that they had experienced during the 12 months previous to the date of diagnosis. Patients with IBS and healthy subjects were asked about symptoms and signs present during the 12 months before the visit.
Results
132 patients (66 with CD) were included in this study. Subjects with CD had higher scores than controls (3.5±0.78 versus 2.1±1.4, p<0.001). In ROC curve analysis (AUC 0.961), a score >2 showed sensitivity of 96.97% and positive and negative predictive values were 83.1% and 95.7%, respectively. A score >7 showed 100% specificity and positive predictive value for diagnosing CD.
Figure 1. AUROC.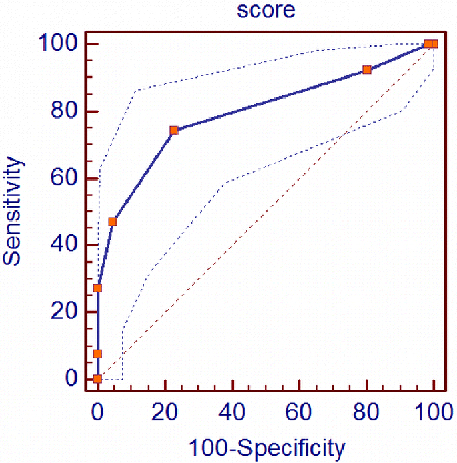 Conclusion
The Red Flags Index showed good sensitivity and specificity for selecting patients with Crohn's disease in a cohort of Portuguese patients. Its routine use in primary care may allow early diagnosis and referral of patients with CD.