P195 The utility of fecal microRNAs in the diagnosis of inflammatory bowel disease
Yi F.
Second affiliated hospital of Nanchang University, Department of Oncology, Nanchang, China
Background
Inflammatory bowel disease (IBD) includes Crohn's disease (CD) and ulcerative colitis (UC), chronic disease that still present challenges for physicians treating it: diagnosis, prognosis, and assessment. The current biomarkers for it are still limited. We aim to detect fecal miRNAs in IBD patients compare to healthy controls (HC), in order to get a novel and ideal biomarker for IBD.
Methods
Differential expression of fecal microRNAs micro-array for UC, CD and HC is analyzed, and validated by real-time polymerase chain reaction (RT-PCR).
Results
Seven miRNAs are selected by micro-array and literatures. RT-PCR shows that mir-16-5p is up-regulated in both UC and CD (p<0.01, p<0.01; respectively), while mir-21-5p is up-regulated just in UC (p=0.002). The sensitivity and specificity of mir-16-5p in UC are 83.3% and 88.2% (cut-off 10.92); The sensitivity and specificity of mir-16-5p in CD are 76.2% and 88.2%; The sensitivity and specificity of mir-21-5p in UC are 66.7% and 88.2% (cut-off 6.53). However, the sensitivity and specificity of erythrocyte sedimentation rate (ESR) and C-reactive protein (CRP) for UC and CD are lower than biomarkers detected above. For UC patients, mir-16-5p is correlated with age, disease duration, occult blood and S100A12 (p=0.02, r=0.56; p=0.02, r=0.53; p=0.02, r=0.54; p<0.01, r=0.75. respectively). For CD patients, mir-16-5p correlated none of the clinical factors.
Figure 1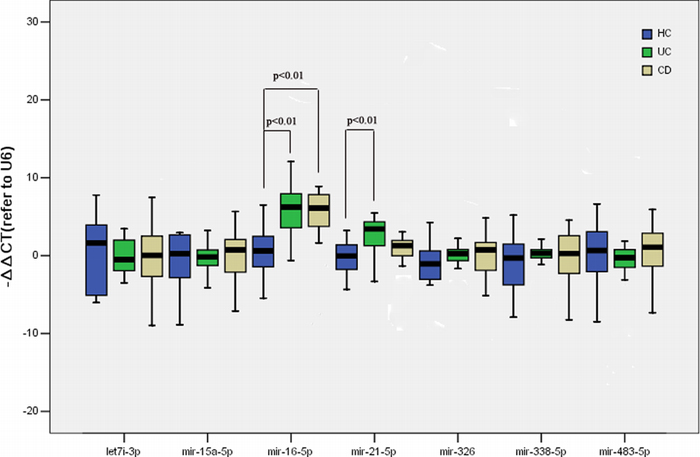 Conclusion
The value of mir-16-5p and mir-21-5p in diagnosis of IBD are higher than ESR and CRP, they are not correlated with ESR and CRP, but correlated with occult blood, disease duration, albumin and platelet.