P329 Effect of adalimumab dose escalation on clinical, health-related quality of life, treatment satisfaction and work productivity outcomes among patients with ulcerative colitis in a clinical practice setting: results from INSPIRADA
Travis S.*1, Feagan B.2, Peyrin-Biroulet L.3, Panaccione R.4, Danese S.5, Lazar A.6, Robinson A.7, Thakkar R.7, Pappalardo B.7, Petersson J.7, Bereswill M.6, Chen N.7, Skup M.7
1Oxford University Hospitals, Oxford, United Kingdom 2Robarts Research Institute, London, Canada 3University Hospital of Nancy, Les Nancy, France 4University of Calgary, Calgary, Canada 5Istituto Clinico Humanitas, Milan, Italy 6AbbVie Deutschland GmbH & Co. KG, Ludwigshafen, Germany 7AbbVie Inc., North Chicago, United States
Background
Although adalimumab (ADA) has been shown to induce and maintain clinical remission in moderate to severe ulcerative colitis (UC), some patients (pts) may lose initial response and could benefit from dose escalation [1]. We assessed the effect of ADA dose escalation on various outcomes among pts with UC in clinical practice.
Methods
INSPIRADA was a single-arm, multi-country, open-label study that evaluated the effect of ADA on clinical outcomes, costs of care, treatment satisfaction, and work productivity in pts with UC treated according to usual clinical practice. Adults with active UC, Physician's Global Assessment (PGA) of ≥2, and Short Inflammatory Bowel Disease Questionnaire (SIBDQ) ≤45 at baseline (BL) who failed conventional treatment and who had experienced rectal bleeding ≤7 days of BL were enrolled. Pts received ADA 160/80 mg at Wk 0/2 followed by ADA 40 mg every other week at Wk 4 through Wk 26. Pts who did not respond to ADA by Wk 8 were to discontinue ADA. Pts who lost response at or after Wk 8 could escalate to ADA 40 mg weekly. Outcomes were assessed for pts who dose escalated. Clinical outcomes included Simple Clinical Colitis Activity Index (SCCAI) response (SCCAI decrease ≥2) and remission (defined as an SCCAI ≤2). HRQoL was assessed using SIBDQ and the European Quality of Life-5 Dimensions-5 Level (EQ-5D-5L) questionnaire. Satisfaction with medication was measured using the Treatment Satisfaction Questionnaire for Medication (TSQM). Work Productivity and Activity Impairment (WPAI) outcomes were determined. Change from BL to Wk 26 in HRQoL, treatment satisfaction, and WPAI outcomes were calculated. Missing data were imputed using nonresponder imputation for response/remission and last observation carried forward for all other outcomes.
Results
Data from 129 pts who dose escalated were analysed. At Wk 26, 64% of pts who dose escalated achieved SCCAI response and 33% achieved SCCAI remission (Table 1). Except for work time missed and convenience in TSQM among pts who dose escalated, statistically significant (p<0.001) improvements from BL to Wk 26 were seen in work productivity, performance of daily activities, SIBDQ, EQ-5D-5L, and treatment satisfaction. The safety profile of ADA among pts who dose escalated was consistent with that of pts who did not dose escalate.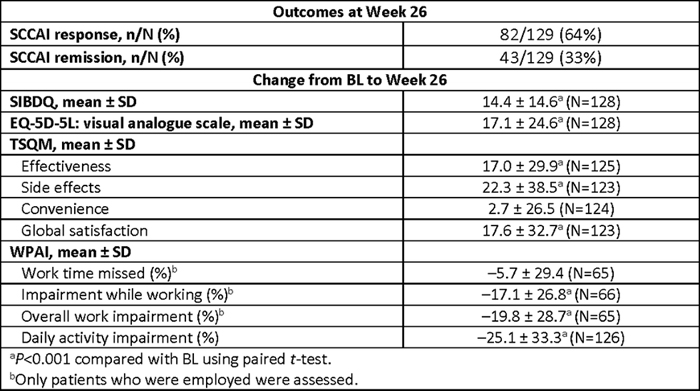 Conclusion
In pts with UC who lost response, ADA dose escalation was an effective option to recapture response and remission. Significant improvements in HRQoL, treatment satisfaction, and work productivity were also observed.
References:
[1] Wolf et al, (2014), APT, 40:486–97