P386 A target 6-thioguanine nucleotide ≥125 is associated with a higher rate and longer durability of response in infliximab–thiopurine combination therapy: a retrospective study in Crohn's disease patients
Luber R.*1,2, Kariyawasam V.3, Dawson L.1, Munari S.1, Gibson P.1,2, Sparrow M.1,2, Ward M.1,2
1The Alfred Hospital, Department of Gastroenterology, Melbourne, Australia 2Monash University, Melbourne, Australia 3University of Western Sydney, Department of Gastroenterology, Sydney, Australia
Background
Recent data suggest that lower doses of thiopurines are as effective as higher doses in combination with infliximab (IFX) in Crohn's disease (CD), and that 6-thioguanine nucleotide (TGN) levels ≥125 pmol/8×108 RBC positively influence IFX pharmacokinetics. We aim to assess clinical outcomes after induction and during maintenance in CD patients treated with IFX and a thiopurine with respect to TGN and IFX levels.
Methods
CD patients commenced on IFX between 2010–15 with or without concomitant thiopurines were retrospectively identified. "Response" to induction (CRP <5mg/L and absence of activity on physician global assessment) or "non response" (lack of clinical improvement during induction or flare requiring CD therapy adjustment or surgery during first 6 months) were assessed at week 14. Maintenance outcomes were assessed in 6-month semesters and classed as "response", "flare" or "failure" (IFX cessation due to active disease or intolerance). TGN and IFX trough levels were recorded during induction and maintenance.
Results
Of 89 patients (49 male, mean age 35y, range 18–61), combination therapy (n=73) had a higher response than IFX monotherapy (n=16) on induction (78% vs 50%, p=0.02). Median TGN was similar between responders and non-responders (314 vs 254, p=0.12), with TGN ≥125 patients more likely to respond (76% vs 47%, p=0.018). On multivariable analysis, TGN ≥125 was associated with response (OR 5.7; 95% CI: 1.6–20.1; p=0.006). Mean time to IFX failure was 26 months for monotherapy vs 53 months for combination therapy (p=0.55); a significant difference was observed when re-stratified by TGN ≥125, p=0.043 (Fig. 1).
Figure 1. Kaplan-Meier survival analysis of time to failure, TGN ≥125 vs <125.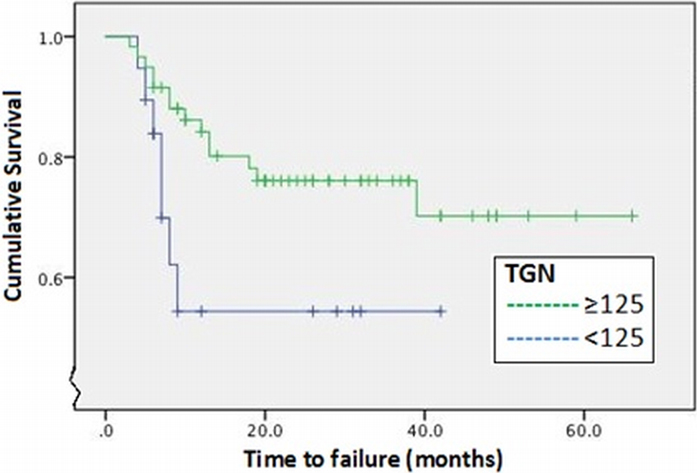 Of 395 maintenance semesters, 323 (82%) were classified remission, 61 (15%) flare, and 11 (3%) fail. There was no difference in number of remission semesters between combination and monotherapy (79% vs 79%). Median TGN was similar in remission and non-remission semesters (p=0.44), with no difference observed when stratified by TGN ≥125. Median IFX levels were higher in remission vs non-remission semesters (4.5 vs 3 μg/mL; p=0.01), and higher IFX levels were independent predictors of response to maintenance therapy on multivariable analysis (OR 1.3 [1.05–1.5], p=0.014).
Conclusion
Combination therapy was superior to monotherapy for induction, with a target TGN ≥125 associated with a higher response rate and longer durability of response. Continuing combination therapy during maintenance was not associated with better clinical outcomes, suggesting a role for thiopurine withdrawal.