P594 Ustekinumab treatment effectiveness in clinical practice – a multicentre retrospective review of long-term outcomes in Crohn's disease
Rowan C.R.*1, Alakkari A.2, Moran C.3, O'Connell J.4, Cullen G.1, Mulcahy H.1, O'Morain C.2, McNamara D.2, Leyden J.5, MacMathuna P.5, O'Toole A.3, Patchett S.3, McKiernan S.4, Kevans D.4, Doherty G.A.1, Ryan B.2
1St Vincent's University Hospital, Centre for Colorectal Disease, Dublin, Ireland 2Adelaide & Meath Hospital, Dublin, Incorporating The National Children's Hospital, Department of Gastroenterology, Dublin, Ireland 3Beaumont Hospital, Department of Gastroenterology, Dublin, Ireland 4St. James' Hospital, Department of Gastroenterology, Dublin, Ireland 5Mater Misericordiae University Hospital, Department of Gastroenterology, Dublin, Ireland
Background
Recently published data demonstrated the efficacy of Ustekinumab (USK) in the treatment of moderate-severe Crohn's disease. This study aimed to evaluate the Irish experience of USK 2011–2016
Methods
A retrospective multicentre analysis of patients treated with USK was performed via the INITiative network, a national collaborative IBD research network.
Data collected from 5 centres included patient and disease characteristics, surgical history, concomitant therapies, induction and escalation of therapy, surgery post-treatment and sustained benefit at 12 months.
Results
59 patients were included; data available n=54. Patient and disease characteristics as per Table 1.
Table 1. Patient demographics, disease characteristics and treatment history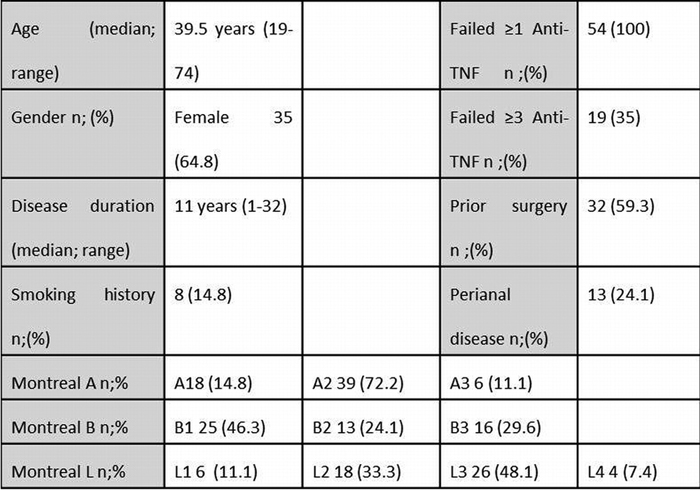 Median duration of follow-up post-treatment = 17.4 months.
32/54 patients (59.3%) had prior Crohn's-related surgery; 28% patients had >1 surgical procedure.
All patients had been treated with ≥1 anti-TNF agent. 32 patients (35%) had failed therapy with 3 anti-TNF agents.
Various induction regimens were utilised. All patients received subcutaneous (sc) induction; median cumulative induction dose=225mg (range 135–270mg). 29.6% (n=16) were taking concomitant immunomodulators and 27.8% (n=15) concomitant steroids at induction.
Most patients received 90mg maintenance dose; median interval of 8 weeks (range: 2–8weeks). In 17 cases (31.5%) USK therapy was escalated, usually by increasing dose frequency. Of those patients who were escalated 13 (76.5%) had a sustained clinical benefit at 12 months.
12 month follow-up data is available for 44 patients; 10 patients continue USK with treatment duration <12 months. The median treatment duration=359 days (IQR 101–956 days).
25/44 (56.8%) had sustained benefit at 12 months; 18 patients (72%) continued USK at the time of last follow-up.
23 patients had endoscopic assessment before and after induction therapy. 39% (n=9) demonstrated improvement; 5 patients achieved mucosal healing.
13/54 patients (24%) had surgery while on USK; n=9 within 12 months of induction.
In a logistic regression model, failing to respond to 3 anti-TNF agents (primary non-response, loss of response, adverse event) was significantly associated with requiring surgery in the 12 months post-induction (p=0.017).
Conclusion
In this study, USK provided sustained benefit at 12 months to >50% patients with medically-refractory Crohn's disease. These data suggest that induction therapy with sc USK may be an alternative to iv induction. As with anti-TNF therapy, dose optimisation appears to be critical in inducing and maintaining response.