P619 Tofacitinib for the treatment of resistant ulcerative colitis: the University of Chicago experience
Weisshof R., Aharoni Golan M., Masching A., Rubin D.T.
University of Chicago Medicine, Inflammatory Bowel Disease Center, Chicago, United States
Background
Many inflammatory bowel disease (IBD) patients are unresponsive to medical therapy or lose response. Tofacitinib is a selective inhibitor of the Janus kinase (JAK) family, focused on JAK 1–3. Its effectiveness for rheumatoid arthritis and for induction and maintenance of remission of ulcerative colitis (UC) has been demonstrated in pivotal trials, but 2 separate phase 2 trials for Crohn's disease (CD) were negative. Here we describe our off-label experience with the use of tofacitinib for the treatment of anti-TNF refractory moderate to severe IBD patients.
Methods
This is a retrospective, observational study of the off-label use of tofacitinib for IBD. Patients with medically resistant IBD were treated with 5 mg twice daily or 10 mg twice daily. Clinical response and adverse events were assessed at 8 weeks and at subsequent visits until the last follow up encounter. Response to treatment was determined as defined by the patient's provider. Partial response was symptomatic improvement but not resolution and remission was defined as resolution of clinical symptoms.
Results
Between December 2014 and September 2016, 12 IBD patients (9 UC, 2 CD (colon), 1 IBD-U; 7 male; median age 36.5 years IQR 25.5) were treated with tofacitinib.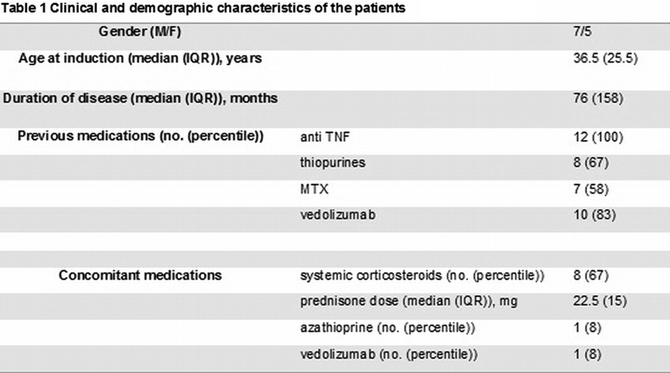 All patients had failed treatment with anti-TNF and anti-integrin previously. The initial dose for the patients was 5 mg PO twice daily. At 8 weeks of treatment, 8 patients (66.7%) had a clinical response to treatment. Of those, 3 achieved clinical remission. 3 patients (25%) did not respond to treatment and a single patient stopped treatment after 4 weeks due to an adverse event. Dose escalation to 10 mg PO twice daily was tried in 2 patients, with no clinical response in one patient and subsequent clinical remission in the other. The patients were followed for a mean 6.3 + 6.6 (range 2–23) months. No loss of response was noted in clinical follow-up. Two episodes of systemic infections were noted, both while on concomitant steroids: cellulitis and parainfluenza which required hospitalization and cessation of treatment. No other adverse effects were observed including changes in the levels of hemoglobin, neutrophil count, creatinine clearance, lipid profile or liver enzymes. No episodes of herpes infections were noted during follow up.
Conclusion
In this cohort of medically-resistant IBD patients, 67% of them responded to off-label tofacitinib and none of these lost response during follow-up. Tofacitinib is an effective therapeutic option for this challenging patient population.