P659 Therapeutic drug monitoring of anti-TNFα drugs in a UK tertiary IBD unit
Barrow V.*1, Innes A.1, Thompson N.1, Mansfield J.1,2, Speight A.1,3
1Newcastle upon Tyne Hospitals Trust, Gastroenterology, Newcastle upon Tyne, United Kingdom 2Newcastle University, Institute of Genetic Medicine, Newcastle upon Tyne, United Kingdom 3Newcastle University, Institute of Cellular Medicine, Newcastle upon Tyne, United Kingdom
Background
Therapeutic drug monitoring (TDM) of anti-TNFα in IBD is cost effective and may improve clinical outcomes [1,2]. Practice is evolving as TDM is increasingly adopted. Anti-TNFα dosing based on clinical response leads to over or under-treatment and increases anti-drug antibody (ADA) formation [1].
The aim of this study was to assess clinician behaviour and decision-making during the time prior to the adoption of a recognised clinical algorithm for TDM, in a tertiary referral IBD unit in the U.K.
Methods
Patients were recruited retrospectively from a tertiary referral IBD centre in the UK. All patients who had TDM and ADA measured within a 2-year period (2013–2015) were included. Disease type, treatment, clinical indication, outcome and clinical decision were all recorded and compared against a peer-reviewed algorithm [3].
Results
124 test results were analysed in 115 patients with Crohn's disease and 9 patients with UC. 87 patients were on infliximab and 37 patients on adalimumab; 64 were on combination therapy and 61 patients on monotherapy. Of monotherapy patients, 38 were on infliximab and 23 on adalimumab.
Clinical indication for TDM is shown in Fig. 1; secondary loss of response was the most common (59.7%). TDM outcome is shown in Fig. 2; 55.8% of patients on infliximab were in therapeutic range with undetectable ADA; 47.2% of patients on adalimumab were in therapeutic range with undetectable ADA.
Figure 1. The clinical indication for TDM. Figure 2. The outcome of TDM for infliximab and adalimumab.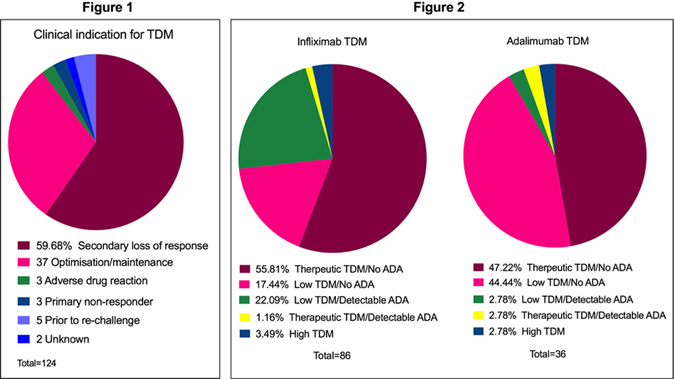 ADAs were more common in patients on infliximab (17% on monotherapy, 6.8% combination) compared to adalimumab (8.7% monotherapy, 0% combination).
When physician response to TDM was compared to an algorithm, 11 responses differed to those suggested by the algorithm.
Conclusion
In line with other studies, the majority of patients with secondary loss of response had therapeutic TDM and no ADA. Antibodies to infliximab were found to be more common than antibodies to adalimumab and, in line with other studies, combination therapy reduced the risk of antibody development [4].

When an algorithm was retrospectively applied to physician decision, discrepancies were found in only a few patients. This compares favourably with previous studies in which per-protocol management was lower [2].

This is an evolving field and TDM use is likely to change. TDM for patients re-starting anti-TNFα is now thought to be unhelpful and in future more tests will be performed in possible primary non-response.
References:
[1] Vande Casteele N, Ferrante M, Van Assche G, et al. (2015), Trough concentrations of infliximab guide dosing for patients with inflammatory bowel disease. Gastroenterology, 148(7)
[2] Steenholdt C, Brynskov J, Thomsen OØ, et al. (2014), Individualised therapry is more cost-effective than dose intensification in patients with Crohn's disease who lose response to anti-TNF treatment: a randomised, controlled trial. Gut, 63(6)
[3] Vermiere S, Ferrante M, Rutgeerts P. (2013), Recent advances: personalised use of current Crohn's disease therapeutic options. Gut, 62
[4] Colombel JF, Sandborn WJ, Reinisch W, et al. (2010), Infliximab, azathioprine, or combination therapy for Crohn's disease. N Engl J Med, 362(15)