P689 Biologics utilization in children with inflammatory bowel diseases is higher and earlier than in adults: a report from the epi-IIRN group
Friedman M.*1, Axelrod R.1,2, Rosenblum J.3, Zigman N.3, Goren I.3, Lederman N.4, Cohen N.4, Matz E.5, Dushnitzky D.5, Borovsky N.5, Gavish M.2, Focht G.1, Avitzour M.1, Dotan I.6, Benchimol E.7, Turner D.1
1Shaare Zedek Medical Center, The Juliet Keiden Institute of Pediatric Gastroenterology and Nutrition, Jerusalem, Israel 2The Hebrew University of Jerusalem, School of Computer Science and Engineering, Jerusalem, Israel 3Maccabi Healthcare Services, Tel Aviv, Israel 4Meuhedet Health Services, Tel Aviv, Israel 5Leumit Health Services, Tel Aviv, Israel 6Tel-Aviv Sourasky Medical Center, and the Sackler School of Medicine, IBD Center, Department of Gastroenterology and Liver diseases, Tel Aviv, Israel 7Children's Hospital of Eastern Ontario, University of Ottawa, CHEO Inflammatory Bowel Disease Centre, Ottawa, Canada
Background
The diagnosis of Inflammatory bowel diseases (IBD) during childhood is associated with a more aggressive and extensive phenotype compared with adults, necessitating early introduction of effective therapy. We aimed to study differences in biologic therapy in pediatric and adult IBD patients in the Israeli population.
Methods
IBD cases were identified within the databases of three national health maintenance organizations (HMOs), covering 48% of the Israeli population. Identification as well as differentiation into Crohn's disease (CD) or ulcerative colitis (UC) patients was performed using previously validated algorithms, with the effective date of 31.12.2015. Biologic therapy was determined by pharmacy purchases as recorded by the HMOs; expenses are covered by the national public health care system, ensuring complete unbiased records.
Results
Of 19,780 IBD patients identified, 3,445 (17%) commenced on biologics by 31.12.2015. Children (≤18 years) were twice as likely to be treated with biologics (n=326/1005, 32%) vs. adults (n=3119/18,775, 16%; p<0.001). The difference was more pronounced in UC than CD (CD- 41%/25%, UC- 17%/6%, for pediatrics and adults, respectively). Amongst patients diagnosed between 2005–2015, time in months from diagnosis to initiation of biologics was shorter for children (CD- median: 43 [IQR: 16–80], UC- 48 [19–85]), as compared to adults (CD- 54 [25–90], UC- 66 [37–101]; p<0.001 for both CD and UC, Figs. 1 and 2).
Figure 1. Kaplan-Meier curves for time from diagnosis to start of biological therapy in CD patients.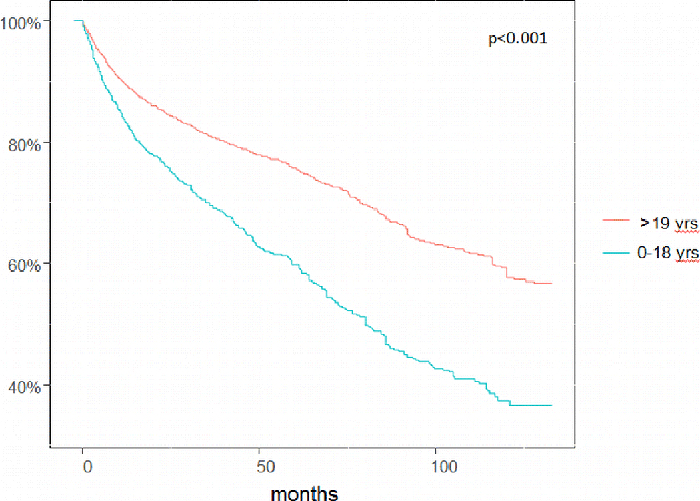 Figure 2. Kaplan-Meier curves for time from diagnosis to start of biological therapy in UC patients.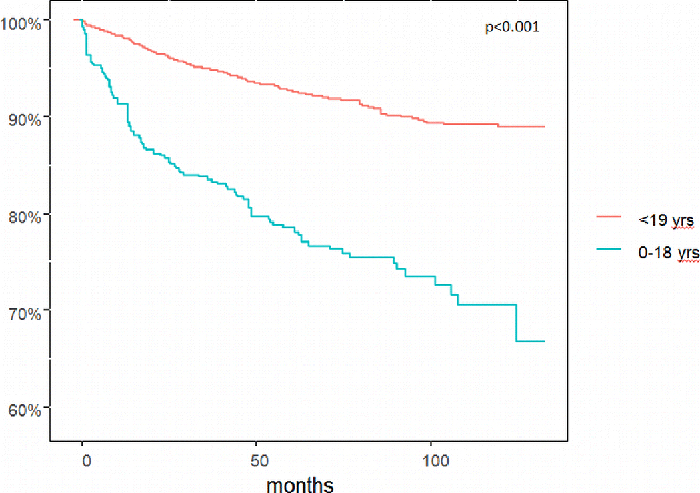 Conclusion
Biologic utilization in pediatric IBD is significantly higher and earlier than in adults. The possible explanations include a more aggressive and extensive disease, differing clinical practices and the role of biologics for the treatment of growth impairment.
This study was supported by a grant from the Leona M. and Harry B. Helmsley Charitable Trust.