P704 The impact of travel distance on disease outcomes in inflammatory bowel disease
Borren N.*1,2, Tan W.1, Andrews E.1, Khalili H.1,3, Garber J.1,3, Yajnik V.1,3, Ananthakrishnan A.1,3
1Massachusetts General Hospital, Department of Gastroenterology, Boston, United States 2University of Groningen, Groningen, Netherlands 3Harvard Medical School, Boston, United States
Background
The management of inflammatory bowel diseases (IBD, Crohn's disease (CD), ulcerative colitis (UC)) is increasingly complex and optimal treatment often requires specialized healthcare. Prior studies showed that high volume institutions or specialist gastroenterologist care was associated with superior outcomes in patients with IBD. One factor that could limit regular access to specialist care may be distance from such facilities. The effect of distance from area of residence to a referral IBD hospital on the need for surgery and biologic therapy in patients with CD or UC has not been examined previously.
Methods
This study included patients enrolled in a prospective patient registry at a tertiary referral hospital from January 2005 to August 2016. Distance to our healthcare center was determined for each patient by using their zip code of residence. This was then modeled in quartiles with higher quartiles increasingly further away from the hospital. Patients were excluded from our analysis if they lived more than 100 miles from our hospital. Disease outcomes were defined as the need for immunomodulator therapy, biological therapy and the need for surgery. Regression models were used to estimated adjusted odds ratios (OR) and 95% confidence intervals (CI).
Results
Our study included 2,136 patients with IBD (1,197 CD, 939 UC) with a mean age of 41 years; just over half were women (52%). The mean distance from zip code of residence to our hospital was 2.5 (±1.4), 8.8 miles (±2.6), 22.0 miles (±5.0), and 50.8 miles (±16.5) in the 1st, 2nd, 3rd, and 4th quartiles respectively. Among all IBD patients, patients in the most distant quartile had a statistically significant and meaningful increase in need for immunomodulator use (OR 1.69, 95% CI 1.29–2.22), biological therapy (OR 2.19, 95% CI 1.69–2.85) and surgery (OR 2.44, 95% CI 1.80–3.32) (Figure).
Figure 1. Relationship between distance from hospital and risk of surgery in inflammatory bowel diseases.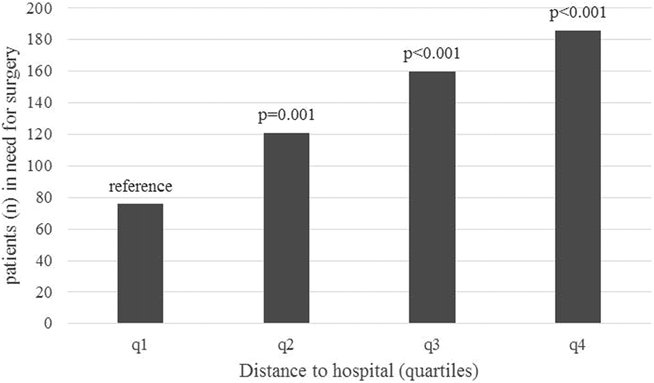 Differences remained significant within each type of IBD. To minimize referral bias, restricting our cohort to those who lived within 50 miles (OR for surgery Q4 vs. Q1 1.82, 95% CI 1.20–2.79) or 25 miles from hospital respectively did not change our findings.
Conclusion
Greater distance to a specialized healthcare center was associated with an increased risk of poor outcomes including need for surgery in inflammatory bowel diseases. There is an important need to ensure access to and dissemination of components of specialized IBD care across populations to ensure best patient outcomes.