P708 Helicobacter pylori and IBD are inversely related, suggesting that individuals infected with the bacteria are less susceptible to the disease
Lichtenstein L.*1, Boltin D.1, Leibovici H.1, Tsadok Perets T.2, Avni I.1, Comaneshter D.3, Leibovici-Weissman Y.1, Cohen A.3, Niv Y.1,4, Levi Z.1,4
1Rabin Medical Center, Gastroenterology, Petach Tikva, Israel 2Clalit Health Services, Helicobacter pylori Laboratory, Petach Tikva, Israel 3Clalit Health Services Headquarters, Office of the Chief Physician, Tel Aviv, Israel 4Tel Aviv University, Sackler School of Medicine, Tel Aviv, Israel
Background
Data regarding the association between H. pylori carriage and a decreased risk of inflammatory bowel disease (IBD) are conflicting, as socioeconomic status (SES) is inversely related to both conditions, and could hypothetically confound the results. We aimed to assess whether this association exists independently of SES.
Methods
We analyzed socioeconomic and medical information of 262,977 adult patients who consecutively performed urea breath tests (UBT) in Clalit Health Services at set intervals from 2007 to 2014.
Figure 1. Study flow.

IBD diagnosis and demographic, prescription and smoking status data and were extracted from HMO electronic database, and synchronized with detailed government-source socioeconomic information.
Results
Out of the 262,977 subjects included, 2,240 (0.9%) had been diagnosed with IBD.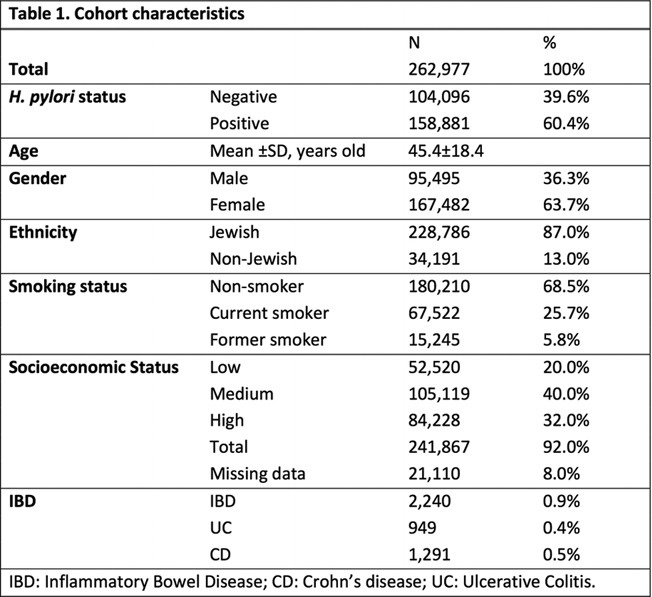 The overall rate of H. pylori carriage among IBD vs. none-IBD subjects in the low, medium and high SES groups was 60.2% vs. 70.3%, 58.3% vs. 62.0% and 46.6% vs. 51.3%, accordingly; p<0.001 for each group.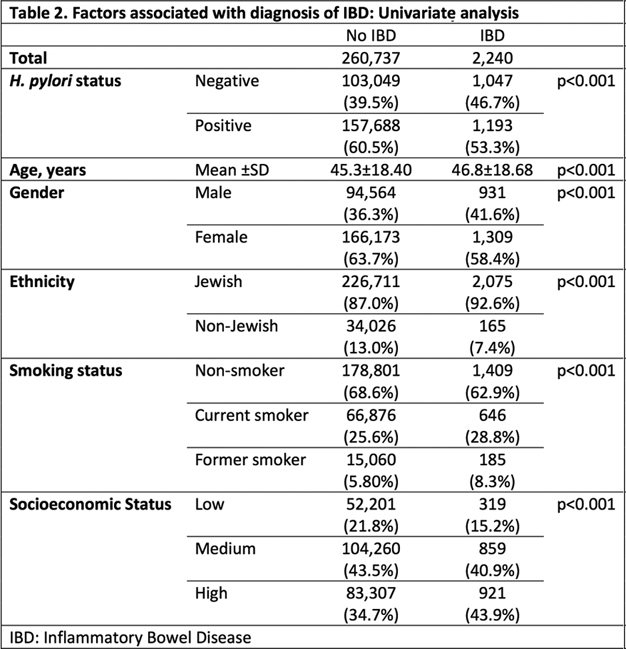 In multivariate analysis, H. pylori carriage was inversely associated with the diagnosis of IBD (OR 0.80; 95% CI 0.73–0.87; p<0.001).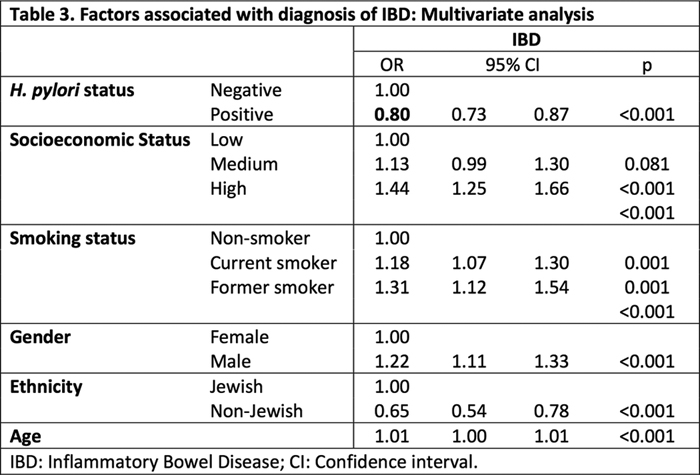 This effect was independent of socioeconomic confounders, and evident for all SES.
Figure 2. Inverse association between H. pylori and IBD is independent of SES.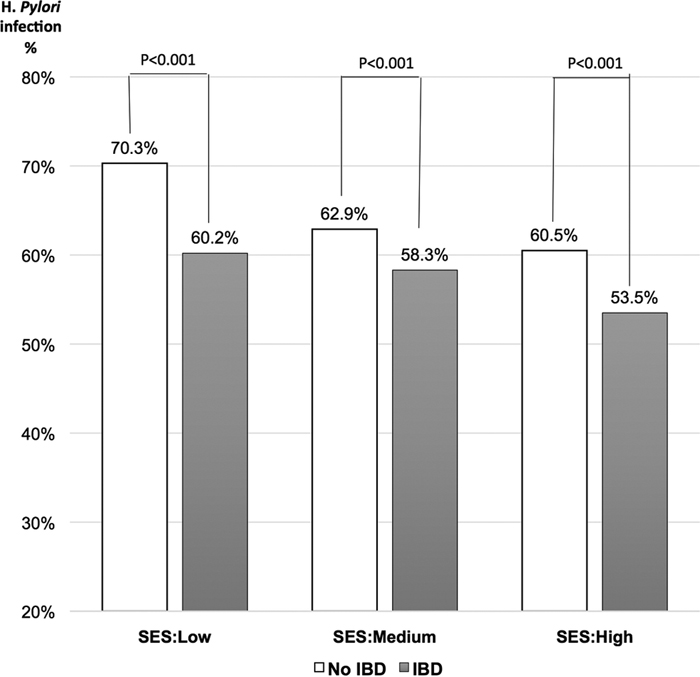 Conclusion
Among a cohort of more than a quarter-million adult patients who performed a UBT, H. pylori carriage is inversely associated with a diagnosis of IBD, independently of socioeconomic confounders. Subjects carrying H. pylori may be less susceptible to develop IBD. Further studies are needed to explore the precise cause-and-effect relationship of this association.