P721 A switch in the prevalence ratio of Crohn's disease vs. ulcerative colitis in Israel between 2003 and 2015 – a report from the epi-IIRN group
Friedman M.*1, Odes S.2, Balicer R.3, Hoshen M.3, Cohen D.3, Rosenblum J.4, Zigman N.4, Goren I.4, Lederman N.5, Matz E.6, Dushnitzky D.6, Borovsky N.6, Gavish M.7, Focht G.1, Avitzour M.1, Axelrod R.1,7, Chowers Y.8, Eliakim R.9, Ben-Horin S.9, Dotan I.10, Israeli E.11, Levy Z.12, Benchimol E.13, Turner D.1
1Shaare Zedek Medical Center, The Juliet Keiden Institute of Pediatric Gastroenterology and Nutrition, Jerusalem, Israel 2Ben-Gurion University of the Negev, Department of Gastroenterology and Hepatology, Beer Sheva, Israel 3Clalit Research Institute, Chief's Office, Tel Aviv, Israel 4Maccabi Healthcare Services, Tel Aviv, Israel 5Meuhedet Health Services, Tel Aviv, Israel 6Leumit Health Services, Tel Aviv, Israel 7The Hebrew University of Jerusalem, School of Computer Science and Engineering, Jerusalem, Israel 8Rambam Health Care Campus, Rappaport Faculty Of Medicine, Department of Gastroenterology, Haifa, Israel 9Chaim Sheba Medical Center, Department of Gastroenterology, Tel Hashomer, Israel 10Tel-Aviv Sourasky Medical Center, and the Sackler School of Medicine, IBD Center, Department of Gastroenterology and Liver diseases, Tel Aviv, Israel 11Hadassah Medical Center, The Hebrew University of Jerusalem, IBD Center, the Institute of Gastroenterology, Jerusalem, Israel 12Rabin Medical Center, Department of Gastroenterology, Petach Tikva, Israel 13Children's Hospital of Eastern Ontario, University of Ottawa, CHEO Inflammatory Bowel Disease Centre, Ottawa, Canada
Background
Crohn's disease (CD) has been considered a condition limited mostly to westernized countries, while ulcerative colitis (UC) may be more common in some developing countries. We aimed to utilize data from all four Israeli health maintenance organizations (HMOs), covering 98% of the Israeli population, to determine population-based epidemiological trends of CD and UC.
Methods
IBD patients were identified from 2003 (the first year of computerization in the HMOs) until 2015 and differentiated as CD or UC patients using algorithms validated to accurately identify cases from within the dataset (case ascertainment accuracy: 99% and 94%, respectively). Standardized prevalence per 100,000 population per year were derived from the Israeli National Insurance Institute.
Results
At the end of 2015, a total of 38,291 IBD patients were residing in Israel, corresponding to a prevalence rate of 459/100,000 (0.46%), double the prevalence rate 12 years earlier (0.23%). UC was more prevalent than CD until 2010 after which CD became more common, and this difference has increased each year (CD/UC: 2003- 6306/7665 (p<0.0001), 2010 – 14628/14427 (p=0.1), 2015 – 20196/17810 (p<0.0001) (Figure 1)). Patients in the 25–34 years and 35–44 years age groups contributed most to the upsurge in CD rates, suggesting a link to environmental and economic changes in Israel during childhood years.
Figure 1. IBD prevalence trends in Israel between 2003 and 2015.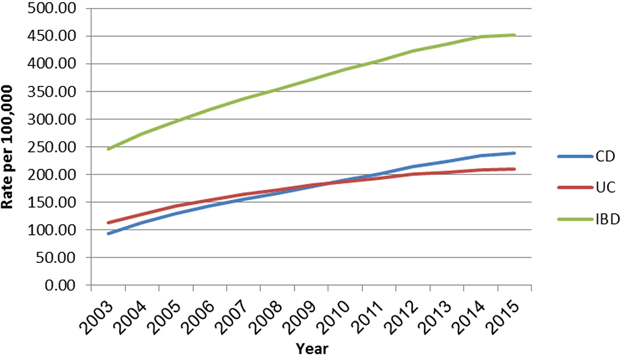 Conclusion
Israeli IBD prevalence is the third highest in the world, and has nearly doubled in the past decade. The increased preponderance of CD over UC has occurred in parallel with an increase in the economic state of Israel; this possible link requires further study.
This study was supported by a grant from the Leona M. and Harry B. Helmsley Charitable Trust.