P728 Changes in the use of biologics in the treatment of IBD patients over time. Results from a comprehensive Norwegian registry study
Svatun Lirhus S.*1, Melberg H.O.1,2, Lie Høivik M.3, Moum B.3
1Universitetet i Oslo, Department of Health Management and Health Economics, Oslo, Norway 2Oslo University Hospital, OCBE, Oslo, Norway 3Oslo University Hospital, Deaprtment of Gastroenterology, Oslo, Norway
Background
During the last decade, several new and expensive drugs (including TNFα inhibitors and anti-integrins) have been introduced in IBD treatment. Little is known about the overall treatment pattern for these new biologic pharmaceuticals: What proportion of patients eventually receive biologics and how has this changed over time.
Methods
Data was collected from the Norwegian Patient Registry and included information about every individual hospital treatment episode for patients with Crohn's disease and ulcerative colitis from 2008 to 2015 (ICD codes K50 and K51). Altogether 45,767 IBD patients were identified in the registry. The data included a unique patient identifier and information about gender, age, the date of the treatment (month and year) and the use of biologics.
The date of diagnosis was set to the earliest observation in which the individual was observed with a K50 or K51 treatment episode. In order to examine development over time, the patients were stratified based on the year of the first diagnosis. Only patients with at least two registered events in which an IBD diagnosis was used, were included when calculating the results.
Results
During 2010 to 2014, there were 14,168 new IBD patients. 4,796 (33.8%) were diagnosed with Crohns' disease (CD) and 9,372 (66.2%) with ulcerative colitis (UC). Among CD patients the proportion that received a biological pharmaceutical within one year after being diagnosed, increased from 15.4% in 2010 to about 26% in 2013 and 2014. For UC the share increased from 5% in 2010 and 2011 to 10.3% in 2014.
For CD patients, the use of biologics one year after diagnosis increased steadily by about 3 percentage points for every cohort from 2010 to 2013, but there was no increase between 2013 and 2014. For UC patients the increase was more uneven. One year after diagnosis, between 5.1% and 5.6% of the patients from the 2010 and 2011 cohorts had received a biologic. This increased to 7.8% for the 2012 and 2013 cohorts, and among patients diagnosed in 2014 10.3% had received a biologic one year after diagnosis.
Figure 1. Percent of CD patients who had received a biologic.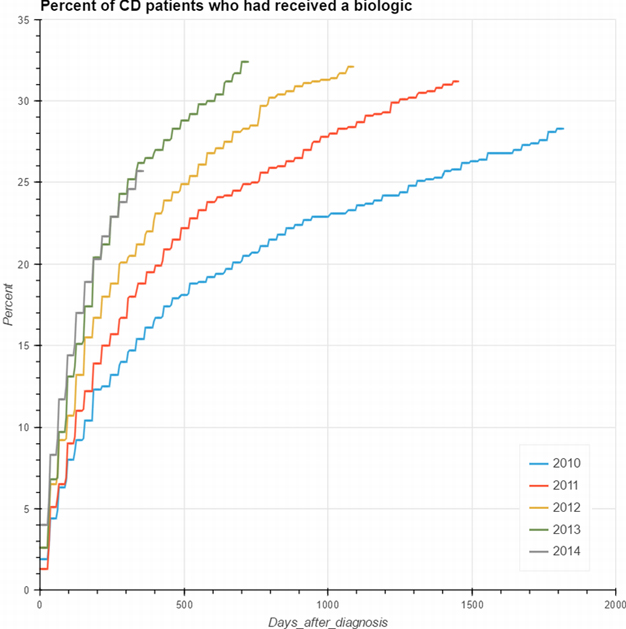 Figure 2. Percentage of UC patients who had received a biologic.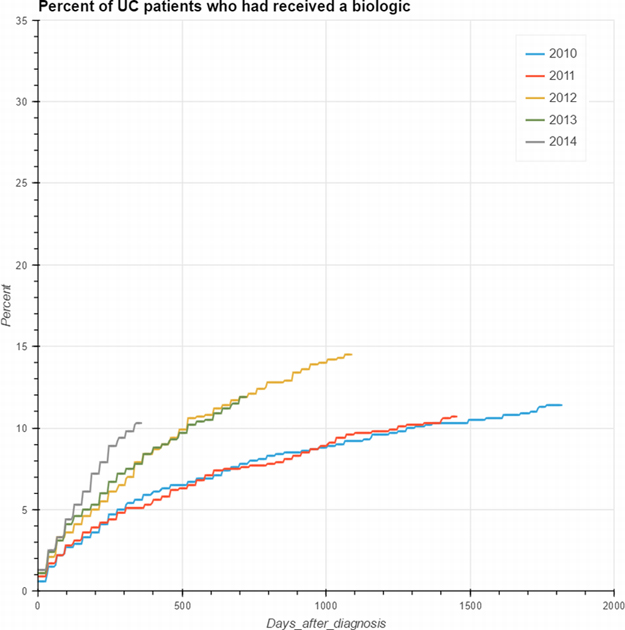 Conclusion
There was a consistent trend towards an increased use of biological pharmaceuticals over time, but it is still a treatment that is only used on a minority of the patients.