P732 Clinical characteristics of inflammatory bowel disease in Belgian immigrants from Moroccan and Caucasian origin
de Ville de Goyet L., Moreels T., Denis M.A., De Vroey B., De Suray N., Mouradides C., Taha A., De Bouvere C., Piessevaux H., Dewit O.
Cliniques Universitaires Saint Luc, Université Catholique de Louvain, Hépato-gastroentérologie, Brussels, Belgium
Background
Moroccans are a growing minority in Belgium since the 1960s. Few studies have examined the characteristics of inflammatory bowel disease (IBD) in this population. The aim of our study was to compare IBD characteristics between immigrants from Moroccan and Caucasian origin.
Methods
We performed a retrospective chart review of all first and second generation immigrants with Crohn's disease (CD) or Ulcerative colitis (UC) followed in our IBD Center from 2010 to 2016. Disease characteristics (Montreal classification), clinical variables and treatment were extracted to define disease severity and prognosis.
Results
A total of 83 Moroccans (57 CD/26 UC, 53 men) and 72 Caucasian immigrants (42 CD/30 UC, 37 men) patients were analysed. For CD patients, penetrating disease (26/57 vs 11/42), perineal localisation (24/57 vs 12/42) were more frequent in Moroccan. Although there were no significant differences in medication prescription between the two groups (immunosuppressive:IS (49/57 vs 32/42), biologics (32/57 vs 23/42), there was a higher number of hospitalisations (37/57 vs 15/42) and surgeries (33/57 vs 19/42) in the Moroccan population especially with the most severe disease who needed a definitive stoma (5/57 vs 0/42). For UC patients (26 Moroccans, 30 Caucasians), no differences in localisation, medications or need for hospitalisation were observed. Colectomy was performed in 4 Moroccans and 3 Caucasians.
Table 1. Summary of results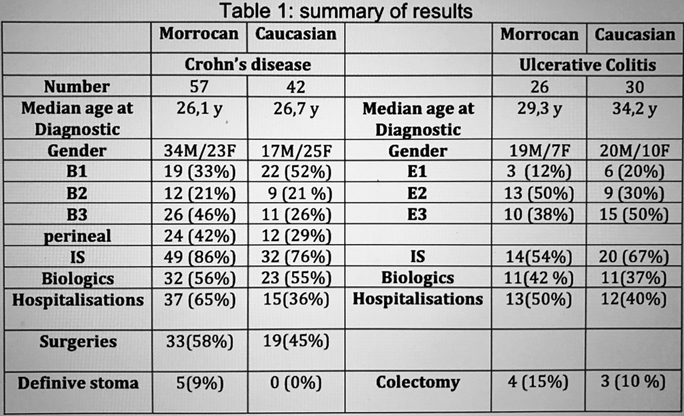 Conclusion
We report a higher proportion of CD in Moroccan compared to Caucasian immigrants in our active IBD cohort. Moreover, Moroccan CD patients tend to have more severe disease, characterized by more penetrating disease, more perineal disease leading to higher rates of CD-related surgery and definitive stoma. Further research is required to confirm these observations and determine if these findings reflect genetic or environmental differences.