P736 Psychological impact of inflammatory bowel disease: differences by gender and age. The ENMENTE Project
Gobbo Montoya M.1, Marín-Jiménez I.2, Panadero A.3, Modino Y.4, Cañas M.5, Guardiola J.6, Cea-Calvo L.7, Juliá B.7, Romero C.7, Carmona L.8, Barreiro-de Acosta M.*9
1Positivamente, Centro de Psicología, Madrid, Spain 2Hospital Gregorio Marañόn, Unidad de Enfermedad Inflamatoria Intestinal, Servicio de Aparato digestivo e Instituto de Investigaciόn Sanitaria Gregorio Marañόn (IiSGM), Madrid, Spain 3Asociaciόn de Enfermos de Crohn y Colitis Ulcerosa de Madrid (ACCU Madrid), Psicόlogo especializado en Enfermedad Inflamatoria Intestinal, Madrid, Spain 4Confederaciόn de Asociaciones de pacientes de enfermos de Crohn y Colitis Ulcerosa de España (ACCU España), Madrid, Spain 5Hospital Clínico San Carlos, Unidad de Enfermedad Inflamatoria Intestinal, Servicio de Aparato Digestivo, Madrid, Spain 6Hospital Universitari de Bellvitge-IDIBELL, Unidad de Enfermedad Inflamatoria Intestinal, Servicio de Aparato Digestivo, L'Hospitalet de Llobregat, Barcelona, Spain 7Merck Sharp & Dohme de España, Medical Affairs, Madrid, Spain 8Instituto de Salud Musculoesquelética, InMusc, Madrid, Spain 9Complexo Universitario de Santiago de Compostela, Unidad de Enfermedad Inflamatoria Intestinal, Servicio de Aparato Digestivo, Santiago de Compostela, Spain
Background
Inflammatory bowel disease (IBD) may cause psychological morbidity. Age and gender are factors that may condition quality of life perceived by patients and therefore may have important psychological impact. The aim of ENMENTE was to understand the psychological impact of IBD and whether age and gender are factors to be considered in patients' management.
Methods
During April 2016 two surveys were made available on-line, one for IBD patients, on the ACCU Spain website (Confederation of IBD Spanish Patients' Associations) and another one for physicians (n=665) members of GETECCU (Spanish Group for IBD treatment). Both invited their members to participate by email and the patients' survey was announced in social networks. Closed questions were asked by patients about the impact of IBD on their feelings of anxiety and depression and how they perceived that IBD influenced their psychological status, relationships and every-day life. Differences by gender and age were analysed with the chi-square test, age ranges were set considering mean age and SD.
Results
The survey was responded by 912 patients. Mean age was39 years (SD±10), 67% were women. Mean disease duration was 11 years (SD± 9). Up to 58% of the patients described their illness as moderate or severe (56% men/70% women). A total of 45% of patients reported having feelings of anxiety/stress due to IBD "always" or "mostly", whilst the figure for feelings of depression/sadness was 37%. Women (p<0.05) and younger patients (p<0.001) reported a higher frequency of such feelings in comparison to men and older patients (table). Most patients agreed on that IBD had a negative influence on their psychological status (72%), their personal relationships (56%), and their every-day life (69%). No differences were found by gender, but younger patients perceived a significant higher impact of IBD on all these aspects compared to older patients (Table 1).
Table 1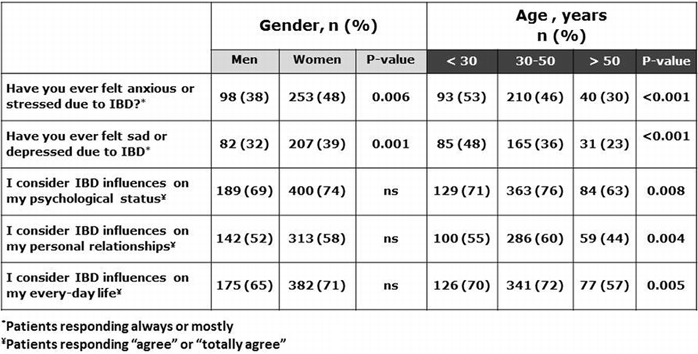 On the other hand, younger patients reported to have been referred to consult psychologists less frequently than older patients (13% <30 years, 25% 30–50 years and 28% >50 years, p=0.002).
Conclusion
Feelings of anxiety/stress and depression/sadness are frequent in IBD patients, and more frequent in women and younger patients. The latter also perceive a higher impact of IBD on their psychological status and every-day life, although, compared with older patients, they are not more frequently referred to the psychologist.
Acknowledgements. Funded by Merck Sharp & Dohme of Spain and endorsed by ACCU España and by GETECCU