DOP019 Immunomodulators reduce the risk of surgery and hospitalisation in Crohn's disease in a prospective European population-based inception cohort: the Epi-IBD cohort
J. Burisch1*, V. Andersen2,3, S. Čuković-Čavka4, P.L. Lakatos5, R. D'Inca6, F. Magro7,8,9, N. Arebi10, L. Kievit11, I. Kaimakliotis12, D. Valpiani13, K.H. Katsanos14, Z. Vegh5, J.F. Dahlerup15, M. Fumery16, N. Pedersen17, J. Halfvarson18, E. Belousova19, K.R. Nielsen20, S. Turcan21, P. Ellul22, L. Kupcinskas23, P. Oksanen24, D. Duricova25, M. Giannotta26, A. Goldis27, V. Hernandez28, R. Salupere29, S. Odes30, E. Langholz31, P. Munkholm1, Epi-IBD study group
1North Zealand University Hospital, Department of Gastroenterology, Frederikssund, Denmark, 2Viborg Regional Hospital, Medical Department, Viborg, Denmark, 3Hospital of Southern Jutland, Medical Department, Aabenraa, Denmark, 4University Hospital Center Zagreb, University of Zagreb School of Medicine, Division of Gastroenterology and Hepatology, Zagreb, Croatia, 5Semmelweis University, 1st Department of Medicine, Budapest, Hungary, 6Azienda Ospedaliera di Padova, Department of Surgery, Oncology and Gastroenterology, Padova, Italy, 7University of Porto, Institute for molecular and cell biology, Porto, Portugal, 8Hospital de São João, Department of Gastroenterology, Porto, Portugal, 9Oporto Medical School, Institute of Pharmacology and Therapeutics, Porto, Portugal, 10St Mark's Hospital, Gastroenterology, London, UK, 11Herning Central Hospital, Department of medicine, Herning, Denmark, 12Nicosia Private practice, Nicosia Private practice, Nicosia, Cyprus, 13Department of Gastroenterology and Digestive Endoscopy, Morgagni Hospital, Forli, Italy, 14University Hospital, Ioannina, 1st Division of Internal Medicine and Hepato-Gastroenterology Unit, Ioannina, Greece, 15Aarhus University Hospital, Department of Hepatology and Gastroenterology, Aarhus, Denmark, 16Amiens University and Hospital, Epimad Registry, Gastroenterology Unit, Amiens, France, 17Slagelse Hospital, Department of Gastroenterology, Slagelse, Denmark, 18Faculty of Medicine and Health, Örebro University, Department of Gastronterology, Örebro, Sweden, 19Moscow Regional Research Clinical Institute, Department of Gastroenterology, Moscow, Russian Federation, 20The National Hospital of the Faroe Islands, Medical department, Tórshavn, Faroe Islands, 21State University of Medicine and Pharmacy of the Republic of Moldova, Department of Gastroenterology, Chisinau, Moldova, Republic of, 22Mater Dei Hospital, Division of Gastroenterology, L-Imsida, Malta, 23Lithuanian University of Health Sciences, Institute for Digestive Research, Kaunas, Lithuania, 24Tampere University Hospital, Department of Gastroenterology and Alimentary Tract Surgery, Tampere, Finland, 25Charles University, IBD Center ISCARE, Prague, Czech Republic, 26AOU Careggi Regional Referral Center for Inflammatory Bowel Disease, Gastroenterology Department, Florence, Italy, 27University of Medicine 'Victor Babes', Clinic of Gastroenterology, Timisoara, Romania, 28Complexo Hospitalario Universitario de Vigo, Gastroenterology Department, Vigo, Spain, 29Tartu University Hospital, Division of Endocrinology and Gastroenterology, Tartu, Estonia, 30Soroka Medical Center and Ben Gurion University of the Negev, Department of Gastroenterology and Hepatology, Beer Sheva, Israel, 31Gentofte Hospital, Department of Medical Gastroenterology, Copenhagen, Denmark
Background
Immunomodulators have both been shown to improve the disease course in IBD patients: however, the literature remains inconsistent. The aim of the study was to investigate the impact of treatment with immunomodulators and biological therapy on disease course and prognosis of patients diagnosed with Crohn's disease (CD) from diagnosis and during the first 5 years of follow-up.
Methods
The Epi-IBD cohort is a prospective population-based cohort of 1289 unselected, uniformly diagnosed patients with IBD diagnosed in 2010 in centres from Western and Eastern European countries. Clinical data were captured prospectively throughout the follow-up period. Associations between primary endpoints (surgery and hospitalisation) and covariates were analysed by stepwise Cox regression analysis using the proportional hazards assumption. The use of immunomodulators and biologics were included as time-dependent variables with an initial lag time of 3 months and 2 months, respectively.
Results
A total of 488 (38%) patients were diagnosed with CD and included in the study. Patient characteristics are shown in Table 1. Prevalence of treatments on any given day during follow-up is shown in Figure 1. In total, 107 CD patients (22%) had a resection, while 176 (36%) patients were hospitalised because of CD. Treatment with immunomodulators was associated with a reduced risk of surgery (HR: 0.4 CI95% 0.2–0.6) as well as needing hospitalisation (HR: 0.3 CI95% 0.2–0.5) (Figure 2), while biological therapy was not (HR: 0.8 (0.4–1.3) and HR: 0.7 (0.5–1.2)). Other factors included in the regression analusis are shown in Table 2.
Figure.Prevalence of treatments on any given day during follow-up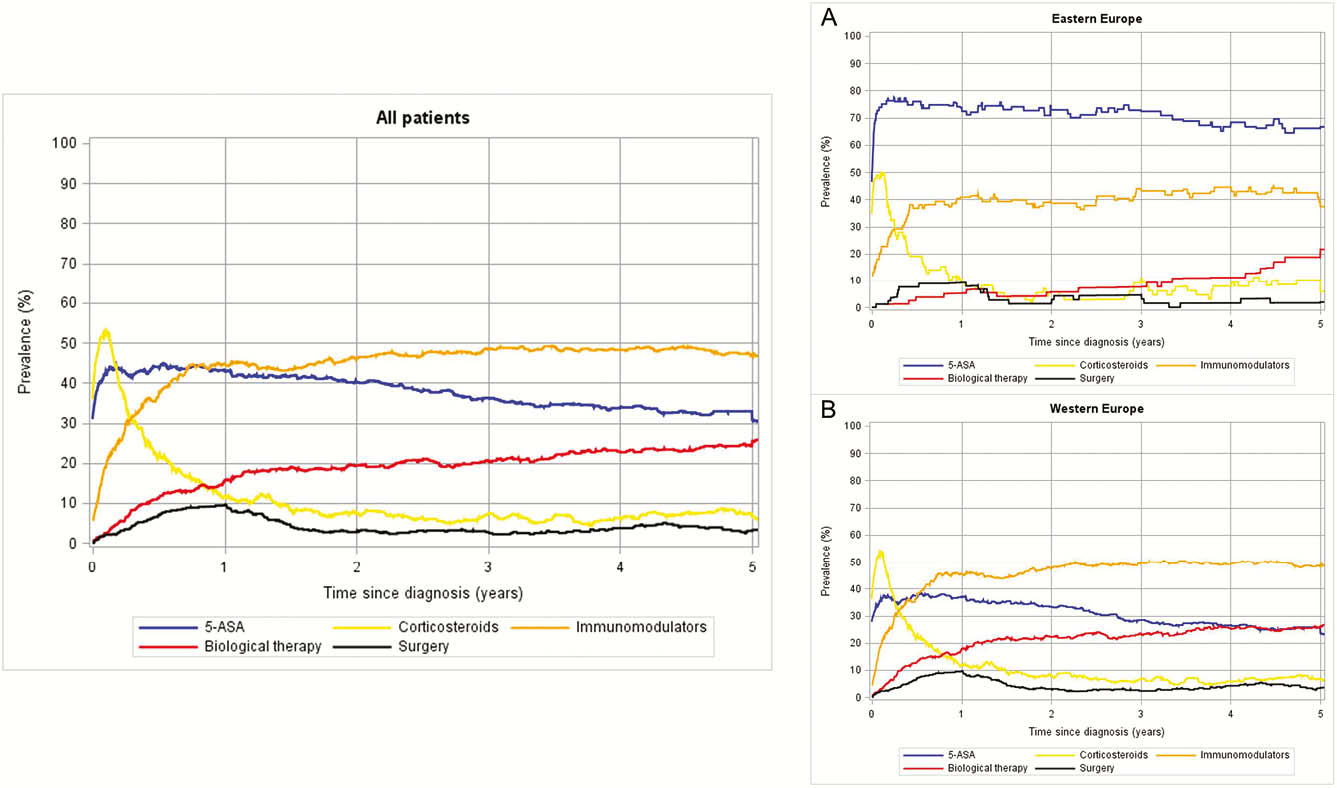 <

Figure 2. Risk of surgery and hospitalisation in patients with Crohn's disease.
Table 1. Patient characteristics.
Male, n (%)244 (50%)Age at diagnosis, years. (IQR)33 (23–49)Median time to diagnosis, months, (IQR, years.)4 (0–1)Smoking status at diagnosis, n (%)Never: 183 (40%)/current: 171 (37%)/former: 103 (23%)Disease location at diagnosis, n (%)L1: 128 (27%)/L2: 134 (28%)/L3: 111 (23%)/L4: 30 (6%)/L1–3 + L4: 76 (15%)Disease behaviour at diagnosis, n (%)B1: 347 (71%)/B2: 100 (20%)/B3: 41 (9%)/perianal disease: 46 (9%)
Table 2. Cox-regression analysis.
SurgeryHospitalisationAge at diagnosis (per year)0.99 (0.98–1.00)0.99 (0.98–0.99)Sex (female vs. male)0.8 (0.5–1.3)1.0 (0.7–1.3)Diagnostic delay (per day)1.005 (1.001–1.009)*1.0 (1.0–1.1)Coming from Eastern Europe0.8 (0.4–1.4)0.7 (0.4–1.1)Smoking status at diagnosis (vs. never)Currently: 1.2 (0.7–2.0)/ former: 1.4 (0.8–2.5)Currently: 1.2 (0.8–1.7)/former: 1.3 (0.8–2.1)Disease behaviour (vs. B1)B2: 4.7 (2.8–7.9) / B3: 4.8 (2.5–9.1)B2: 3.0 (2.1–4.4) / B3: 2.7 (1.6–4.5)Disease location (vs. L1)L2: 1.1 (0.6–2.1) / L3: 1.1 (0.5–2.0) / L4: 1.2 (0.7–2.2)L2: 1.2 (0.7–1.9) / L3: 0.9 (0.6–1.6) L4: 1.3 (0.8–2.0)Extra-intestinal manifestations at diagnosis0.8 (0.4–1.6)0.8 (0.5–1.3)Need for early corticosteroids1.0 (0.6–1.7)1.2 (0.8–1.7)
Conclusion
In this European population-based inception cohort of unselected CD patients, half of the patients were treated with immunomodulators and a fifth of them with biological therapy on any given day during follow-up treatment. Immunomodulators reduced the risk of surgery and hospitalisation, while biological therapy did not.