DOP021 Immunosuppressive and anti-TNF treatment is associated with a lower risk of migration from B1-to-B3-stage in Crohn's disease: 10-year follow-up data from the Swiss IBD cohort study
P. Cernoch1, N. Fournier2, M. Scharl1, J. Zeitz3, B. Morell1, T. Greuter1, P. Schreiner1, B. Misselwitz1, E. Safroneeva4, A. Schoepfer5, S.R. Vavricka6, G. Rogler1, L. Biedermann on behalf of the Swiss IBD Cohort Study Group7*
1University Hospital Zurich, Division of Gastroenterology and Hepatology, Zurich, Switzerland, 2University of Lausanne, IUMSP, Lausanne, Switzerland, 3Klinik Hirslanden, Department of Gastroenterology, Zurich, Switzerland, 4University of Bern, Institute of Social and Preventive Medicine, Bern, Switzerland, 5CHUV - Centre Hospitalier Universitaire Vaudois, Department of Gastroenterology, Lausanne, Switzerland, 6Center of Gastroenterology and Hepatology, Zurich, Switzerland, 7University Hospital Zurich, Gastroenterology and Hepatology, Zurich, Switzerland
Background
Our knowledge on the evolution of disease behaviour remains scarce after the introduction of anti-TNF. We investigated the long-term evolution of B-Stage in CD patients in the Swiss Inflammatory Bowel Disease Cohort Study (SIBDCS).
Methods
Prospectively collected SIBDCS data on all CD patients was analysed regarding B-Stage (B1 = inflammatory, B2 = stricturing, B3 = penetrating) evolution over time according to treatment. We deliberately used an extended definition of penetrating disease, including perianal fistula into B3, due to a substantial morbidity, not exceedingly different to non-perianal fistula (constituting the classical definition of a B3 stage according to Montreal).
Results
Of 1471 CD patients, 1042 had a non-B3 phenotype at enrolment, amongst of which 645 never had previously been treated with anti-TNF and thus were eligible for further analysis. Overall, 95.2 and 78.4% of initial B1 patients remained in this stage after 1 and 5 years, respectively. Yet, after 15 years only 48.1% revealed a sustained B1 phenotype with 32.1 and 19.8% having migrated to a B2 and B3 stage, respectively. In multivariate testing, patients aged >40 years at diagnosis were significantly less likely to progress from B1 to B3 (HR 0.378). With regards to treatment with anti-TNF we predefined a separate analysis for patients with initiation of treatment >1 years vs. within 1 year or less prior to the event of stage migration, as the latter may indeed reflect an attempt of treatment escalation in the event of imminent or already having occurred therefore undiagnosed B-stage progression. We found both immunosuppressants (IS) and persistent treatment with anti-TNF to be significantly associated with a decreased likelihood of B1-to-B3 progression as compared with CD patients without treatment with IS and/or anti-TNF.
Signifikant Risk factors for B-Stage migration: multivariate analysis. Significant risk factors for a change in disease behaviour over time according to multivariate testing.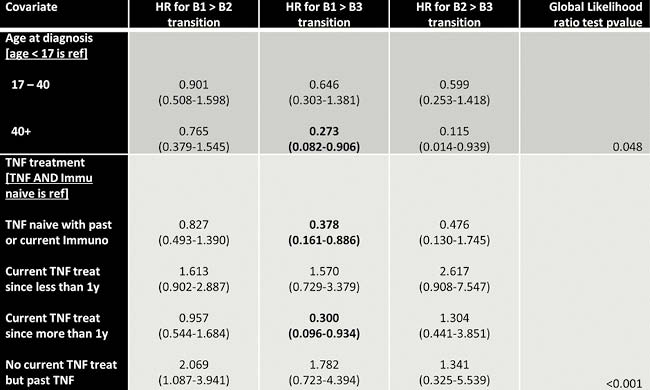 Significant hazard ratios (HR) are printed in bold type.
Conclusion
In our prospective cohort study, we identified a beneficial effect of both, IS and sustained anti-TNF on the risk of B1-to-B3 migration in CD patients on the long-term as opposed to their treatment naïve counterparts or patients having stopped anti-TNF treatment. Evidently, a randomised long-term study would be preferential to investigate the potential of medical interventions on modifying the risk of B-stage migration, due to a high likelihood of selection bias towards more vs. less favourable prognosis in patients in the IS-and-anti-TNF-naïve vs. anti-TNF exposed groups, respectively. Therefore, the results from our study suggest a potentially even more robust beneficial effect of IS and anti-TNF on long-term B-stage migration.