DOP025 Tofacitinib for the treatment of ulcerative colitis: analysis of malignancy rates from the OCTAVE clinical programme
G.R. Lichtenstein1, M.A. Ciorba2, G. Rogler3*, D. Quirk4, C.I. Nduaka4, R.D. Pedersen4, N. Lawendy4, G. Chan4, C. Su4, J. Panés5
1Perelman School of Medicine of the University of Pennsylvania, Division of Gastroenterology, Philadelphia, PA, USA, 2Washington University in Saint Louis, Division of Gastroenterology, Saint Louis, MO, USA, 3University of Zürich, Department of Gastroenterology and Hepatology, Zürich, Switzerland, 4Pfizer Inc., Collegeville, PA, USA, 5Hospital Clínic de Barcelona, IDIBAPS, CIBERehd, Barcelona, Spain
Background
Tofacitinib is an oral, small molecule Janus kinase inhibitor that is being investigated for ulcerative colitis (UC). The safety of tofacitinib for treatment of moderate to severe UC was evaluated in randomised, placebo-controlled induction Phase (P) 2 (NCT00787202), induction P3 (NCT01465763; NCT01458951) and maintenance P3 (NCT01458574) studies,1 and an ongoing, open-label, long-term extension (LTE) study (NCT01470612).2 Here, we present an integrated analysis of adjudicated malignancies observed in the UC clinical development programme.
Methods
Patients who received placebo, tofacitinib 5 or 10 mg twice daily (BID) were analysed as three cohorts: Induction (P2/P3 induction studies, n = 1220); Maintenance (P3 maintenance study, n = 592); Overall (patients receiving tofacitinib 5 or 10 mg BID in P2, P3 or ongoing LTE studies, n = 1157). Data shown are as of 16 December 2016. Proportions and incidence rates (IRs; patients with events per 100 patient-years [PY] of exposure) were evaluated for malignancies (excl. non-melanoma skin cancer [NMSC]) and NMSC. An independent adjudication committee reviewed all potential malignancies.
Results
1157 patients with 1613 PY of tofacitinib exposure and ≤4.4 years of treatment (median 514 days, range 1–1606 days) received ≥1 dose of tofacitinib 5 or 10 mg BID (Table). There was no patient with malignancy (excl. NMSC) in the Induction cohort, 1 patient (placebo, breast cancer) in the Maintenance cohort and 8 patients in the Overall cohort (IR 0.48; 95% confidence interval [CI] 0.21, 0.95); all 10 mg BID. No clustering of malignancies (excl. NMSC) was noted. In tofacitinib-treated patients, NMSC was reported in: two (0.2%) Induction cohort patients, three Maintenance cohort patients (IR 1.91; 95% CI 0.39, 5.59) (all 10 mg BID) and 11 Overall cohort patients (IR 0.67; 95% CI 0.33, 1.19). NMSC IRs in the Maintenance cohort for tofacitinib 5 mg BID (IR 0.00; 95% CI 0.00, 2.48) were not higher than placebo (IR 0.97; 95% CI 0.02, 5.40). Of the 11 Overall cohort patients with NMSC, most (10/11) had been exposed to azathioprine or 6-mercaptopurine and most (10/11) failed treatment with tumour necrosis factor inhibitors.
Conclusion
Malignancies occurred infrequently with tofacitinib treatment in the UC clinical programme. The malignancies (NMSC, and excl. NMSC) IRs were similar to those reported for tofacitinib in rheumatoid arthritis patients3 and for UC patients treated with biologics. A dose-dependent increased risk of NMSC could not be derived from the data.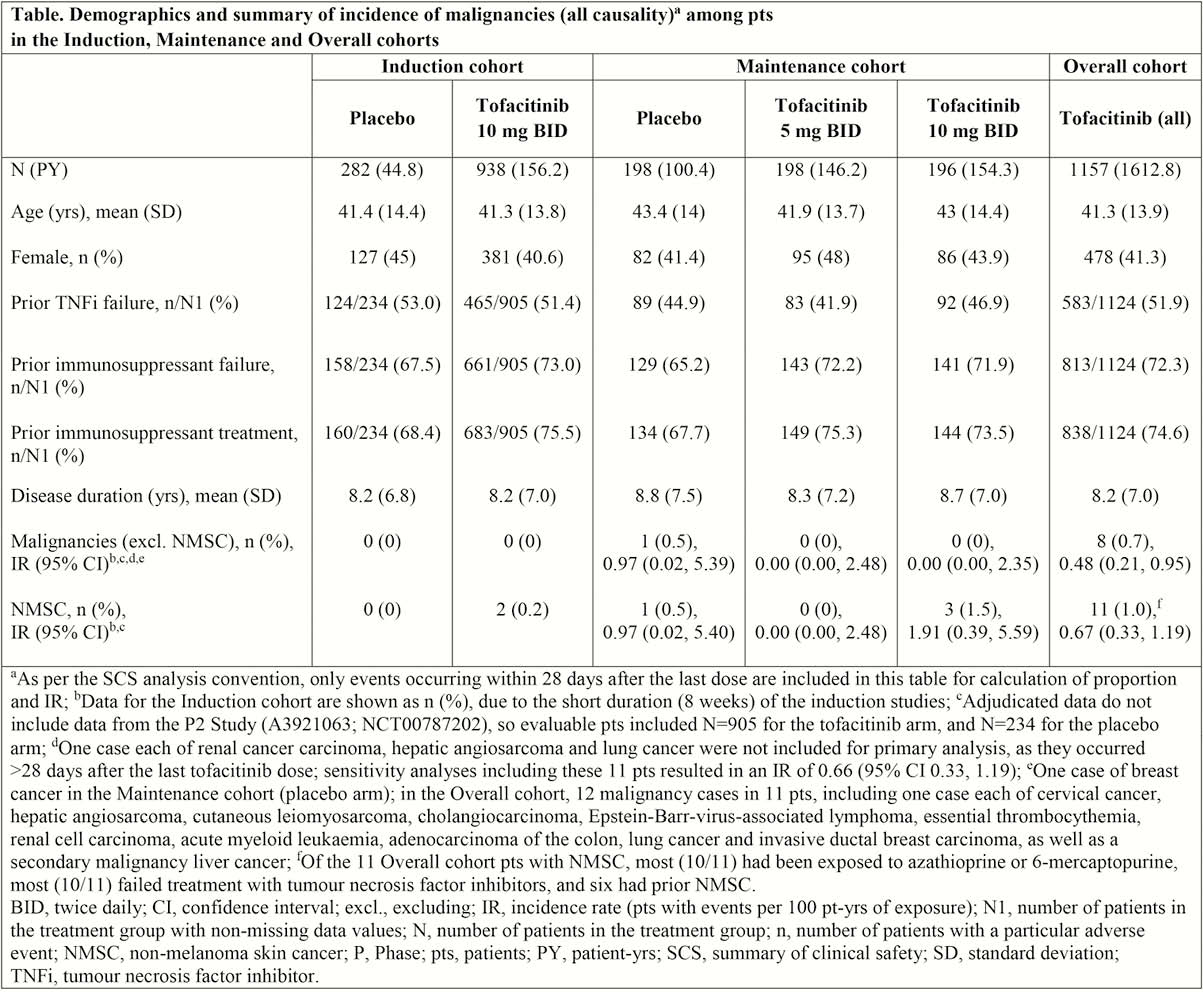 References
1.Sandborn WJ, et al. Tofacitinib as induction and maintenance therapy for ulcerative colitis. N Engl J Med, 2017;376:1723–36.
2.Lichtenstein GR, et al. Tofacitinib, an oral Janus kinase inhibitor, in the treatment of ulcerative colitis: open-label, long-term extension study. Am J Gastroenterol, 2017;112(S1). [Abstract 714].
3.Cohen SB, et al. Long-term safety of tofacitinib for the treatment of rheumatoid arthritis up to 8.5 years: integrated analysis of data from the global clinical trials. Ann Rheum Dis, 2017;76:1253–62.