DOP027 Efficacy and safety of an additional 8 weeks of tofacitinib induction therapy: Results of the OCTAVE open study for tofacitinib 8-week induction non-responders
B.G. Feagan1, M.C. Dubinsky2, M. Lukas3*, D. Quirk4, C.I. Nduaka4, E. Maller4, N. Lawendy4, C. Kayhan4, W. Wang4, G. Chan4, C. Su4
1Western University, Robarts Clinical Trials, London, ON, Canada, 2Icahn School of Medicine at Mount Sinai Hospital, Department of Pediatrics and Medicine, New York, NY, USA, 3Charles University, Prague, Czech Republic, 4Pfizer Inc., Collegeville, PA, USA
Background
Tofacitinib is an oral, small molecule Janus kinase inhibitor that is being investigated for ulcerative colitis (UC). The efficacy and safety of tofacitinib was demonstrated in three Phase 3, randomised, placebo-controlled trials in patients with moderately to severely active UC.1 Patients who received tofacitinib 10 mg twice daily (BID) for 8 weeks in OCTAVE Induction 1 and 2 (NCT01465763; NCT01458951) and did not achieve a clinical response (≥3 points and ≥30% decrease from baseline total Mayo score and a decrease in rectal bleeding subscore [RBS] ≥1 point or an absolute subscore of 0 or 1)—i.e. induction non-responders (IndNR)—could enter OCTAVE Open, an ongoing Phase 3, multicentre, open-label, long-term extension study (NCT01470612). Herein, we present preliminary data from OCTAVE Open for IndNR patients.
Methods
IndNR patients received tofacitinib 10 mg BID in OCTAVE Open. Patients who did not show response at Month 2 were required to discontinue, per protocol. Clinical response, remission (Mayo score ≤2 with no individual subscore >1, and RBS of 0) and mucosal healing (Mayo endoscopic subscore of 0 or 1) were evaluated at Month 2 and Month 12 in OCTAVE Open. Safety data are also presented.
Results
In total, 429 IndNR patients enrolled in OCTAVE Open, of whom 295 received tofacitinib 10 mg BID during induction trials (Table). At Month 2, 60.1%, 25.7% and 16.2% of patients achieved clinical response, mucosal healing and remission, respectively, based on observed data. Corresponding values using non-responder imputation were 52.9%, 23.1% and 14.3%. Month 12 data are shown in Table. The proportion of patients with adverse events (AEs) for IndNR patients censored at Month 2 (52.2%) was similar to those in induction trials (tofacitinib, 55.4%; placebo, 56.4%). Likewise, the proportion of patients with serious AEs for IndNR patients censored at Month 2 (3.7%) was similar to those in induction trials (tofacitinib, 3.8%; placebo, 6.0%), with no new safety signals identified.
Conclusion
The majority of patients who failed to achieve clinical response to tofacitinib 10 mg BID in induction studies—and who subsequently received an additional 8 weeks of open-label tofacitinib 10 mg BID—achieved clinical response, with a significant number of patients in remission and/or mucosal healing. No new safety signals were observed in the additional 8 weeks of induction. These data suggest a favourable risk-benefit balance of an additional 8 weeks of tofacitinib induction therapy.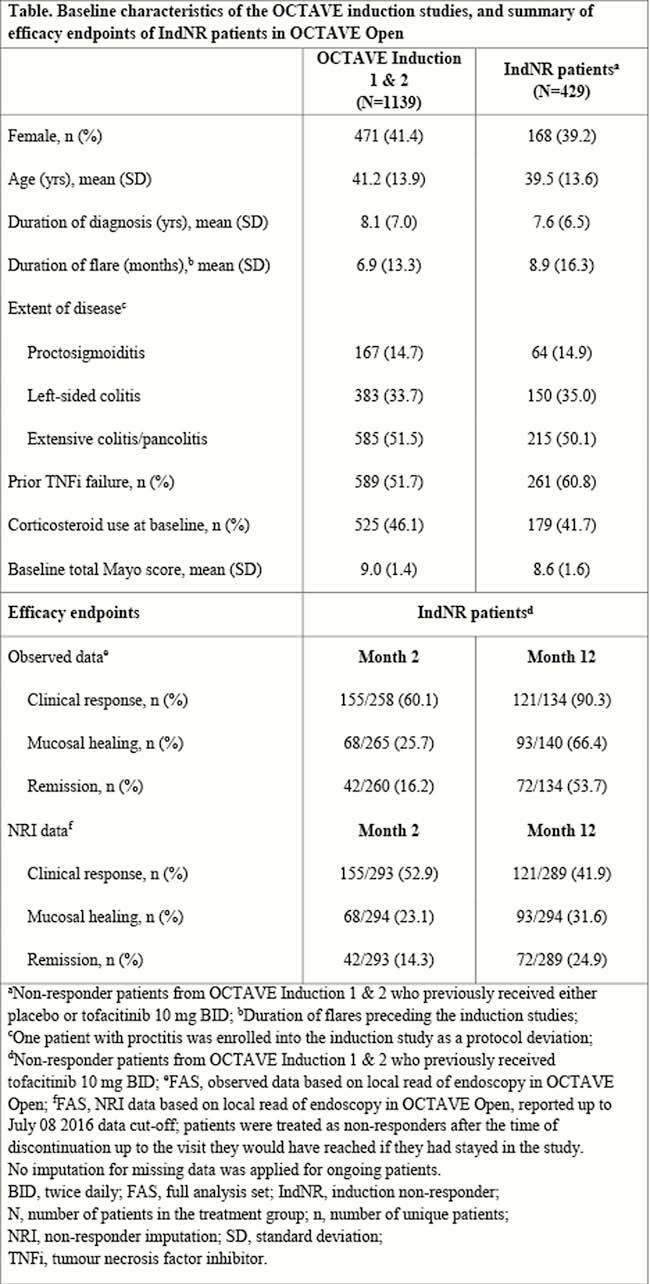 Reference
1.Sandborn WJ, et al. Tofacitinib as induction and maintenance therapy for ulcerative colitis. N Engl J Med, 2017;376:1723–36.