DOP052 Vedolizumab vs. ustekinumab for Crohn's disease: comparative effectiveness in a real-life observational cohort study (ICC case series)
V. Biemans1,2*, C. van der Woude3, A. van der Meulen - de Jong4, G. Dijkstra5, N. de Boer6, B. Oldenburg7, C. Ponsioen8, A. de Vries3, D. Wintjens2, F. Hoentjen9, M. Pierik2, Dutch Initiative on Crohn and Colitis (ICC)
1Radboudumc, Nijmegen, The Netherlands, 2Maastricht University Medical Center (MUMC), Maastricht, The Netherlands, 3Erasmus Medical Center, Rotterdam, The Netherlands, 4Leiden University Medical Center (LUMC), Department of Gastroenterology and Hepatology, Leiden, The Netherlands, 5University Medical Center Groningen, Groningen, The Netherlands, 6VU University Medical Centre Institute of Education, Department of Gastroenterology and Hepatology, Room J393, Amsterdam, The Netherlands, 7University Medical Centre Utrecht, Utrecht, The Netherlands, 8Academic Medical Center (AMC), Department of Gastroenterology and Hepatology, Amsterdam, The Netherlands, 9Radboudumc, Department of Gastroenterology and Hepatology, Nijmegen, The Netherlands
Background
The anti-adhesion antibody vedolizumab (VDZ) and the interleukin inhibitor ustekinumab (UST) can both be considered for Crohn's disease (CD) when conventional and anti-TNF medication fail. However, head-to-head trials are not available and methodological issues limit the indirect comparison based on the registration studies. Propensity-score matching allows for reducing the effects of treatment-selection bias or confounding using observational data when estimating the effects of treatments. Therefore, our aim was to compare VDZ and UST treated CD patients in a systematic observational cohort, the ICC case series.
Methods
CD patients who received either VDZ or UST in standard care were followed using predefined follow-up visits (0-12-24-52-104 weeks) while documenting CD characteristics, clinical disease activity (Harvey Bradshaw Index (HBI)), inflammatory markers (CRP, faecal calprotectin), hospital admissions, CD-related surgery and adverse events. Clinical remission was defined as HBI <5. To compare the treatments, we excluded patients with a history of both studied treatments and used propensity score analysis to match while correcting for hospital of admission, gender, disease duration, location, and behaviour, prior CD and peri-anal surgery, and number of failed biologicals. The mean difference was tested with a dependent t-test, chi-squared test was used to compare corticosteroid free remission.
Results
Out of 172 VDZ and 125 UST patients we matched 42 patients starting VDZ with 42 starting UST.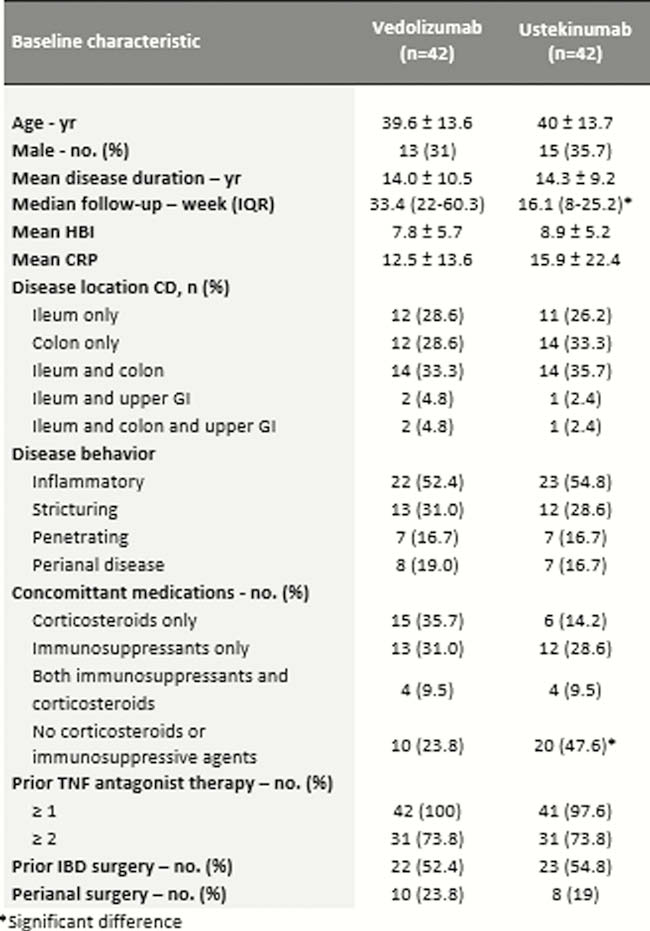 Reduction of HBI was significant for both VDZ and UST after 12 weeks but did not further decrease beyond 12 weeks (week 12: VDZ mean HBI −2.9 (±5.1), p = 0.002, UST mean −4.2 (5.6), p < 0.001). The mean difference of HBI decrease between VDZ and UST at week 12 (p = 0.346) and 24 did not differ (mean −3.9 VDZ (±6.0) vs. −4.6 UST (6.5), p = 0.72).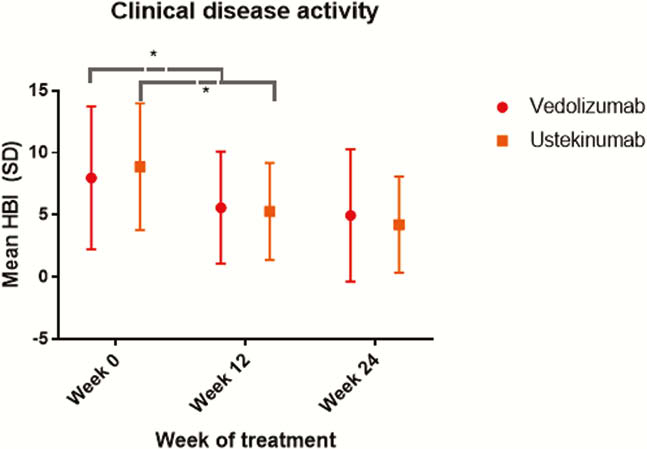 After 24 weeks, 46.2% VDZ and 57.9% UST patients were in corticosteroid-free clinical remission (p = 0.44). The rate of adverse events was comparable.
Conclusion
Our ongoing nationwide cohort of VDZ and UST-treated patients demonstrated high rates of clinical corticosteroid-free remission after 24 weeks (VDZ 46.2%, UST 57.9%). Propensity-score matching demonstrated that clinical remission and adverse events were comparable between treatments after 24 weeks.