OP010 Shallow whole-genome sequencing predicts the future cancer risk of low-grade dysplastic lesions arising in ulcerative colitis
I. Al Bakir1,2*, K. Curtius1, A.-M. Baker1, T.S.O. Clarke1, M. Moorghen3, M. Jansen4, M. Rodriguez-Justo4, S. Leedham5, T. Graham1*, A. Hart2*
1Queen Mary University of London, Barts Cancer Institute, London, UK, 2St. Mark's Hospital, Inflammatory Bowel Disease Unit, Harrow, UK, 3St. Mark's Hospital, Pathology Department, Harrow, UK, 4University College London Hospital, Pathology Department, London, UK, 5Henry Wellcome Building of Genomic Medicine, Wellcome Trust Centre for Human Genetics, Oxford, UK
Background
The management of low-grade dysplasia (LGD) in UC is uncertain due to the variable risk of progression to colorectal cancer (CRC). Chromosomal copy number alterations (CNAs) occur in colonic epithelial cells of UC patients who have developed CRC. The burden of CNAs in precursor LGD relative to high-grade dysplasia (HGD)/CRC has not been defined, and the correlation between LGD CNA burden and future CRC risk is unknown. Shallow whole-genome sequencing is a novel, cost-effective technique for high-resolution CNA assessment in formalin-fixed, paraffin-embedded tissue.
Methods
We identified 19 UC proctocolectomy specimens with HGD/CRC, and analysed 77 neoplastic regions (36 LGD, 34 HGD and 7 CRC). We then analysed 13 "progressor" patients with 27 LGD lesions who subsequently developed HGD/CRC a median 427 days later (IQR 213–777), and 22 "non-progressor" patients with 26 LGD lesions who remained HGD/CRC-free >5 years later. The two patient groups are matched for age, gender, disease duration, and LGD location. Histological diagnosis was confirmed by two blinded pathologists. Shallow whole-genome sequencing (0.1×) was performed using a standardised pipeline for epithelial cell enrichment, DNA extraction, library preparation, next-generation sequencing, and bioinformatic analysis.
Results
A median 12% of the genome of LGDs from proctocolectomy specimens showed CNAs (IQR 4–32%), compared with 23% in HGD/CRC (IQR 19–42%, p = 0.003). Similarly, the number of CNA events was greater in HGD/CRC compared with LGD (p < 0.001). Multiple CNAs involving key driver genes were more frequent in HGD/CRC compared with LGD (adjusted p < 0.05), including 8q gain (MYC loss, OR 17.2), 4q loss (OR 4.59) and 18q loss (DCC/SMAD4 loss, OR 4.15). Both the maximal total CNA burden and number of CNA events are greater in LGD of progressors than in LGD of non-progressors (p < 0.01). A Kaplan–Meier plot demonstrates that patients in this cohort bearing LGD with the 25% greatest CNA burden are significantly more likely to develop future CRC/HGD than the remaining 75% of patients (HR 5.1, p = 0.001).

Figure. Progressor patients bear LGD lesions that are more aneuploid than in non-progressors (left); progressors also bear LGD lesions with a greater number of chromosomal copy number alteration events (right).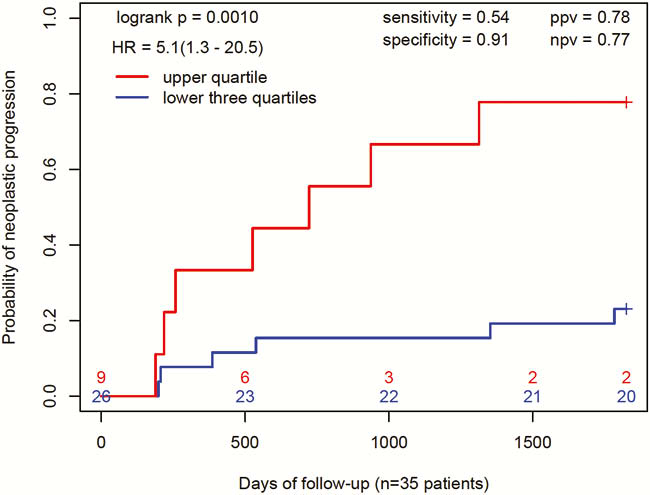 Conclusion
LGD lesions demonstrate a surprising diversity in CNA burden, with some LGD lesions bearing CNA profiles indistinguishable from HGD/CRC. Shallow whole-genome sequencing has potential translational utility, by stratifying patients with LGD according to risk of progression to HGD/CRC.