OP024 Long-term safety and efficacy of the anti-MAdCAM monoclonal antibody SHP647 for the treatment of Crohn's disease: the OPERA II study
G.R. D'Haens1*, W. Reinisch2, S.D. Lee3, D. Tarabar4, E. Louis5, M. Kłopocka6, J. Klaus7, S. Schreiber8, D.I. Park9, X. Hébuterne10, F. Cataldi11, A. Banerjee12, K. Gorelick13, W.J. Sandborn14
1Academic Medical Centre, Amsterdam, The Netherlands, 2Medical University of Vienna, Vienna, Austria, 3University of Washington, Seattle, USA, 4Clinic of Gastroenterology and Hepatology, Military Medical Academy, Belgrade, Serbia, 5University Hospital CHU of Liège, Liège, Belgium, 6Nicolaus Copernicus University, Collegium Medicum in Bydgoszcz, Bydgoszcz, Poland, 7Universitatsklinikum Ulm, Ulm, Germany, 8University Hospital Schleswig-Holstein, Christian-Albrechts-University, Kiel, Germany, 9Kangbuk Samsung Hospital, Sungkyunkwan University, Seoul, South Korea, 10Université de Nice Sophia Antipolis, Hôpital de l'Archet, Nice, France, 11Shire, Lexington, USA, 12Pfizer, Cambridge, USA, 13Zymo Consulting Group, Newtown Square, USA, 14University of California San Diego, La Jolla, USA
Background
Despite available treatments, patients with Crohn's disease (CD) often experience symptoms and complications of uncontrolled intestinal inflammation. SHP647 is a fully human IgG2κ anti-MAdCAM monoclonal antibody, in development for induction and maintenance of remission in patients with CD and ulcerative colitis. OPERA II was a 72-week, multicentre, open-label, phase 2 extension study (NCT01298492), designed to assess the long-term safety and efficacy of SHP647 in patients with moderate to severe CD.
Methods
Included patients had completed 12 weeks' treatment (placebo or 22.5 mg, 75 mg or 225 mg s.c. SHP647) in OPERA I (NCT01276509), or had a clinical response (≥3-point decrease in Harvey Bradshaw Index [HBI] score) to 225 mg SHP647 in the open-label study, TOSCA (NCT01387594). Patients received SHP647 (75 mg, s.c.) every 4 weeks from baseline to week 72, and were followed up monthly for a further 6 months. Dose de-escalation to 22.5 mg owing to intolerance/AEs, or escalation to 225 mg owing to clinical deterioration/poor response, was allowed as judged by the investigator. Primary endpoints were frequency of AEs, AEs leading to withdrawal and SAEs. HBI scores were used to define remission (score <5) and assessed as exploratory efficacy measures.
Results
In total, 268 patients (mean age 36.5 years; 56.3% women) were enrolled and entered the treatment period; 149 completed the study. Mean ± SD HBI score at OPERA II baseline was 4.9 ± 3.01. A total of 1150 and 461 AEs were reported during the treatment and follow-up periods, respectively. The most common treatment-related AEs during treatment were nasopharyngitis (5.6%), arthralgia (6.0%), and headache (5.2%). No patient experienced progressive multifocal leukoencephalopathy. Eighty patients experienced SAEs; these were considered treatment-related in 10 patients. Among patients who had AEs leading to discontinuation (n = 54) the most common AE was CD flares. Two patients died: one (75 mg) of multiple organ failure after postoperative aspiration following a resection of the terminal ileum. The second (225 mg) died of metastatic neoplasm of unknown primary, with adenocarcinoma identified on cytology. Neither death was considered drug-related. HBI remission and response rates showed no unexpected decay over time (Figure 1).
<
Figure 1. (A) Proportion of patients in remission* (mean ± 90% CI) and (B) proportion of patients in response† (mean ± 90% CI), from baseline to week 72, based on HBI scores and calculated using a non-responder imputation approach. Numbers on figures show numbers of patients in remission (A) and response (B). CI, confidence interval; HBI, Harvey Bradshaw index. *Define as an HBI score of <5. †Defined as being a responder at baseline and having no relapse, or having a decrease in HBI score from baseline of ≥3 points.

p>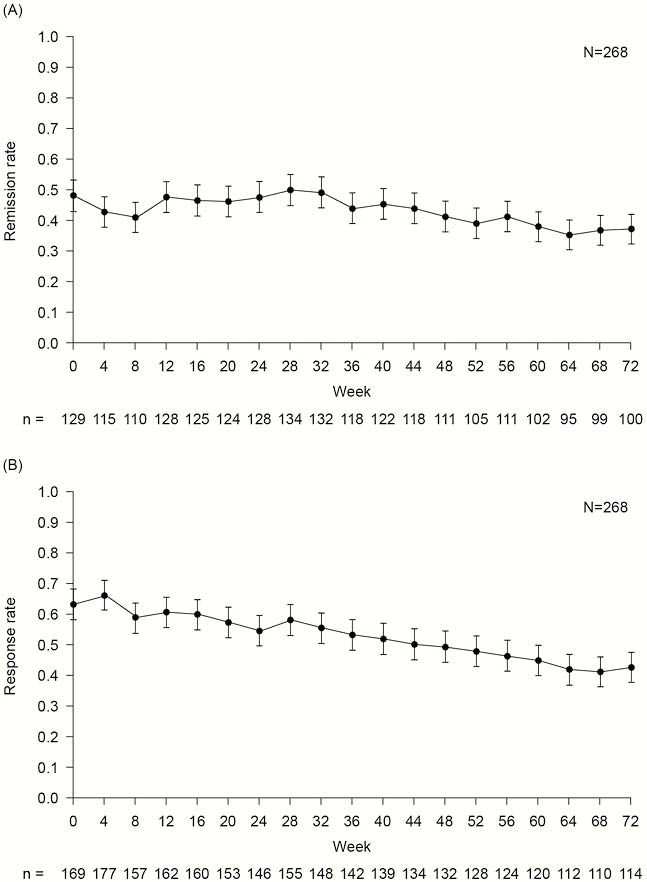 Conclusion
SHP647 was well-tolerated. The sustained HBI response rate suggests efficacy of SHP647 over 72 weeks of treatment. These results add to evidence for the long-term safety and efficacy of SHP647.