N05 A Nurse Practitioner (NP) supervised INFLAMMATORY BOWEL DISEASE (IBD) virtual immunomodulator therapy (IM) monitoring service is associated with reduced healthcare costs, increased patient adherence and persistence and improved treatment outcomes
S. Buckton*1
1Sunshine Coast University Hospital, Gastroenterology, Birtinya Queensland, Australia
Background
Monitoring patients on IMs is a key role of the IBD nurse with 70% of IBD patients receiving IMs at some stage in their treatment journey. IMs are associated with significant risk if not monitored closely, particularly in the first weeks after commencement. Data suggest that 25–40% develop adverse events (AEs) necessitating treatment withdrawal. The main AEs are idiosyncratic reactions typically occurring in the first 4 weeks, dose dependant AEs such as bone marrow suppression, hepatotoxicity and increased infection risk. Rarer AEs such as NMSC and lymphoma may occur with prolonged use. Despite publications describing the importance of education and blood test monitoring there has not been consensus on monitoring frequency in Australia. Use of TPMT and metabolite testing to guide initial dosing and dose escalation is not standardised and inaccurate patient perceptions about IM safety profile and high incidence of AEs can all affect patient adherence and persistence.
Methods
A literature review and service audit of prescribing and monitoring practices within our service was conducted in 2017, this identified key areas for improvement and risk reduction. A service action plan was developed and the NP supervised IM clinic was implemented in January 2018.
Table 1 Service audit and action plan 2017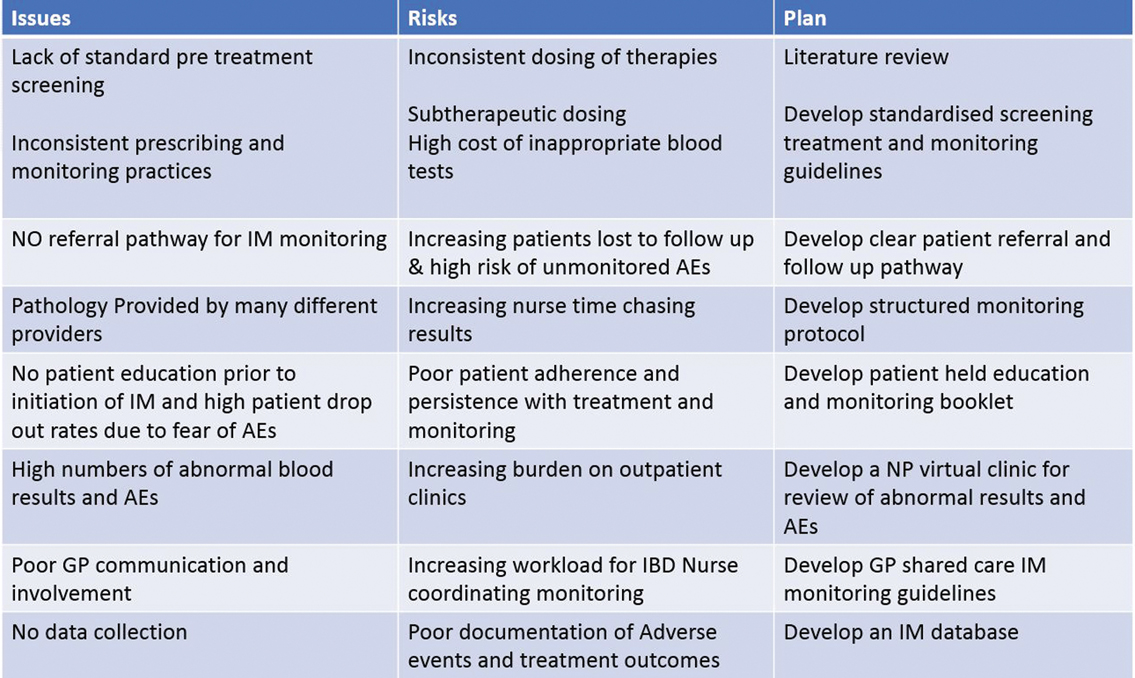 Results
115 referrals were received January-Jun 2018. Thiopurine monotherapy was the most commonly prescribed IM accounting for 53% of referrals, with an additional 29% in combination with allopurinol. AEs were experienced by 62% patients. Eighteen per cent experienced side effects with the commonest being idiosyncratic reactions; nausea, vomiting and arthralgia. Forty-four per cent developed abnormal thiopurine metabolites evaluated by early implementation of metabolite testing.
Table 2. Main adverse events (AEs) during monitoring period.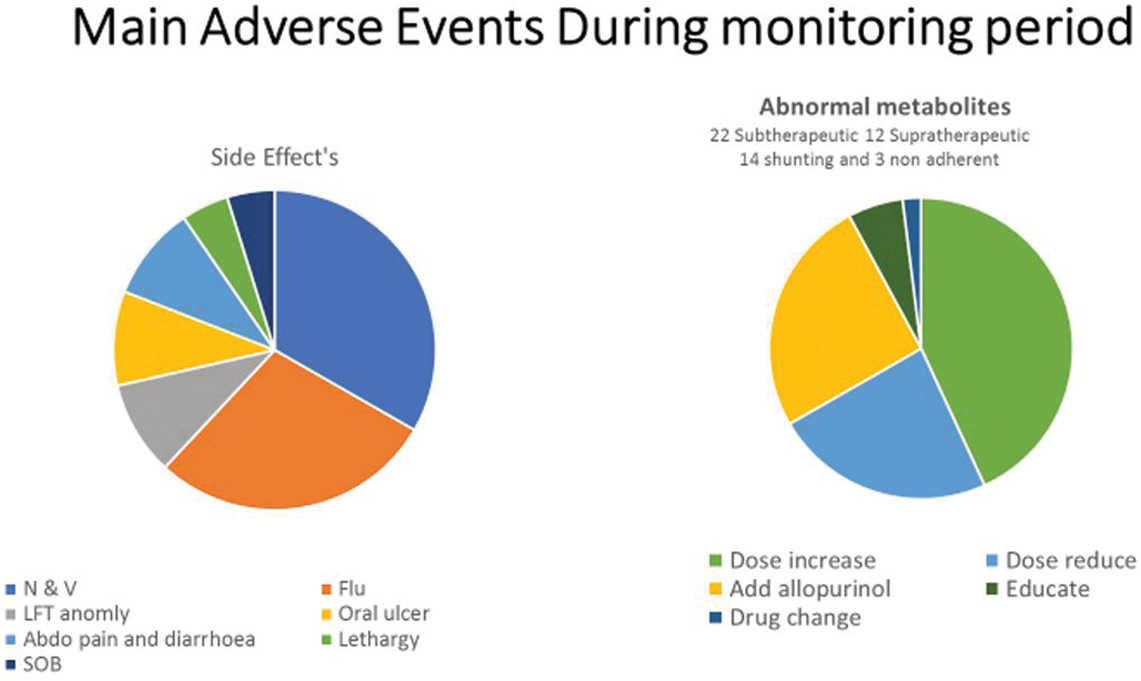 72 AEs were managed in the virtual clinic, of which 47 required dose or IM change, 16 required phone follow-up, 1 admitted and 7 required clinic appointments. Despite a high AE incidence, 109 patients remained on IMs at clinic discharge, all demonstrating therapeutic metabolites. Standardising monitoring and reviewing patients in a virtual clinic released 294 IBD appointments and was associated with a cost saving of $16750.
Conclusion
Implementing a standardised screening, prescribing and monitoring protocol and referring patients commencing IMs to a nurse led virtual monitoring clinic is cost effective, safe and ensures patient adherence and persistence to therapeutic doses of IMs.