N17 Frequency of infliximab-induced skin lesions and their impact on quality of life in inflammatory bowel disease patients treated with infliximab
C. Bobnar Sekulic*1, T. Polanc1, U. Koren2, T. Kurent1, N. Smrekar1, J. Hanžel1, D. Drobne1, G. Novak1
1University Medical Centre, Clinical Department of Gastroenterology, Ljubljana, Slovenia, 2University of Ljubljana, Faculty of Pharmacy, Ljubljana, Slovenia
Background
IBD patients treated with infliximab (IFX) develop drug-induced skin lesions in 20–30%. The impact of IFX-induced skin lesions on quality of life (QoL) is unknown.
Methods
In this prospective cross-sectional observational study all adult IBD patients on IFX maintenance treatment at our tertiary referral centre were enrolled. Patients with IFX-induced skin lesions were identified and referred to a dermatologist. All skin lesions were documented by photography. Patients filled in a questionnaire on QoL combining The Chronic Urticaria Quality of Life Questionnaire and Dermatology life quality index. The impact of skin lesion on QoL was rated with a score from 1 to 5. Scores >2.5 were considered to have an important impact.
Results
From January to March 2018, 171 patients, aged 20 to 78 years, on IFX maintenance treatment (55.6% men) were included in the study. IFX-induced skin lesions were identified in 40 patients (23.4%): among them eczema (45%), psoriasis (20%), xerosis (10%) and others (25%). Twenty-one patients (52.2%) had skin lesions for more than half a year. Skin lesions did not have an important impact on any of the studied domains (Figure 1).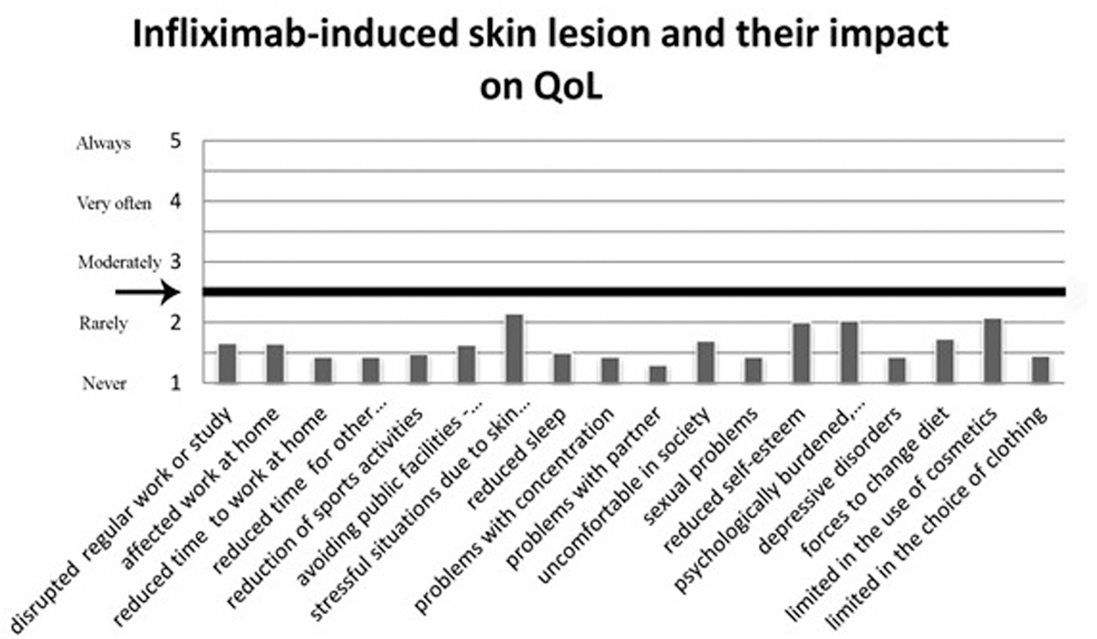 Conclusion
In our study, we confirmed the high incidence of infliximab-induced skin lesions. However, the new finding is that the impact of these lesions on quality of life is not great.