OP18 Proactive adalimumab trough measurements increase corticosteroid-free clinical remission in paediatric patients with Crohn's disease: the paediatric Crohn's disease adalimumab-level-based optimisation treatment (PAILOT) trial
A. Assa*1, M. Matar2, D. Turner3, E. Broide4, B. Weiss5, O. Ledder6, A. Guz Mark2, F. Rinawi2, S. Cohen7, C. Topf Olivestone8, R. Shaoul9, B. Yerushalmi10, R. Shamir2
1Schneider Children's Hospital, Gastroenterology, Nutrition and Liver Diseases, Petach Tikva, Israel, 2Schneider Children's medical Center, Gastroenterology, Nutrition and Liver Diseases, Petach Tikva, Israel, 3Shaare Zedek Medical Center, Gastroenterology, Nutrition and Liver Diseases, Jerusalem, Israel, 4Assaf Harofeh, Pediatric Gastroenterology, Zerifin, Israel, 5Sheba Medical Center, Pediatric Gastroenterology, Ramat Gan, Israel, 6Shaare Zedek Medical Center, Pediatric Gastroenterology, Nutrition and Liver Diseases, Jerusalem, Israel, 7Tel Aviv Medical Center, Pediatric Gastroenterology, Tel-Aviv, Israel, 8Kaplan Medical Center, Pediatric Gastroenterology, Rehovot, Israel, 9Rambam Medical center, Pediatric Gastroenterology, Haifa, Israel, 10Soroka Medical Center, Pediatric Gastroenterology, Beer Sheva, Israel
Background
The clinical benefit of proactive therapeutic drug measurement of anti-TNF agents for maintaining a pre-defined trough level compared with reactive measurement performed during exacerbations of Crohn's disease is debated. We performed the first paediatric randomised controlled trial to determine whether proactive therapeutic drug monitoring to maintain serum levels of adalimumab above 5 μg/ml is associated with higher rates of clinical remission than the reactive approach which is based on drug measurement when clinically indicated.
Methods
This was a multi-centre non-blinded randomised controlled trial, in which biological-naïve children (6–18 years) with luminal Crohn's disease who responded to adalimumab induction (Week 4), were randomly assigned into proactive and reactive groups. In the proactive group trough concentrations were measured at Week 4, 8, and every 8 weeks thereafter until Week 72, and dose (when lower than 40 mg) or intervals were adjusted in-order to maintain levels higher than 5 μg/ml. In the reactive group, physicians were informed of the trough levels only when clinically indicated (based on symptoms or elevated CRP or faecal calprotectin) and dose/intervals adjusted based upon the levels. The primary endpoint was sustained corticosteroid-free clinical remission from Week 8 to Week 72 (defined as Pediatric Crohn's Disease Activity Index [PCDAI] <10) using non-responder imputation.
Results
Eighty patients (54 males, mean age 14.1 ± 2.6 years, 43% with combination therapy with immunomodulators) were randomised, 39 in the proactive, and 41 in the reactive groups. Baseline variables were similar between groups. The primary endpoint was met by 34 children (87%) in the proactive group and 21 (49%) in the reactive group (p < 0.001, Figure). At Week 72, steroid-free clinical remission on adalimumab was noted in 32 (82%) in the proactive group and 19 (46%) in the reactive group (p < 0.001). Clinical indices, CRP, and faecal calprotectin correlated with adalimumab trough concentrations. Faecal calprotectin reduction rate was significantly higher in the proactive group. There were more patients undergoing dose/interval adjustments in the proactive group (32, 82% vs. 18, 44%, p < 0.001).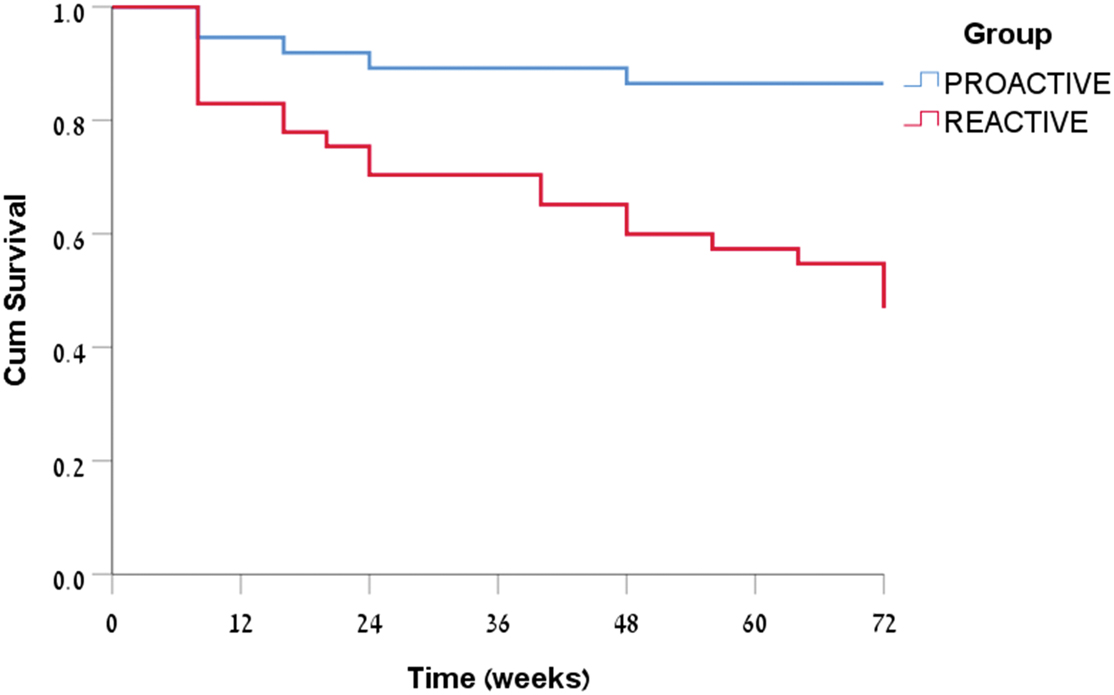 Kaplan–Meyer curve representing time to disease exacerbation.
Conclusion
Repeated proactive trough measurements together with tight control based on clinical indices, CRP, and faecal calprotectin were superior to tight control alone combined with reactive trough measurements resulting in higher corticosteroid-free sustained remission rates. ClinicalTrials.gov Identifier: NCT02256462.